22 Sep

8 films later

All the Rage – Trailer from rumur on Vimeo.

On Oct 11 we are going to have the triangle area premiere of "All The Rage" at the Carolina Theater in Durham. After premiering the film in New York last November, it's taken a while to get it on screen in our new/original hometown. Twenty-three years ago over Thanksgiving in 1994, we premiered our first feature film, "Half-Cocked" at the Carolina. That film is about a bunch of kids who steal a van full of music gear and pretend to be a band in order to stay out on the road. "Half-Cocked" was meant to document the music scene that we were a part of. At the time, I felt like we were too much a part of the world to make a "documentary" because I had been taught that in order to make a documentary one had to have "critical distance"- i.e. one had to be a colonizer rather than a participant.

After banging out a first draft of the script with the help of our respective roommates, my partner Suki and I sent it to my father for notes. He read it and sent it back with a single sentence scrawled across the title page: "Where the fuck is the conflict?" He was right. We loved our characters so much that we didn't want to make them look bad; we had written a boring script. We amended that by adding a series of increasingly fraught conflicts (script writing 101) and a few weeks later we hit the road for a 2 week shoot. At that point in my life, it was by far the hardest thing I had done. In some sense, our ability to finish the film was a feat borne from ignorance of the fact that what we were trying to do was almost possible. A year after having first had the spark of an idea, the film was complete we were projecting it.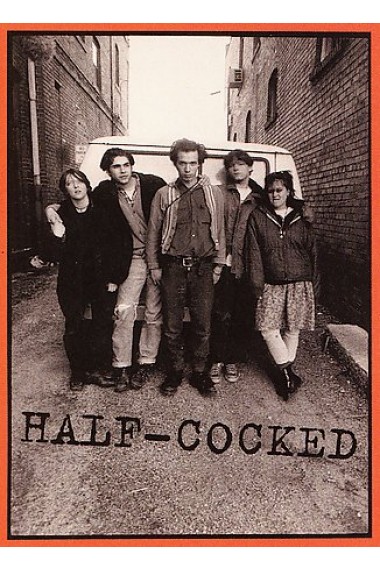 That screening is a total blur. The room was filled with family friends as well as my friends from high school and my friends from bands. When I was a kid my dad would take us to films and laugh loudly and inappropriately throughout the film and then declare that "it sucked". That evening Suki and I sat in the balcony with our friend Juan (who was the projectionist that had made it all happen) and watched as my father's laughs sparked merriment throughout the room. One could almost see the laughs move away from him like waves when a drop hits water.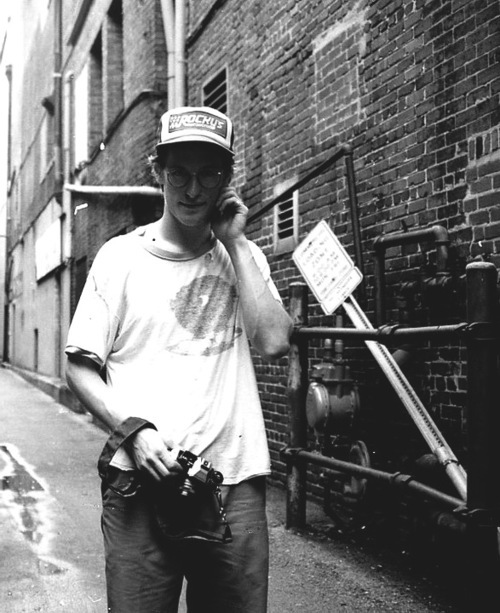 Growing up in Chapel Hill, I was surrounded by music. The local college station was a window into the world of "college rock" and punk and I listened voraciously hazily fantasizing about someday touring in a band myself. During high school, I had tried to learn how to play bass guitar but I felt musically inept. In 7th grade I joined the band and was promptly relegated to the last chair in the clarinet section. By the end of 9th grade I was still in last chair. The bass seemed like an instrument that should be simple enough to play but it also required the kind of rhythmic acumen that my teenage anxiety foreclosed upon. I had a friend who would try to teach me simple bass lines but his frustration with me was palpable which only made me more inept.
When I got to college I spent more time in rock clubs and record stores than I did in class. I was lucky enough to room with a guy who was in a fantastic band and lived next door to two obsessive record collectors who took me under their wings. In my junior year I started a band with friends. I was still a bit of a mess as a musician, but so was the rest of the band. Together we bashed out a joyful noise in a cement room that still rings in my ears today. That summer we lived together and barely survived the experience. By the following summer we almost had a single out. I had graduated from college a semester early and I spent weeks trying to cobble together a 2 week tour with 6 or 7 shows. It was on that trip that I first met the folks that would end up in that first film "Half-Cocked".
Over the next decade, I threw myself into making photos, music, and films. I worked a lot of crappy jobs and was lucky enough to have rent so cheap that I didn't have to work that many of them. While I might have liked to have a bit more success with any of those projects, I was able to travel a lot and keep creating work. As the 90's drew to a close so did my life as a semi-pro musician. I took my first real job and it took a heavy toll on my creative energy. At that point, we had made two narrative feature films – on film- and the process was so devastatingly hard that we couldn't even imagine trying again. We picked up a video camera because I was starting to do more shooting for other people and we stumbled into making documentaries. Hours before completing our first doc "Horns and Halos", we had our first child. Over the next year as we traveled with that film and tried to manage our relationship, our kid, and lives the stress of it all caught up with me and I found myself stuck on a floor screaming in pain. I ended up in the office of Dr. John Sarno and in the winter of 2004, we started to make a documentary about him and his work. That was 13 years ago. It's been a long strange trip.
I knew about Dr. Sarno because his book had saved my father from years of debilitating back and neck pain in the early 80's when I was in junior high school. My brother had then gone to see him in the early 90's. I read his book, which illuminates how our self-imposed stress, and the repression of our emotions can lead to pain. The book made a lot of sense to me and I banished my own back pain for a decade. After it came back in 2004 I read the book again but it couldn't stop the cycle- I guess the stress was just too deep and too great. However, after seeing him in his office I was able to being the process of clawing my way out of the well. For the most part I got about 80 percent better and we tried to figure out how to make the film, but we couldn't raise any money and we couldn't figure out how to tell his story.
A few years later the stress caught up with me again and I was annihilated by it. I knew there was nothing wrong with me physically, but I was an emotional wreck and as soon as I hit the floor I screamed grab the camera and shoot. In that moment, I knew that I had to be a character in that film.
That process wasn't easy but it was healing. After a couple of years of work on the film, we decided to move back to the house that I grew up in in order to make the time and the space to finish it. Brooklyn was a hard place to live, and an even harder place to raise kids. I missed the city at first, but it was good to re-connect with old friends and live a much slower life. For the most part, we hung out almost every weekend with a group of friends from high school who had kids the same age as ours and we made slow but steady progress on the film. We were almost finished with a full cut when my brother was visiting and asked his girlfriend to marry him. While celebrating at our friend Toby's house, he started to sing Elvis songs. My brother insisted that we put together a band and play at the wedding. I hadn't played much music for over a decade but Toby, our friend Spencer, and I started to learn some Elvis songs. After Spencer had taught me the basics of a few of them, we realized we needed a drummer so they asked our friend Noah to join us. Noah is the friend who had no patience for my ineptitude as a bass player in high school. It had taken me a while to get over my self-doubt after high school. However, after playing music for a decade I had come to be a pretty good bass player. As soon as he sat down to play with us, he and I locked in rhythmically. Any residual frustration I might have felt from that rocky musical past melted away- along with any residual self-doubt.
Belief is so central to our ability to accomplish any goal – be it physical, mental, or emotional. Having spent the past 5 years working on a film that centered around this idea, I was acutely aware of how my lack of confidence as a teenage bass player had made it almost impossible for me to learn. Conversely, the healing aspect of re-visiting that past in such a powerfully positive way was profound. This didn't mean that I could magically play anything- or remember every song or part. However, it did mean that my doubt or self-loathing would never again be the cause of my inability. I was always somewhat in awe of Noah's ability to play anything he heard, and he is an even better drummer than he was a guitar player.
travelling over from rumur on Vimeo.
As the wedding approached things were a bit hectic. We were struggling to find an ending for our film in the hopes that we might get it done in time for winter film festivals, and we were also practicing as a band quite a bit. When my wife and I got married my father wrote, and read,a speech for our wedding that is one of the more brilliant things I have ever read. The title harkens back to Hollywood cinema of the 50's, "Rules for Successful Living: Filmmaker Version". It focused on filmmaking and storytelling as metaphors for living an "unstuck" life. The speech had become a central part of "All The Rage" so when my brother asked me to read it at his wedding I instantly knew that we had found an ending. I was so emotional when it came time to read it that I had to pause for almost a minute before I could speak. Shortly after finishing the speech I took the wedding photos and then played with the band. A few days later we had a rough cut of the film and invite to play at Elvis fest a few months later.
We began to practice in earnest and we started to submit the film to festivals. Even though we had a cut, the film wasn't really done. It took a full year of continuous editing to make it a movie. The band continued to practice, and I'm happy to say we are making music that I like a lot. Spencer calls Noah and me "Wry and Slobby" (after the dub rhythm section Sly and Robby). After the film plays at the Carolina, we're going to jump on stage at the Pinhook and play a few songs and everything will come full circle. At the beginning of the film, I riff on Thomas Wolfe's famous title- sometimes you can go home again.