04 May

Four Birthdays and a Funeral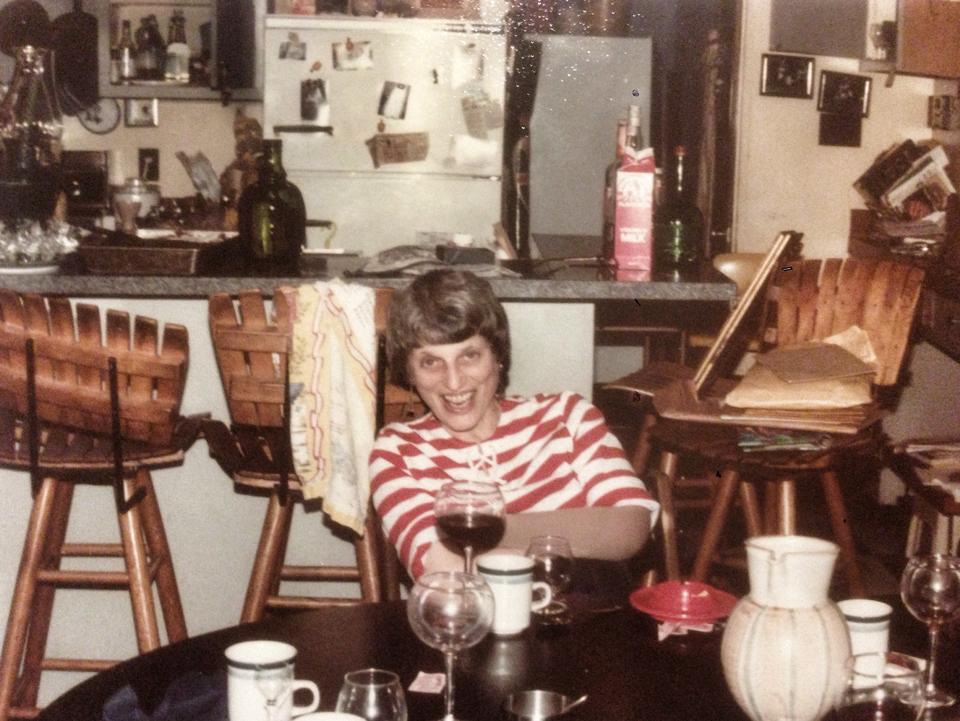 This picture, from my childhood home, was taken in the summer of 1984, when my mother was 49 years old. 30 years later I have moved back into that home, and I sit in the same spot to eat my dinner, and do my work. Throughout my life my parents have sat there reading the newspaper and paying bills. For the most part the place has remained unchanged. Those stools are now out front as I want to get rid of them (the broken one is still broken). There's a little less clutter, but not much.
Living in my childhood home, which is in a university town, is an especially profound experience because it is basically unchanged from when I moved away to New York nearly 30 years ago (the house, not the town). Now I am back, not only in the same home, but also in the environment of my youth, hanging out with my friends from childhood, while their children play with mine. This mash up of past and present stretches and tests my memory and sense of self. I imagine that this picture was taken while a dinner party was breaking up. Wine glasses and coffee cups are clues. I see my own manic energy in the face of my mother. I can also see that she has on her armband, which she wore after having surgery for breast cancer. Lymph nodes, that regulate fluids in the body were removed, leaving her with a perpetually swollen arm. I often write about my father but in many ways I am more like her. When I posted this picture to facebook a couple of days ago, many people pointed this out.
In February, about 8 months into this experiment of revisiting life in my childhood home, I turned 45, which is kind of the sweet spot between life and death. At 45 we often have children, or are surrounded by the children of our friends and colleagues. At the same time we are often confronted with death as those around us begin to pass away with increasing regularity. We walk a tightrope, attempting to manage our children, our careers, and our relationships with our parents. This complex balancing of roles and ideas can be emotionally exhausting. I was struck by these realities this weekend as I experienced four birthdays and a funeral, which were all connected to my family and my childhood.
On Saturday morning I dropped my kids off at gymnastics and went to the funeral for a friend's mother. She was an artist who took her work seriously, but her primary focus was on being a mother. As I listened to the thoughtful eulogies I realized how important unconscious childhood experiences are. I recall being shown her studio space and seeing her work in the house. She was known for intricate etchings that revolved around toothbrushes. Even as a teenager I had read enough about art and artists to have formed and idea of what an artist was like. My friend's mother, who peppered us with questions about our day as she arranged the kitchen, didn't fit in with that vision. She was nice, present, and… normal.
As we seek meaning and definition in our lives, the things that we experience shape our sense of life's roles and possibilities. One part of me always knew that I wanted to be an artist. I wasn't sure what that meant, but I know that being around my friend's mother added spice to the stew of ideas that molded my understanding. One could make art with great seriousness without engaging in the "game of art". This might not bring one glory, but it could certainly bring fulfillment. Further, simply being around art and artists influenced my sense of the primacy and importance of art.
As I look at my own trajectory I can see this influence working its way into my process. I too make art more for myself than for livelihood or recognition. I make photos with no financial goal in sight, and I spend an inordinate amount of time on these posts knowing that only a handful of people will read them. I also know that those who do will find some meaning. More importantly, putting finger to key moves the train up the tracks, helping me to understand my own work, why I do it, and what it means.
Change is difficult to maneuver. I know that this experience of living in my childhood home and childhood town, is harder in some ways for my wife, as she doesn't have roots in the community. However, for me the experience is perhaps more emotionally complex because each day I am reconnected to my past in ways that trigger unconscious emotional responses. Many of these feelings are positive, but I know they also affect me in ways that I'm not fully aware of. It can be exhausting.
The same night as the funeral, we had a surprise birthday party for my wife. Being in the same space that I inhabited as a child, running wild at my parents' parties, with the children of their friends, I was struck by a profound sense of the continuum. I was also surrounded by my childhood friends. The children that my children played with were their children. On of my strongest memories of childhood was our annual 4th of July party, to which many of their colleagues and their children would come.
My mother who recently moved out of the house so that we might move-in also came to the party. It was a really nice event, and/but it made me feel like a visitor in my own life, connecting me with, and separating me from, my own past at the same time.
The next morning we went to a birthday brunch with many of the same people, celebrating the birthday of my friend's wife, the daughter in-law of the woman who had passed away. The party was hosted by another friend from high school who I had not stayed in touch with since high school. It was her husband's birthday as well. The brunch was in the same space as the previous day's wake, yet the mood was similar, as they were in essence both celebrations of life, of family, community, and continuity. Now I'm off to a birthday celebration for my niece, but first I need a nap.