03 Dec

Happy Chanunkah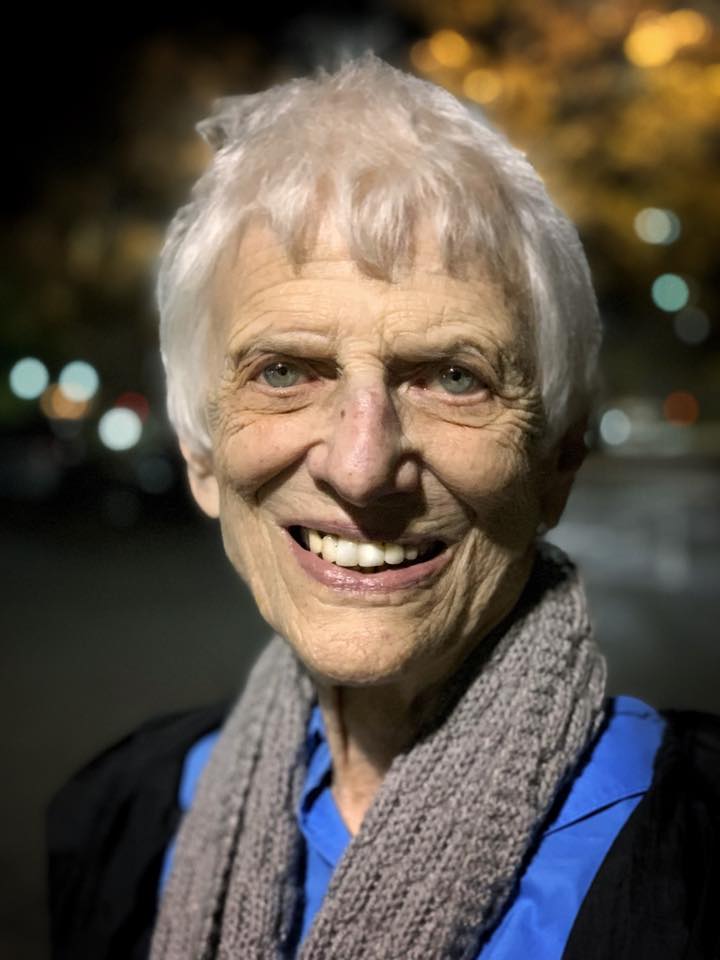 For many people who struggle with TMS, our relationships with our parents play a role in our need to achieve and excel. Oftentimes, the import of achieving isn't communicated directly, or even intentionally, by our parents. Yet, we harbor both conscious and unconscious anger that they forced us into a role we didn't want to play – a role we feel stuck in. This can be exacerbated when those patterns get accidentally reinforced though our interactions.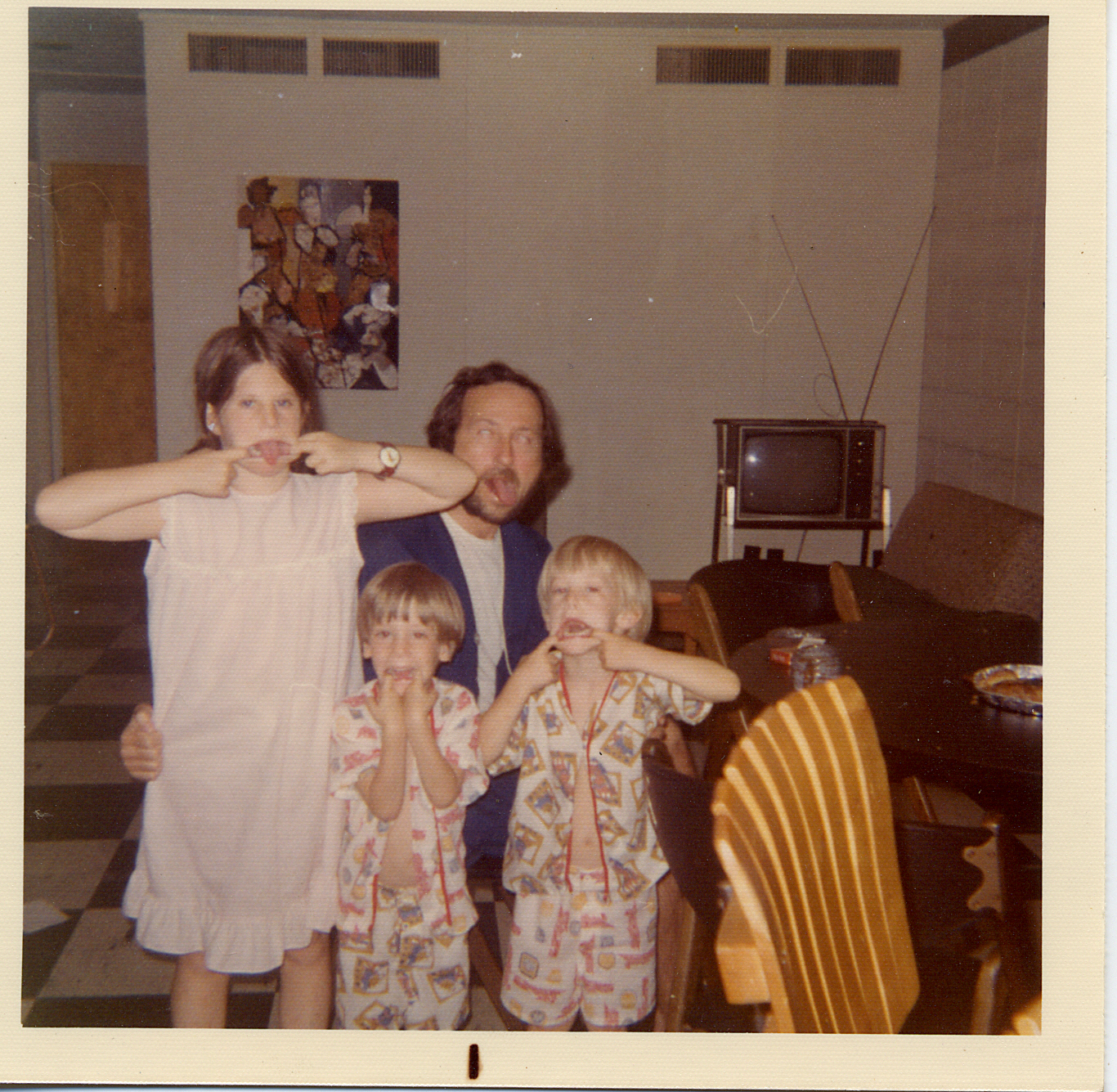 When I had just finished college, my father insisted that I "write when I get work". I understand that he was worried about me, that he cared, that he wanted me to figure out a path for my future. It wasn't helpful, and it enraged me because it minimized and dismissed the path I had chosen, that of an artist. However, he found it almost impossible to break the pattern of saying it, and I certainly could not control my reaction of rage when he did. It was our own awful ritual.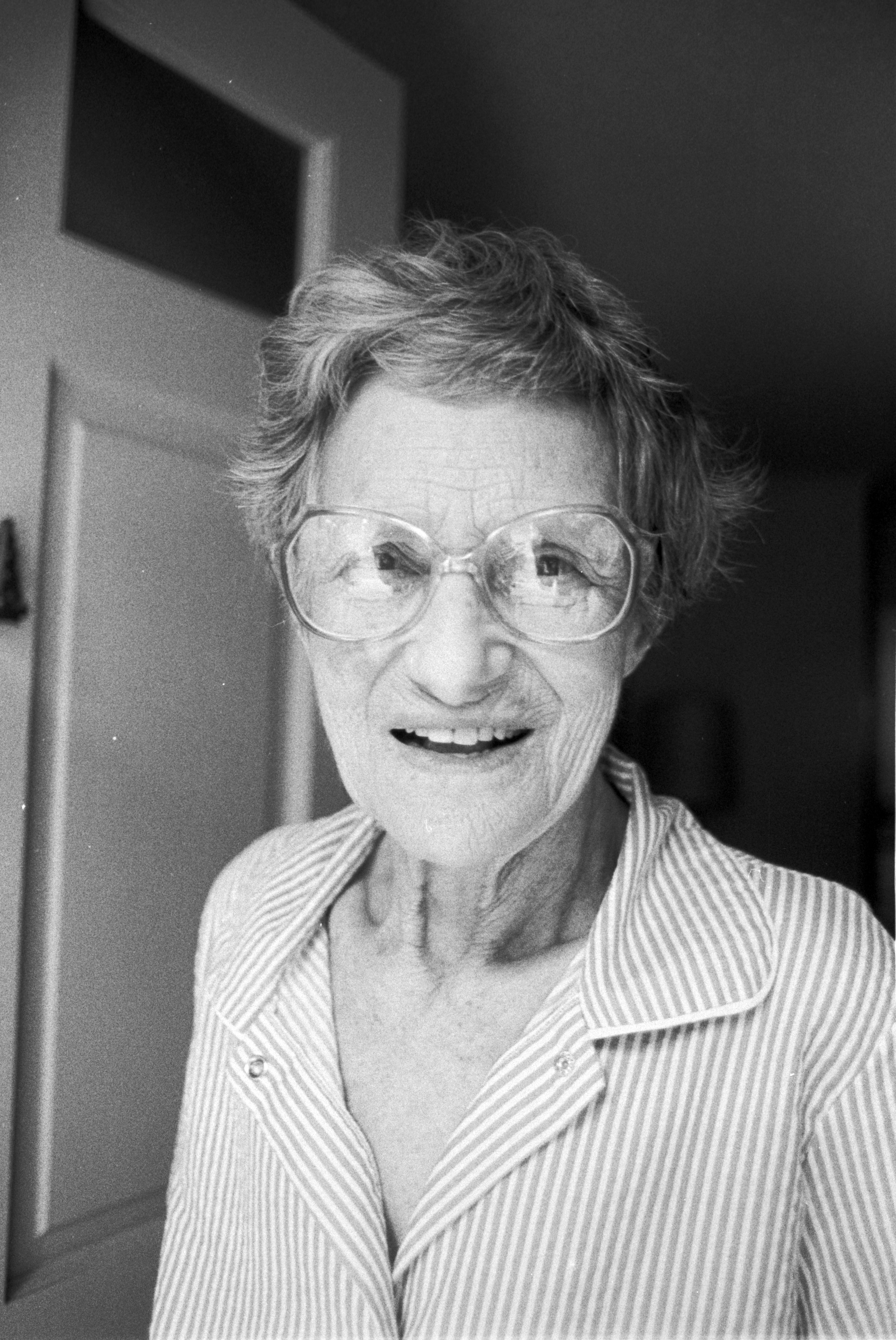 Growing up, we had very few conscious rituals in our lives. We did not go to Synagogue, or travel on holidays to be with family very often. Like many families in our post war world, we were a bit of an island unto ourselves. Both of my grandfathers passed away before I was born and my father's mother passed away when I was in grade school. My mom had a somewhat fraught relationship with her own mother, but we saw her occasionally when I was younger – a few trips to NY and she visited every couple years. When I was in junior high, she came to live in our town and came to dinner every Sunday. At a certain point, her driving got worse and my brother or I would go and pick her up. As her health and memory declined, it was quite hard on my mom. This experience drove her own decision to move to a retirement community much earlier than she might have liked. She has a powerful fear of becoming reliant on others, or being a burden.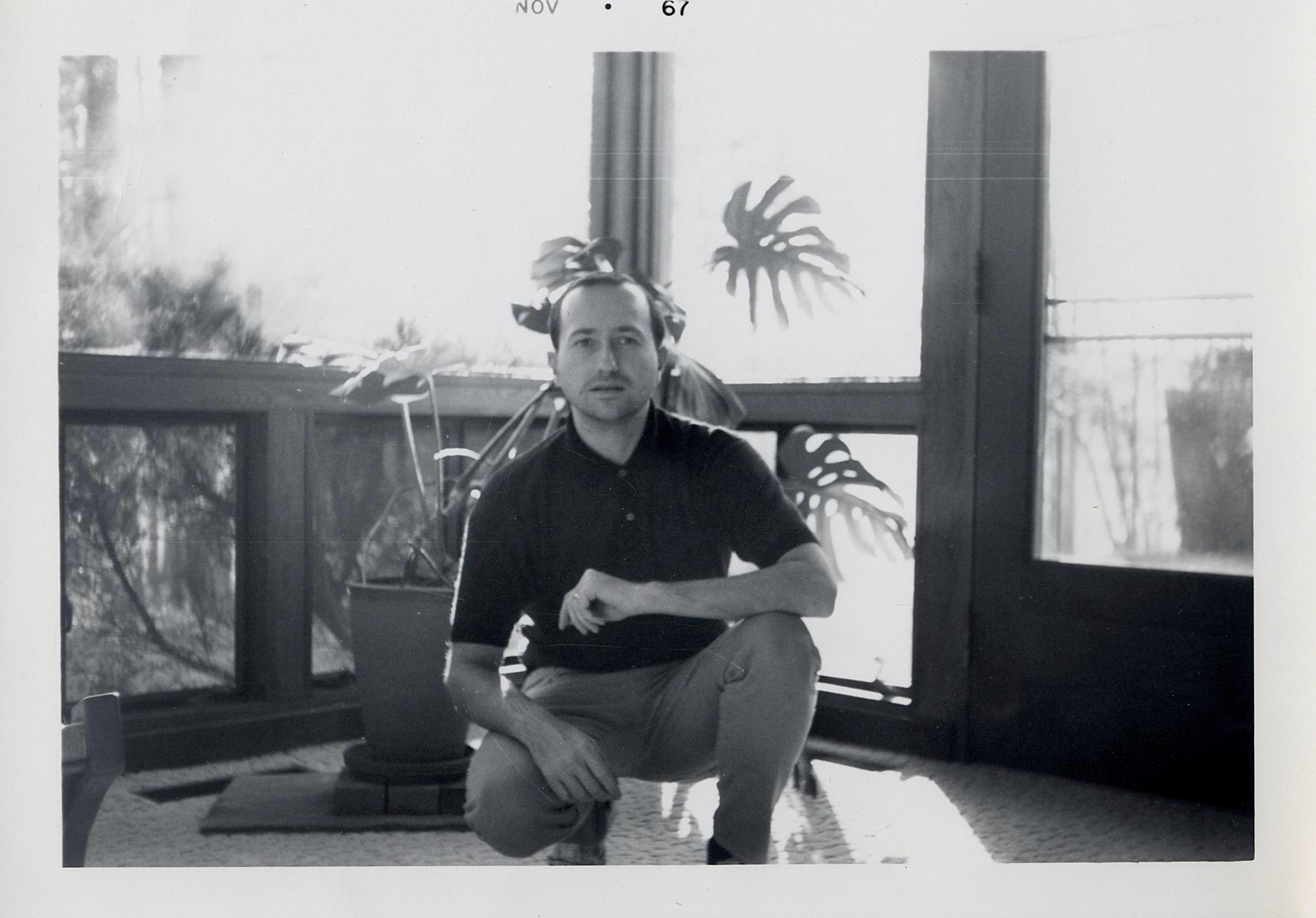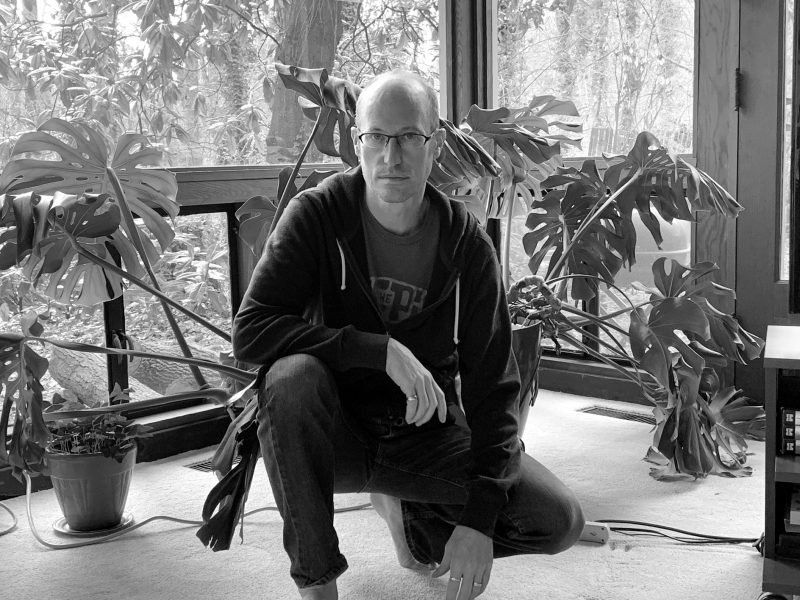 My mom wanted us to have more structured ritual, but my father was so cynical he didn't recognize the value of it. I fear that even with my understanding of its import, I'm almost as bad at developing it in my own family. Over the holidays, we'd celebrate an amalgamation if Chanukah and Christmas. Some years, at my mother's insistence, we'd light a menorah, but we'd also open presents we'd put under the Chanukah bush in our living room on Christmas Day. That plant was in the house when my parents bought it in 1965. It's still there today.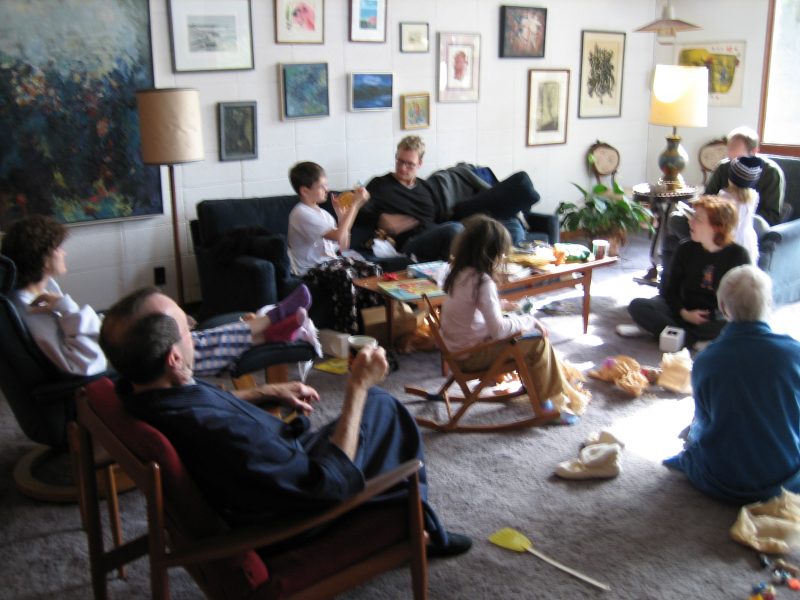 Once I went to college, I spent most holidays at home. After I got into a relationship with my future wife, she started to join me, but soon we began to go to Thanksgiving with my family and Christmas with hers. I believe that in the picture above, we are opening some presents in the living room at Thanksgiving because we weren't going to be there in December. Starting in college, my father got me socks and underwear from the GAP most years. I'm still wearing them 12 years after his death. He was not very sentimental, except when it came to movies, and I find myself being resistant to holiday rituals as well. I can't help but be aware of the commercial aspects of them and how they are driven so strongly by capitalism. Shortly after posting the picture of my mom that is at the top of the post- and writing this piece about the first day of Chanukah – I came across this pithy comment from a friend of mine:
While Hanukah greetings (and any greetings really) are appreciated they aren't necessary. Not only is Hanukah historically the least relevant Jewish holiday, only recently resurrected to make sad Jews feel better about the fact that Santa doesn't come down their chimney, it originally celebrated the brutal triumph of Jewish extremists over the moderate Jews who just wanted to eat pork and be chill. The fact that it's now the most observed Jewish holiday by least religious Jews is even more ironic than gathering around a pagan-rooted tree and engaging in compulsive consumerism. Arne't humans funny? Anyway, happy Alt Xmas!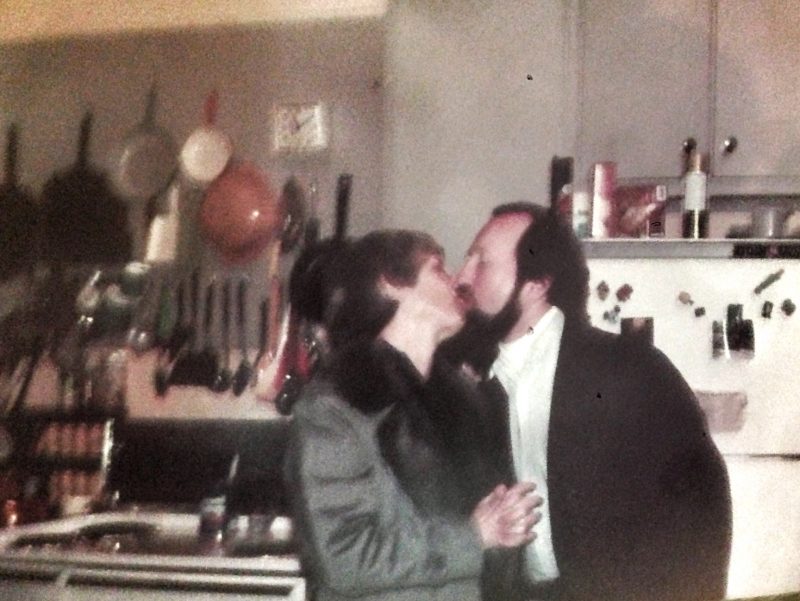 As a child, I gravitated more towards my father's laid back approach to ritual, and I'm sure he would have loved the sentiment expressed by my friend above. As a parent myself, I wish that I had the means to be slightly more versed in how to weave ritual into our lives. My daughter, like her father, is both attracted to and repelled by ceremony. Like me, she can't help but see behind the curtain. As much as she wants pomp and circumstance, she can be disappointed by it. She also has a lot of my mom in her, and my brother – she's a DNA sponge. I didn't care about doing well in school, but my brother, and my wife, did, and so does she. I spend an inordinate amount of time trying to explain to my daughter how important it is to let go of that need to succeed, and yet she still strives harder than anyone else – Taking way too many AP courses and participating in more activities than she can handle. Despite my conscious efforts to minimize any communication that conveys she is not good enough, I fall into patterns that don't always help.
Parenting is hard
Being a child is hard
Healing is not easy
It's a process and it's possible.
My father and I had a complex and loving relationship. We worked, not always successfully, to heal some of the negative patterns that we had developed. He came to respect and support my path as an artist, and we even worked for a bit on a book about navigating the transition between a parent-child relationship to a more peer- based one. When he passed away, I felt settled by the idea that we'd found balance. At the time, my mother and I got along, but there was a cautious distance there, and we hadn't done the work we needed to do. His passing forced us to shift into a more complex and robust relationship and it was difficult because we hadn't done that work yet. There was a lot of conflict.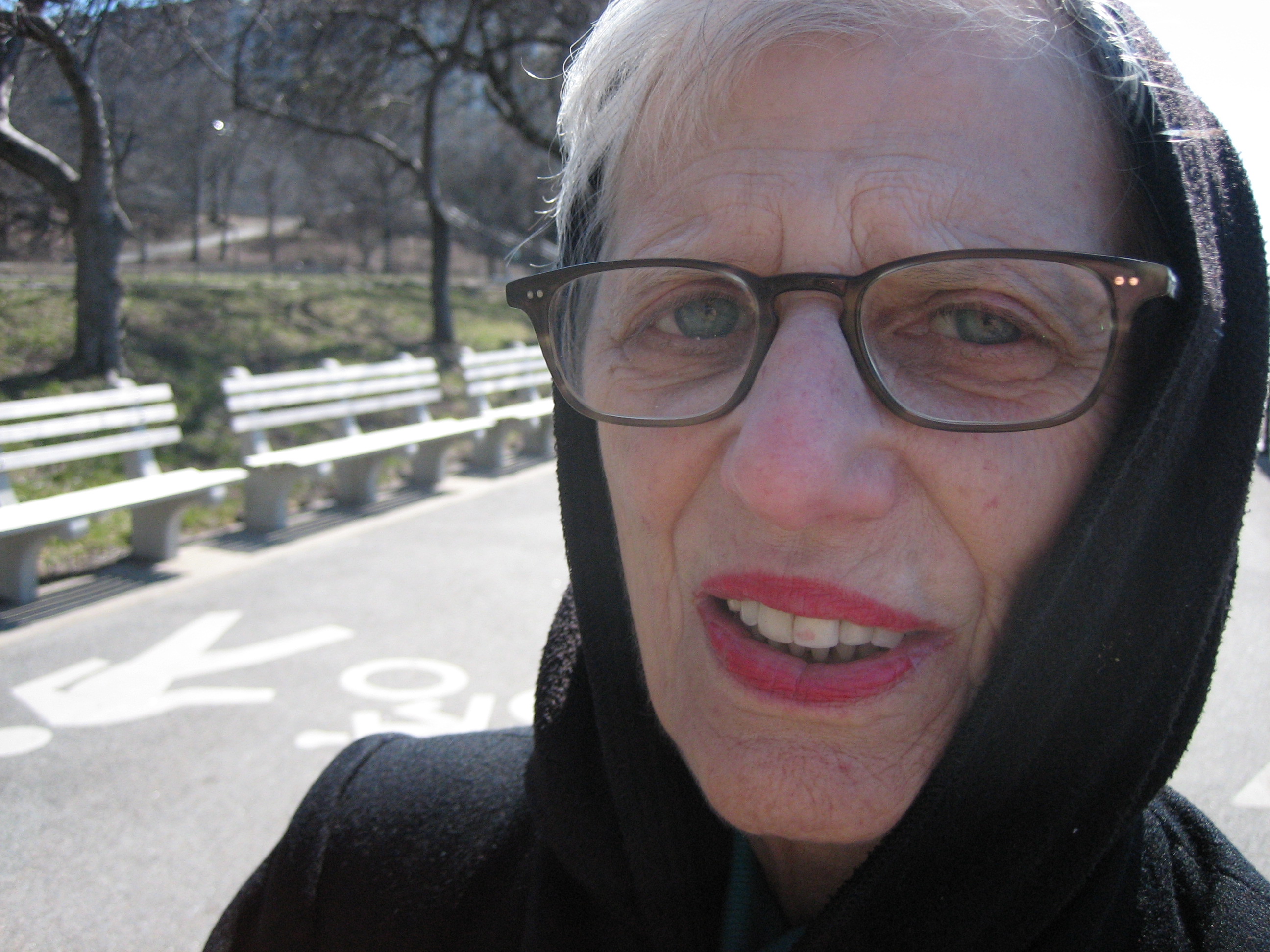 My mom is intensely independent. We had a three-hour screaming fight at one point because I'd dared to call her doctor after she had a concussion because she insisted that he said it was fine for her to drive. When she moved into a retirement home and we moved into her house, we did a lot of work together to figure out how to deal with that kind of conflict. It has not been easy but it it has been fruitful.
Eckhart Tolle's "A New Earth" taught me a lot about empathy and Michael Brown's "The Presence Process" taught me a great deal about being responsible for my own responses. Together, that hard work has helped me handle the bumps in the road of that relationship. At the same time, she has worked on listening and responding as well and we've gone a great distance.
Last night, we met up for a family dinner. My older daughter couldn't come because she was stressed out about homework and my wife stayed with her. It was just me, my younger daughter and our exchange student eating Sushi on the first night of Chanukah. She'd brought a bunch of recycled envelopes with money as a gifts- But she'd forgotten our exchange student- so spent time trying to secretly change money at the register, rip open envelopes etc. she was upset that she'd forgotten and it was all a lot of drama that might have bothered me in the past but no longer did.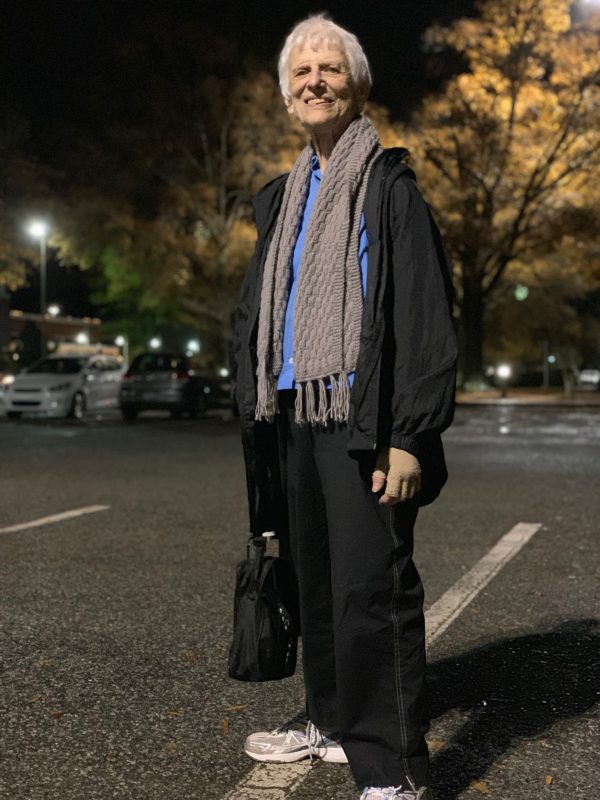 As we walked into the parking lot, the overhead lights sparked an idea for a photo. I walked her into the light and took the lightest photo of her I ever made. As my gift to her, I even lightened and whitened her teeth a little. When I got home, I thought about looking for a menorah- we've occasionally tried to bring more ritual into our lives- but it was late and my younger daughter wanted to participate in her night time ritual of watching "The Office" with her mom.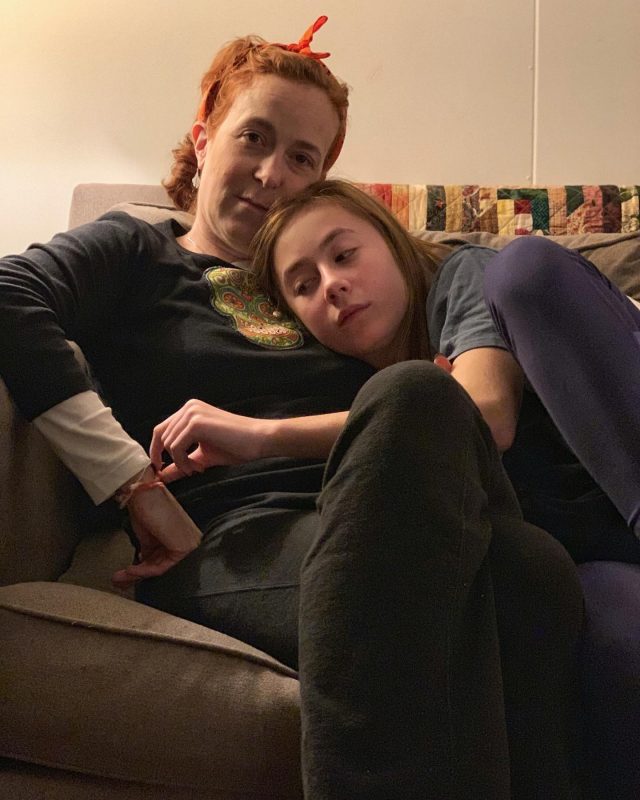 I worked on my computer next to our older daughter, falling into our ritual of me telling her to get off her phone and focus on her work. We have our rituals for sure, and in the new year we will strive to make them a little more structured, present, and aware.
Happy Chanukah.