21 Sep

Is It True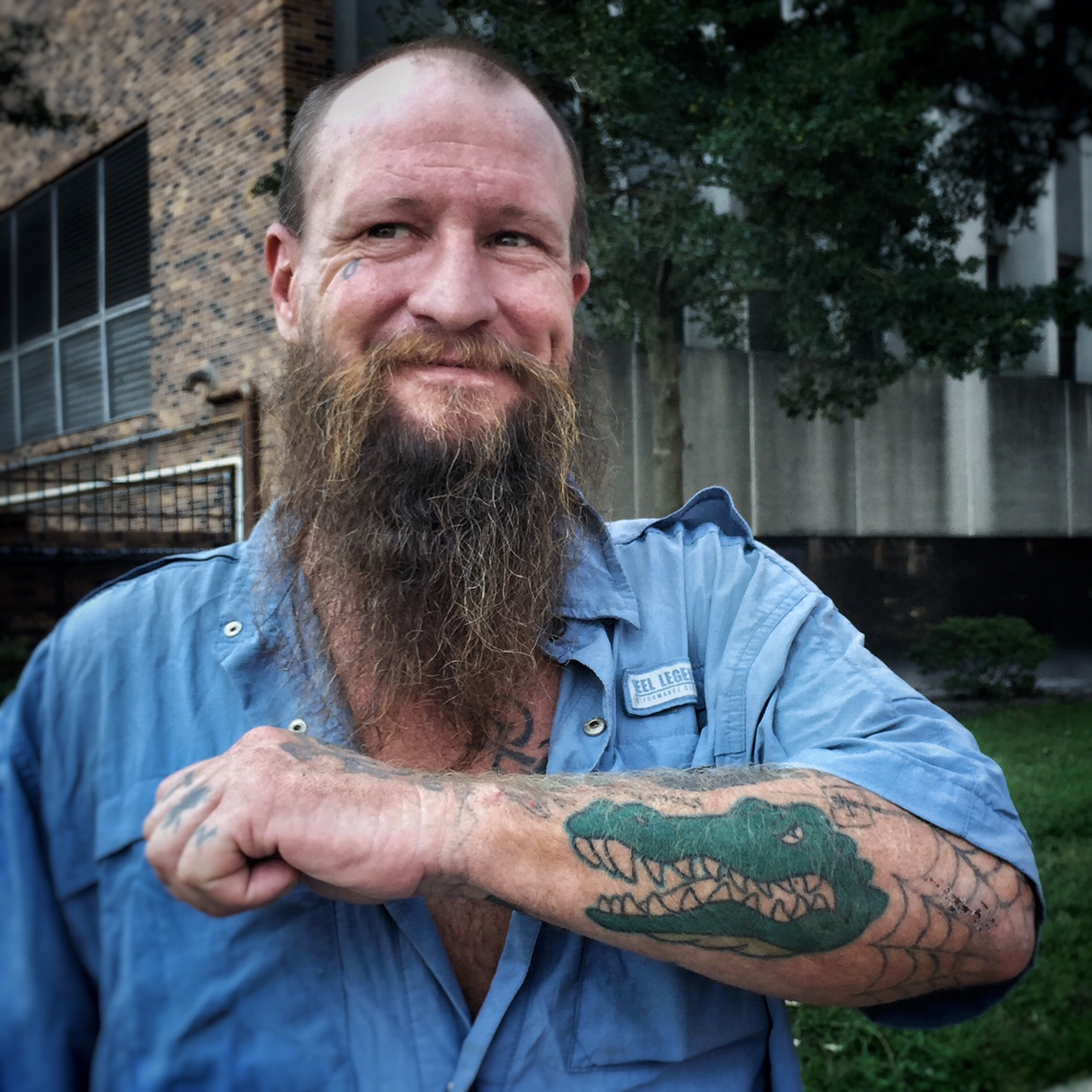 Over the past several months I have worked on re-framing my relationship to the world. Starting from the understanding that we "create our own reality" I have worked on accepting everything that happens without judgment, and in general I've found that the results are pretty fantastic. When we simply accept what is, without putting a negative or positive label on it, we are able to respond to things that happen without judgment. Like anything else one practices it can be a bit difficult at first but over time it becomes second nature, requiring very little conscious effort.
This past weekend I went to Jacksonville for a film festival. On Sunday morning the boyfriend of one of the organizers, James, took Keri, another filmmaker, and myself on a ride around town to take pictures. At one point we got out of the car so Keri could take pictures of a courthouse that figured in her father's life. I took the opportunity to run into a bar to go to the bathroom. On the way out the gentleman pictured above asked if he could use my phone to call his mother because he'd just gotten out of jail. In the past I might have felt some trepidation at handing my phone to a stranger who had just gotten out of jail but I happily dialed the number and handed him the phone. His mother wasn't in. "Probably at church," he laughed. As I dialed his girlfriend he explained that they had put him in jail for a week with a charge of "criminal mischief". On our way to the courthouse James had explained that the Jacksonville police have a 97% rate of people either pleading guilty or being convicted of crimes. They're notorious for abusing prisoner's rights. My new friend's girlfriend wasn't in either, so I offered him some money for bus fare. "I sure could use a beer," he smiled. I obliged and asked him if I could take his picture. When he was on the phone I had noticed his Florida Gator tattoo so I asked him to lift it. He hustled away with a big grin on his face and so did I.
The previous evening I had screened "All The Rage" at the Jacksonville Documentary film festival. When I do q and a sessions after screenings of the film I often talk about the idea that our resistance to our emotions, can cause us a lot of other emotional and physical problems. I guess that both the film, and this idea, echo some of what the writer Louise Hay talks about because at almost every screening someone comes up to me and says "Have you read Louise Hay". I always had to reply "people keep telling me that. I need to do it." A few weeks ago I had a long conversation with Dr. John Sklar. I first connected with him during the Kickstarter campaign we ran for "All The Rage" in 2014, and we hit it off immediately. Since then he's suggested that I read several different books- starting with "The Presence Process" by Michael Brown. I trusted Dr. Sklar from the moment we first talked- but it still took me almost a year to get that book.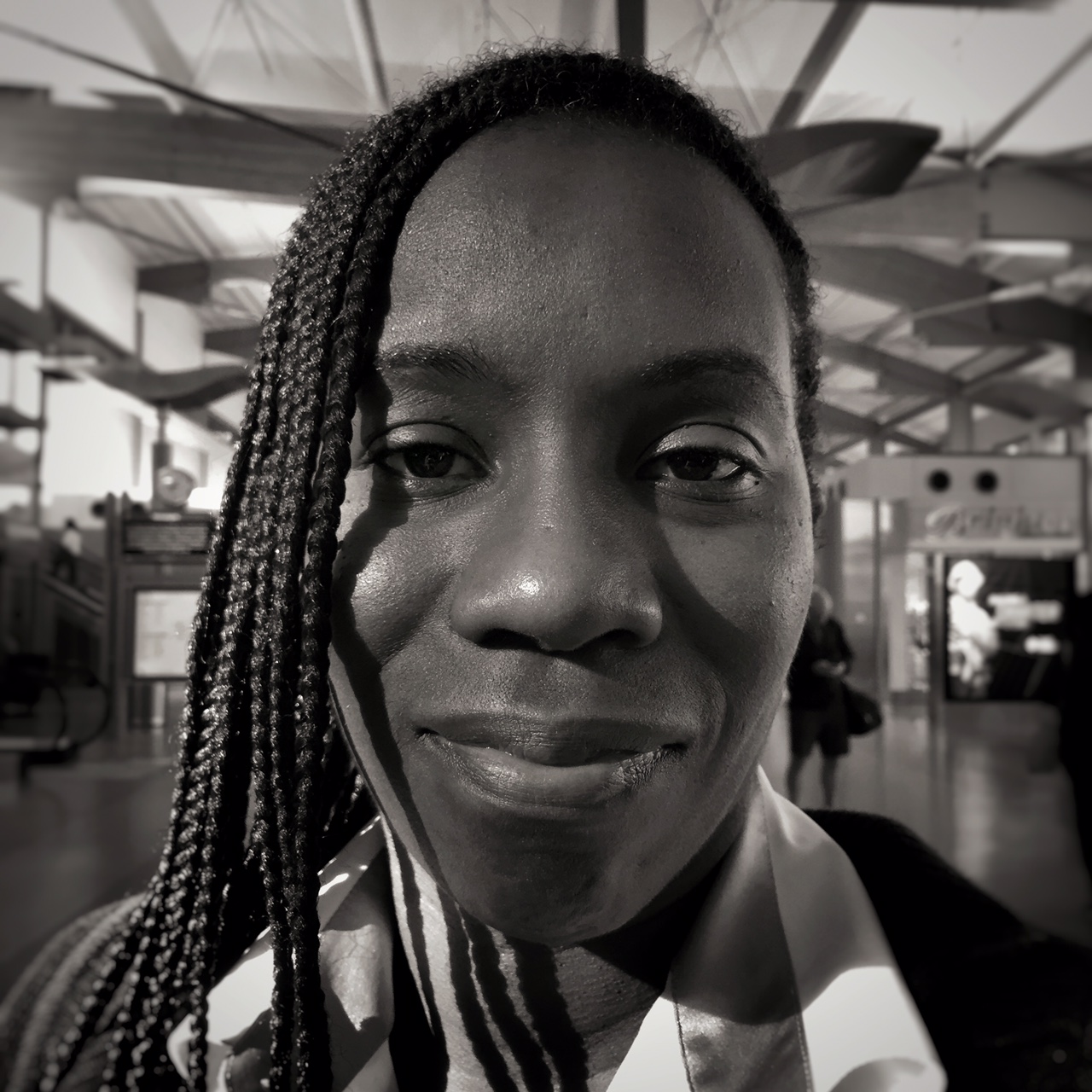 One weekend in August 2015 I went to the airport in order to go to Houston to film a talk he was giving. It was going to be a very short trip because school was starting for my kids the following Monday and I had to be back. I left for the airport just as my daughter's birthday party was starting so I was a little conflicted about leaving. As I checked in the gate attendant looked at my backpack (which is also my camera bag) and asked me what kind of camera I have. We started to talk realized that she went to high school in Brooklyn around the corner from where lived in Clinton Hill. It was busy so we couldn't talk long but we exchanged contact information. Shelby was starting a new project that sounded very interesting and I offered to help with it. Over the next several months we saw each other a few times and I did some shoots for her projects.
As we boarded the plane I checked in with Dr. Sklar to make sure he'd be there when I arrived as time was quite tight. We left the gate, taxied to the runway and then sat there for a while. I started to get a little nervous about time. After almost an hour the pilot announced that the radar station that tracked the East Coast had lost power and no planes were taking off. We headed back to the gate. As we did I turned back on my phone and called Delta to see about getting on a later flight. I actually got someone fairly quickly but realized almost right away that the trip couldn't happen. Even if I got a much later flight it just didn't make sense to go. As it was, I could also get back home for most of my daughter's party.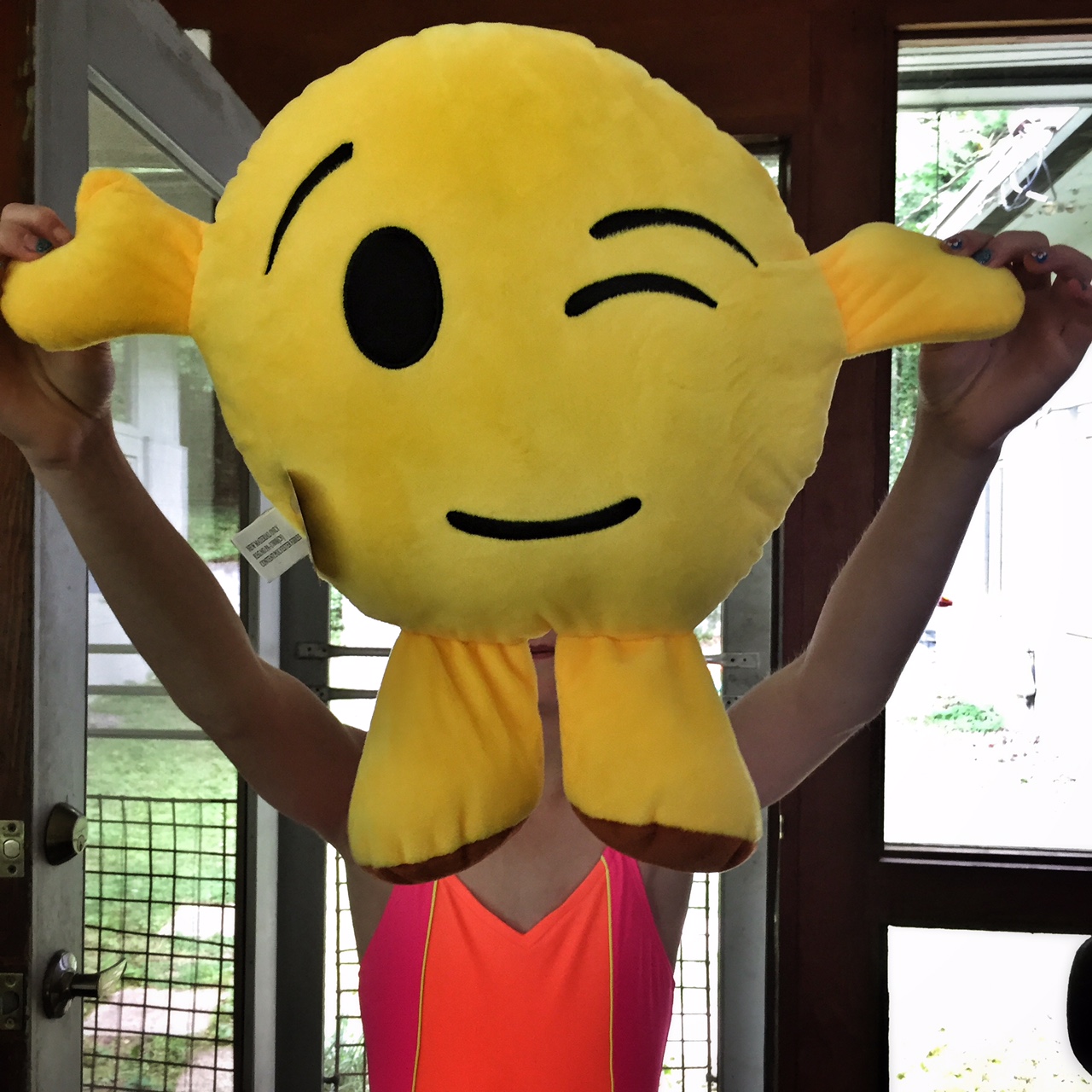 John was disappointed but he understood. Before we hung he told me, "Just do me a favor. Get "The Presence Process"." This time I really heard him and ordered it a few days later. At the time I read part of the introduction which made it clear that reading the book- and doing the presence process, took a 10 week commitment. Things were hectic at the time so it took a few more months before I could get to it. The knowledge and awareness that I gained from that process set me on the path to really understand the idea of accepting what is – rather than reacting to what we expect.
I finally met Dr Sklar in person when he came to the premiere of "All The Rage" at the DocNYC film festival in November 2016. I knew he was a little bit disappointed that we had not been able to film with him for the movie. Still, it was great to have him there. A few months later when we showed the film at the Chicago Underground Film Festival he happened to be in town so we had lunch and a great conversation. Afterwards we went to a park and I filmed him saying some of the things we'd talked about. I knew right away that we could add one of them to the credits. He also said the piece posted above, about how when the student is ready, the teacher will appear. Increasingly I have found this to be true in my own life. Now when the teacher speaks I try to accept what I am supposed to learn. The teacher is not always a person, it can also be a suggestion or an event.
A month ago I talked with Dr. Sklar again. He told me that I needed to read Byron Katie's book, "A Thousand Names for Joy (Living in Harmony with the Way Things Are)". What he described sounded a lot like what I had heard about Louise Hay. A few days later two people came up to me at the Sidewalk Film Festival after our August 26th screening and once again asked me about Louise Hay. As soon as the q and a was over I finally ordered her book -along with the Byron Katie book. They arrived on August 29th. The next day Louise Hay passed away.
Over the past couple of weeks I have been reading bits and pieces of them. Both books as us to question our belief structures, why they exist, and whether or not they work for us. "Is it true or real?" we are instructed to ask. So often in our lives we live out patterns of behavior that were formed in childhood, patterns that come from those that were formed for our parents by their upbringing. These patters of thought and behavior are products of our "culture" that feel solid, real, and true. We rely on them for our sense of self, we consider them the foundation of our being. However, when we really question them, we find that the foundation isn't as solid as we thought.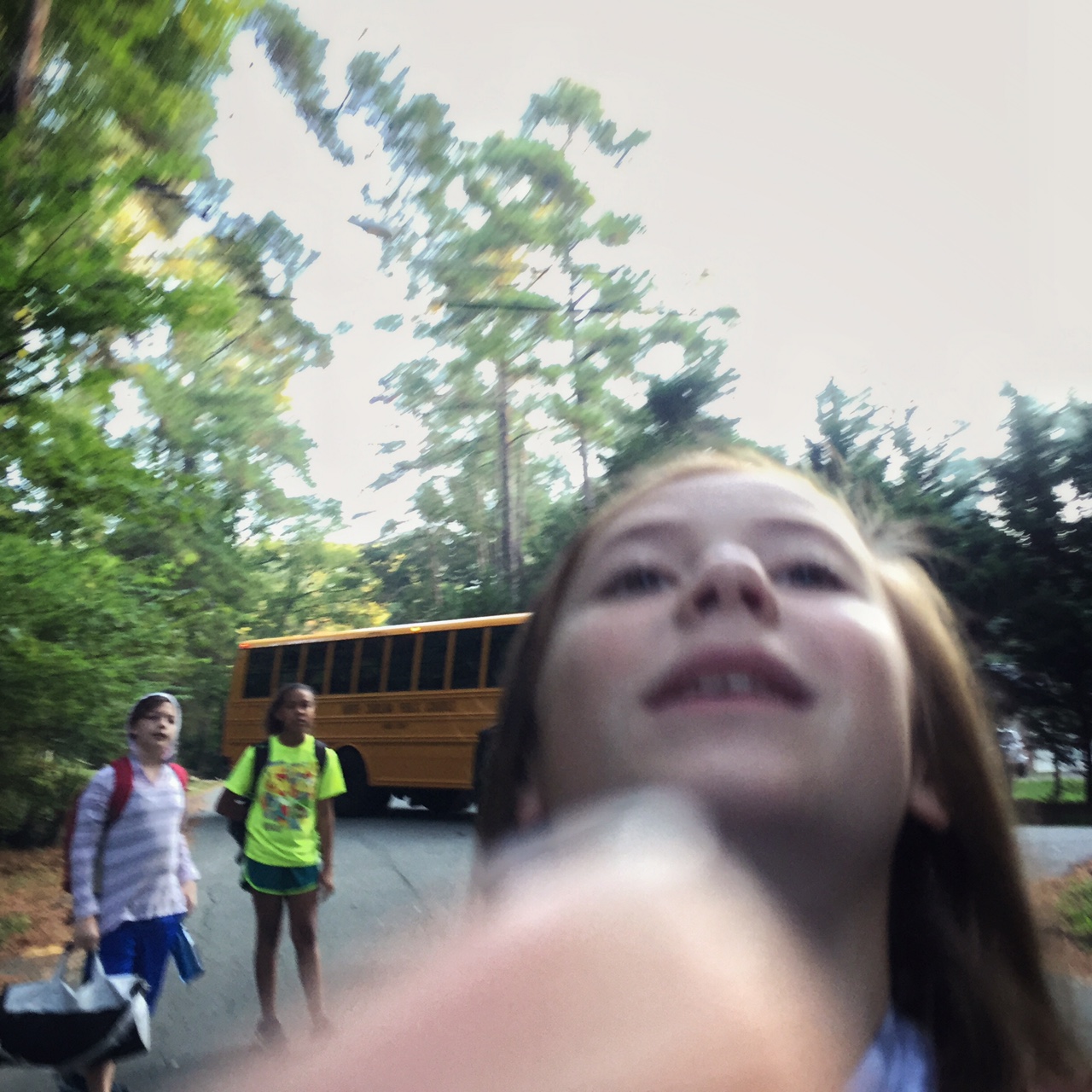 Before I headed to the airport for last weekend's trip to Jacksonville I walked my daughter to the bus stop as I have done each day this year. She just started middle school and this is her first time riding the bus. In elementary school she would have had to get up at 6am to make it to the bus so I drove her. She was only a little nervous at first but she still wants me to walk her there and hang out. I don't mind at all. I know it won't last much longer so I just enjoy the time while I have it. When the bus came she went to get on it and then remembered that I was leaving so she ran back to get a kiss.
Then I headed to the airport. As is my habit, I checked in to see if Shelby was around. She was and for once I was on her airline. We met up and talked. Both of us have mothers who are starting to struggle with memory issues. I have found that when I can get my mother to simply accept that she can't remember people's names they come back to her much faster. When she stresses out about the fact that she is losing her memory she goes into a fear spiral that makes things much worse. Thankfully, she sees this is true and she's been doing a lot of work on acceptance of her situation. It helps immeasurably. All of the fear, anger, and doubt that we hold onto is like cement around our feet. Most of what we think really isn't true- and if it isn't true it floats away. It no longer drags us down.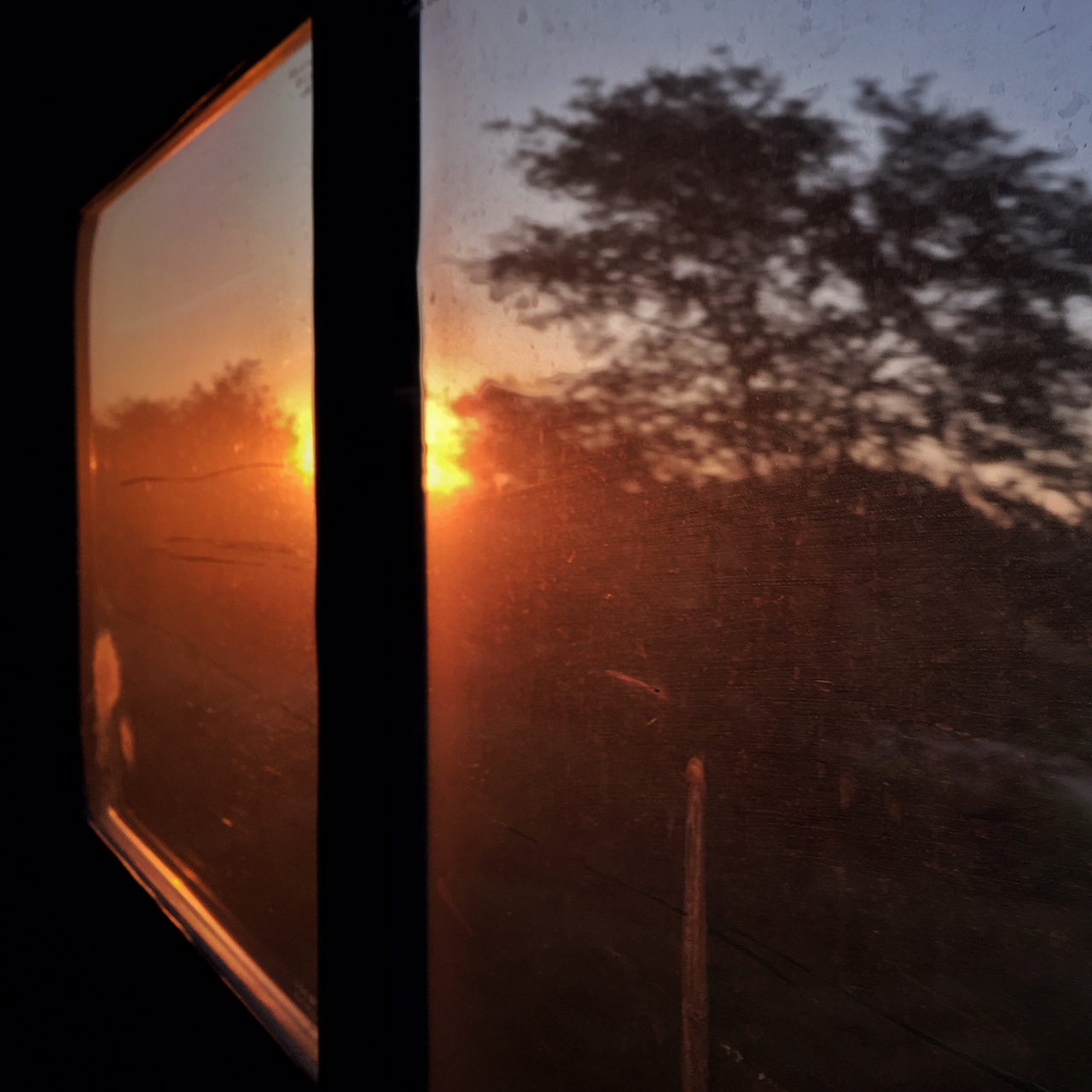 I thought a lot about that idea over the weekend and tried to share it with a few people as well. As the festival wound down I got a ride to the train station at 11pm. I had decided to take the overnight train home since it was so much cheaper than a flight. I figured I would sleep so it wouldn't matter all that much. I also like trains. It was empty at the start and I got a little sleep but at around 1am the crew woke me up because a lot of folks were expected in Savannah. After that I had trouble sleeping. I was tired and frustrated so it took some effort to concentrate on accepting my situation. Even with my meditating I struggled to get comfortable enough to sleep. It didn't help that they left the lights on. I'm not sure that I'll do the overnight train again even if it is a lot cheaper. It was nice to see the sunrise though. As tired and cranky as I was, the sunrise made it a little more worthwhile.