26 Sep

Bread and Circuses
I stayed up late last night looking at footage from the occupy wall street protest.  For the most part it's pretty mild stuff.  There are very few truncheons swinging.  Yet the tone of dismissal and power is overwhelming.  There's a palpable anger among the officers even as the protesters remain non-violent.  What's even more disturbing is that the white shirts (the supervisors) are responsible for the most egregious acts of violence in both the mace video and the one of the orange shirted café worker who is trying to figure out what's going on.
For the most part the protests have gone un-reported.  Slowly the media started to pick up on some of the more violent police actions.  In reference to uncut footage of a supervisor macing 3 calm women, a police spokesperson claimed that the footage was "doctored". It's uncut footage.  The supervisor walks up and sprays mace in their faces and walks away.  The footage is clear.  I take particular offense at these charges because as filmmakers we take great pains to be even handed, yet we get accused of creating "propaganda".
Today I went down to a tent on the plaza of the Atlantic Center mall to see Jay Z make a "surprise" announcement that he will do 8 shows at the arena and that the team will be called the Brooklyn Nets.  It was a total bread and circus  moment.  While there are hundreds of people protesting on wall street there were hundreds of press people at the event dutifully reporting the dominant narrative that they were led to.  When I pointed this out to press people they didn't see the irony.
When I first arrived (at the wrong location) I saw Marty Markowitz talking to an ABC news reporter.
I offered Marty a copy of the film. He refused to take it and told me that it was propaganda.  I explained that I made the film and asked if he had seen it.  "No, but I have had plenty of people tell me that it's propaganda. " I told him that I took offense at that notion as I had taken great pains to make it even handed.  I asked him again if he was sure that he didn't want a copy. He did not.  I didn't film this exchange because I had no ill intent.  I sincerely wanted him to have a chance to view the film.  I offered one to the reporter as I had filmed him at the ground breaking.  He didn't want one either.  Then Marty yelled at me that they didn't have to take one.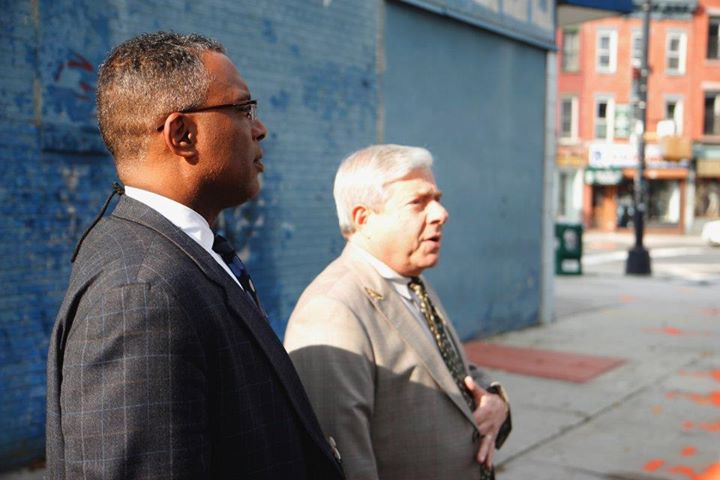 I would be lying if I didn't say that the exchange kicked up my adrenalin.  However, I stayed calm and walked away.  After Marty left I told the reporter that I really wasn't trying to be aggressive or rude.  He was pleasant and said, "I'm just here to cover this event."  I again offered him a DVD explaining that he was in the film and that he had interviewed Dan at the groundbreaking.  He still didn't want it.  I told him that I thought it was important to consider the context of an event like today.  He again told me that he can't remember much of what he covers and he's only here to do his job.  This kind of response always bothers me, but it's particularly painful today as this bread and circus event was taking place while the occupy wall street movement was being dismissed by these same people.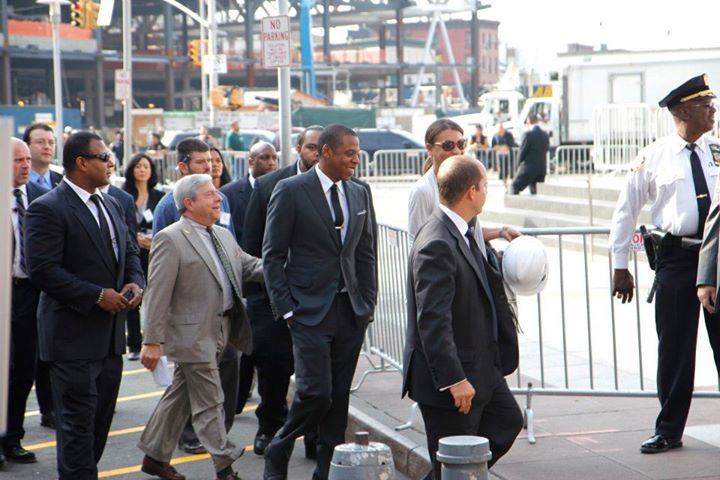 I went down to the event partly to witness it, but I also wanted to use our film to help put forth the counter narrative.  I hoped to use the existence of the film as a counterwieght to the narrative that was being put forth this day.  My associate Laurika Harris Kaye was with me holding a poster for the film and handing out information to reporters.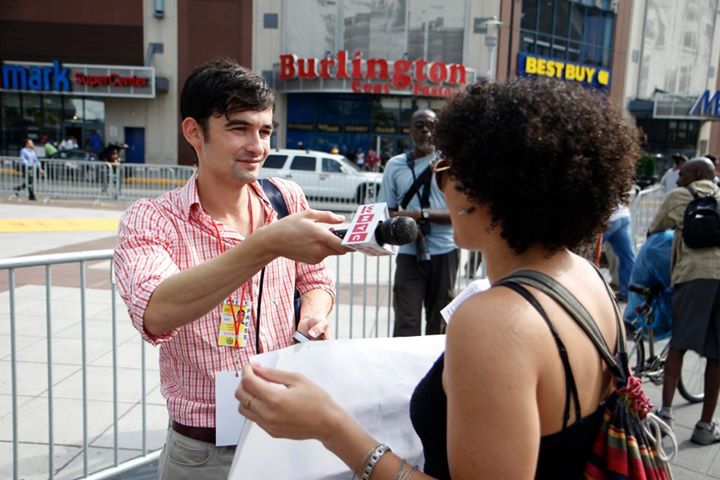 After the event Laurika and I spoke to a WNYC reporter and I tried to make the connection between this event and the fact that the protest goes underreported.  I said, "This is a magic trick to make people look the other way from the fact that all of the promises made to the community have been ignored.  There are almost no jobs, there's no housing, and it's all 'look over here at this superstar'."  I elaborated about the connection between this event and what is taking place on wall street.  He wasn't having any of it.  Everyone tells me that I'm crazy for making a connection.  However, if the press is distracted by a superstar then they are part of the problem.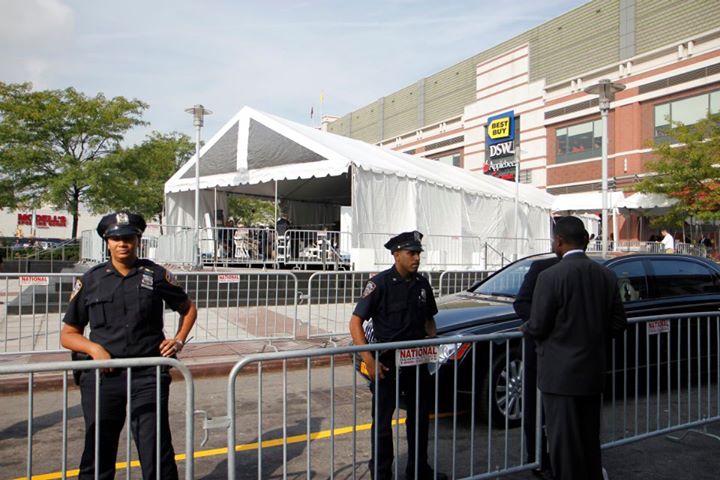 The event today was all about leading and controlling the narrative.  This process can only work if the press is complicit.  The press is complicit. Try googling Barclays Jay-Z– see how many articles pop up. Bread and Circuses while Rome burns.