12 Jan

Art of Death

David Bowie's video for his song "Lazarus" was released 3 days before he died. It's a tremendous song and the video is even stronger. Yesterday, facebook was flooded with personal memories of people who had been touched by Bowie and his music. His fame allowed him to reach through the electrons of media and have personal relationships with millions of people. He dispensed permission to let one's freak flag fly. His video reaches back from the void and shares his passage with his people.

Around here, his passing brought up memories of our friend Letha who was also a musical and artistic genius. Unfortunately, she did not find a way to connect with the world that David Bowie did. However, she did approach her own death with a similar grace and artistic fervor. While Letha was a private person, she wrote about her struggles with illness and turned it into an avenue of expression. She also left us with a Lazarus-like song to let us know that she was still with us, and always would be. Art transcends death. Art kills death.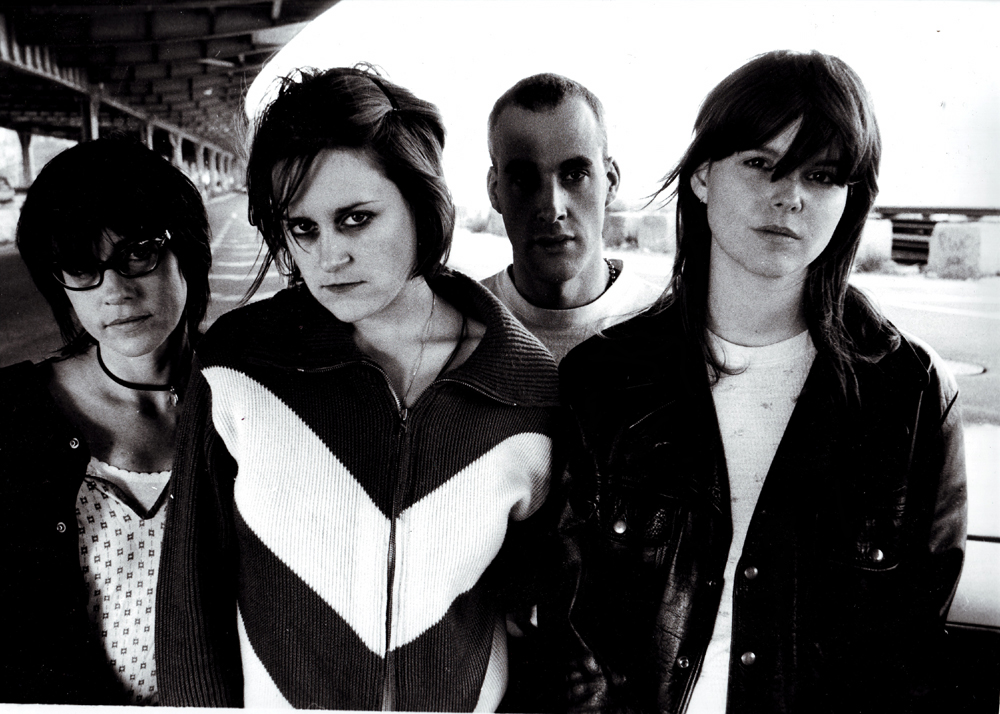 I met Letha in the early 90's when we both played in rock bands. Letha was beautiful and a little shy, hiding behind her cat eye 50's glasses. For a while I mostly knew her in passing – from the practice space or from nodding hello at rock shows. At some point though, I think when our bands began to play together, we became friends. When I first met my future wife at a loft party, it was she who pushed us together. Letha and Suki became very close friends, and she was with us through all of our ups and downs. Letha and I had no downs that I can remember. We also became collaborators and supporters of each others' artistic adventures. Letha was always learning a new skill like graphic design or sewing and coming up with new ways of thinking about them. When she wanted to make a sitcom with her friend Joe, I helped them shoot it and Suki edited it. It was brilliant- I have to get it online soon.
In the early part of this century, when New York was rapidly beginning to lose its ability to hold on to poor artists, Letha decamped for North Carolina with her husband Dan. They went in search of cheaper rent and a supportive art scene. Letha also knew that Suki and I would be down to visit my family a couple times of year. We saw her each time we came, and Letha continued to make all kinds of crazy art that she had no real interest or inclination in promoting. She had an impulse to create and she made mountains of work.
Under the Bed from rumur on Vimeo.
In 2010, she was diagnosed with melanoma. It was not a good diagnosis because it was a virulent strain of the cancer and it had spread. She fought the disease with passion and creativity and she began to make even more work. For years, she had been making experimental music and releasing it as tapes and she didn't even tell friends about most of it. In 2013, Suki and I moved our family to North Carolina – in part to be closer to Letha. At around that time, she released a record call "Handbook for Mortals". It is a work of astounding beauty and it confronts her possible death head on – even as she continued to fight it with unmatched vigor. We listened to that record almost every day for months and it became a kind of soundtrack for our lives. We spent a lot of time with Letha, and while at her house we saw that she had piles of paintings and collages under her bed. We quickly set out to make a film about her and her work. We also set up a show of her work so that others could know of the incredible things she was doing. At the opening for the show, she played music with her husband Dan. At the time, December of 2013, her health was failing. She had gotten an incredible review of her album in an important magazine. This really gave her a lift, as did the response to her paintings and collages. Her doctors had not given her long to live, but she made it almost another year and in that time she recorded another album, "Shimmering Ghost".
Like Bowie's "Lazarus", this record also deals directly with the maker's mortality. While Bowie is direct, staring the audience in the eye, Letha's work is mysterious. This record was a bridge between her and her friends just as Bowie's was for his fans. In "Handbook for Mortals," Letha examines the line between life and death, as well as the realities of the passage. Through her exploration, she became a big proponent of green burial. The video above that she made for "Marsh of Sleep" from "Handbook For Mortals" contemplates the passage of the body after the soul has left it. When it came time for her burial, she orchestrated every aspect and turned it into her final performance.
It took a lot of doing, but she found a cemetery that would allow for a burial in a wooded area with no chemicals or boxes. She was wrapped in a shroud scarf (the red, green, blue one heavily featured in her video). At the grave site, we stood in silence and contemplated her life. Then her husband played a tape of the first song on "Shimmering Ghost", "Edymion / MWCIE" (above). It begins with ethereal, mournful tones. At 2:30 into the song, Letha can be heard whispering "I'm Here". A few moments later horses come galloping in. It is hard to describe how powerfully I felt her presence in that moment. I was reminded of that moment when I watched "Lazarus". I hope that some day people come to see that Letha was also a genius.