05 Jul

Elvis Division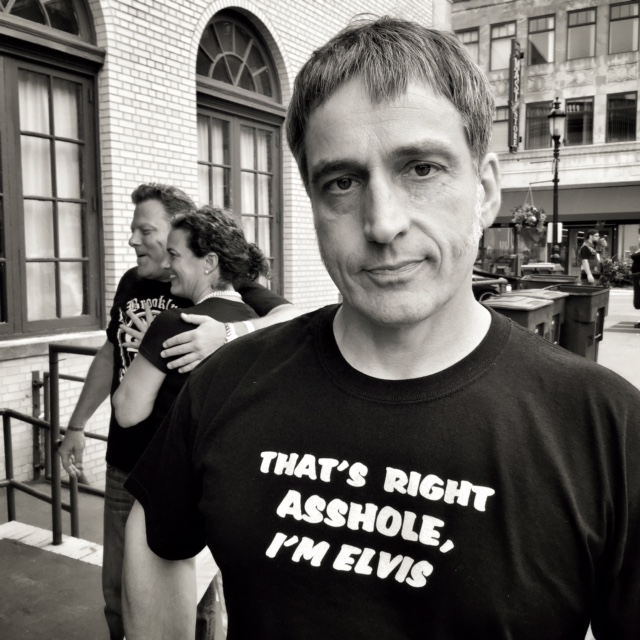 heartbreak hotel from rumur on Vimeo.
My friend Toby was telling me the other night that in high school he played bass in a band partly to get girls. It wasn't working out that well for him. After high school he had to make a decision – try to get girls by being in a band or by starting an auto shop. He chose the latter and eventually he got himself a gal. He wasn't much of a bass player but he was obsessed with Elvis. Over the years whenever our friend Spencer would come by and the beers got drunk he would get Spencer to play guitar so that he could sing Elvis songs. It didn't really matter all that much what Spencer played, he'd still sing Elvis to it.
Never been to Spain from rumur on Vimeo.
When I moved back to town after living in New York for nearly 30 years my family started to hang out with them I would play along on a second guitar- kind of picking out bass lines. Last summer my brother came to visit with his girlfriend and on that trip she became his finance. That night we were playing some songs and I was playing bass lines that were more like joy division than Elvis. I quipped that we should create a mash up band in which we'd play joy division songs and Toby could sing Elvis on top. My brother loved the songs and asked us to play his wedding. We were happy to do it but didn't really think of it as a band. Spencer began to really teach me some of the songs and we practiced quite a bit with Toby. Soon it became apparent that it would be much stronger if we had a drummer so Spencer called up our friend Noah. It was Noah who had tried to teach me the rudiments of playing guitar in high school. I was terrible at it. He's one of those musical genius guys that can hear a song on the radio and play it on the guitar at the same time. He doesn't have to figure it out- hearing it is like reading music for him. So of course its the same with drums. He hears it and he can play it, which means he can come up with something amazing in any style you throw at him. When I moved to New York I started a band with almost equally inept but passionate friends and we cobbled together our own style.
Noah, Toby, Spencer and I practiced a few more times and then we played the wedding. It was a blast and we wanted to keep it up. There was something so satisfying about reconnecting to our high school selves while letting go of all the baggage that went with it.
cathy's clown from rumur on Vimeo.
A couple of weeks later we got invited to play at Elvis Fest which was taking place a few month after that. We got back to practice and started to come up with more interesting ways to play the songs. While Toby loves to sing, the idea of doing it in public was a bit overwhelming to him. It took some work to get him over his nerves. Spencer and Noah are both fantastic musicians who grew up playing all the time so it was kind of ironic that I was the only one who had ever really played out live. Thankfully we pulled it off in a big way. They gave us the last spot after the headliner- which is when people typically trickle out, but we held onto the crowd. Elvis Fest was a great success so we were a spot at another event 6 moths later. Heavy Rebel Weekender happened over this past July 4th weekend. Toby isn't just obsessed with Elvis, he sounds like him- a lot like him. We had a good amount of time to kind of develop as a band and it gets more rewarding all the time.
In The Ghetto from rumur on Vimeo.
We had to come up with a name on the spot for Elvis Fest so we combined the titles of two Elvis films, Clambake and Spinout- and played as Clambake Spinout. I'm pushing for a change to Elvis Division. Nothing scheduled. We'll be happy to play your bar, your party, or your bat mitzvah. We just want to rock.
mystery train from rumur on Vimeo.