28 Oct

"Half-Cocked" : A Personal Look Back

Last year, Tony Kapel had me on his radio show in Miami to discuss my mall photo work and our film Half-Cocked. Afterwards he suggested trying to show it at Art Basel in Miami in December 2021 with a show of my photo work. We started brainstorming and refocused on showing work by all the people involved with the film and the community it came from. We pulled together a lot of pieces, and in the past month, I've hustled to pull together a set of photos and words to show as well. These document the forming of our band Sleepyhead, the touring which inspired the film, the filming and the distribution. I've wanted to do some kind of book for a long time and this is a great head start. I'd love to have it be more of an oral history, so please share your stories and memories from that time. More about the show at this link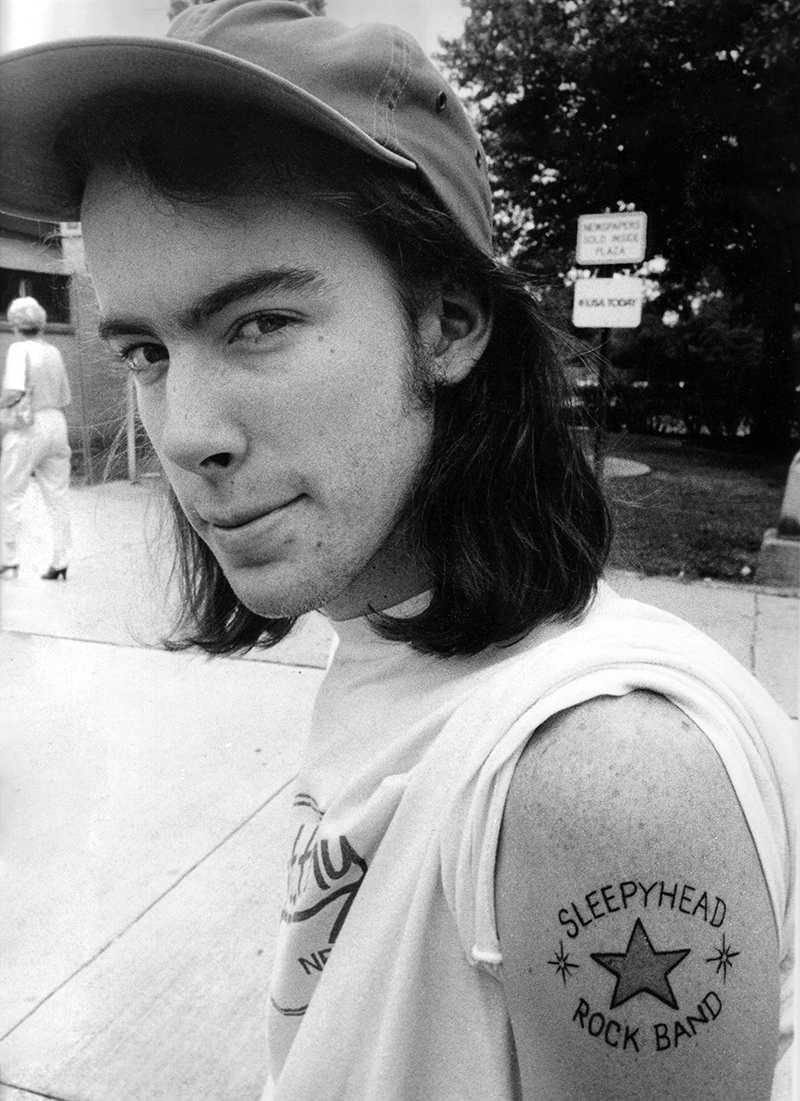 #1 Chris leaving for tour
I want to remember this image as being taken when we were leaving for our first tour, the one that we met everyone on. I can tell it's on the Jersey Turnpike. Chris, Rachael and I were vegetarians, so we loved to stop at Roy Rogers at the rest stops on the Turnpike because they had a "fixings bar" that was like a mini salad bar. We would get 2 biscuits for a buck and make sandwiches with pickles, onions, lettuce, and tomatoes. The previous Fall, we had started to play together as a band. We'd go down to the basement in our dorm and make an infernal racket, and over time we began to come up with some songs. We recorded a few of them and felt like we were getting somewhere. So, we took a leap of faith and spent the summer of 1990 living together in Providence, RI committing to trying to figure out how to be a band. There was no guidebook and it wasn't easy. We didn't practice as much as I had hoped because Chris worked long hours painting, but we met a lot of amazing people and did become more fully committed to being in a band together. The following year, we started to play a lot of shows in NYC. I finished school a semester early and started working a bunch of crappy jobs. In the summer of '91, there was a lot of working as a messenger, a bus boy, a typist for animal rights activist Henry Spira, and being a sperm donor (that's a totally separate crazy story). There was also a lot of drinking and debauchery. Things calmed down after that summer, and we continued to play more shows and focused on making our first album. I kept working a lot. Chris was in his senior year, and Rachael had started graduate school. It was not possible for us to tour. We also didn't have a record out, but we did continue to play a lot in NY and make trips to Boston, Providence, and DC. The more we played, the more connections we made, and the more we became part of a larger musical community.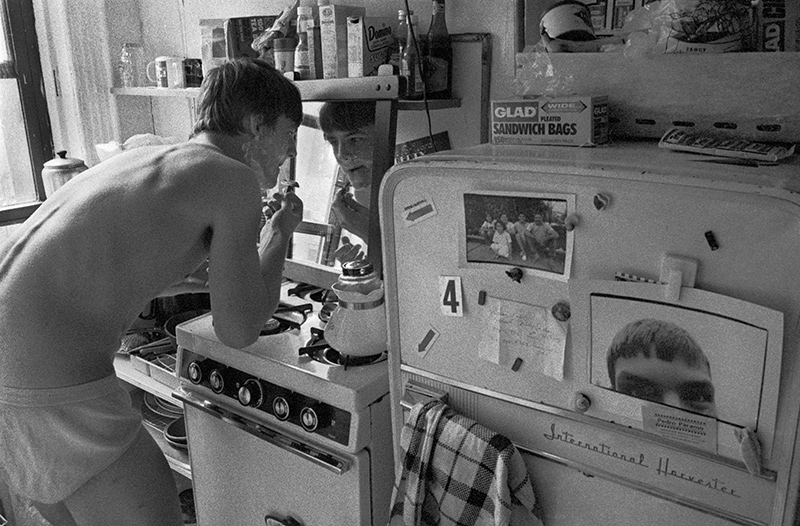 #2 Tim shaving on Ave B
By the spring of 1992, I had moved from an apartment on St. Marks Place to one on Ave B. My rent dropped from about $450 a month to $150, so I was able to work less and spend more time being creative. We didn't have an album out yet, which made it hard to get shows out of town, but I was determined to get out of the city that summer and go on an actual tour. Throughout April, May, and June, I spent several hours every day, on the days that I wasn't working, trying to book shows and it was kind of brutal. At that point there was no email or cell phones, and no one ever answered the phone at clubs. After weeks of leaving voicemails and sending packages with demo tapes, I finally set up around 7 or 8 shows over the course of two weeks. We first headed out to the Midwest and our itinerary took us down to my hometown of Chapel Hill for our final show. We were set to arrive on the evening before my sister's wedding. It was by far the biggest show of the tour as we were booked to open for Jabwbox at the Cat's Cradle which happened to be across the street from the rehearsal dinner.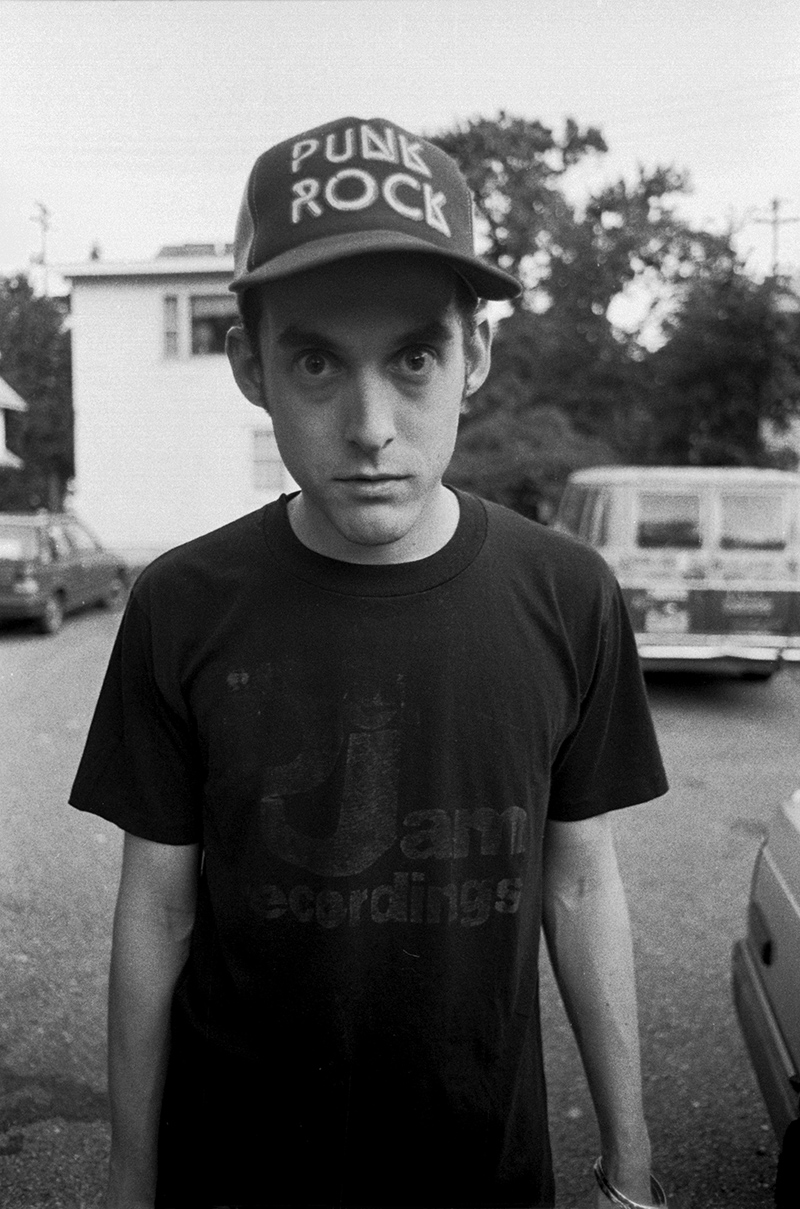 #3 Fred from Flint in East Lansing
I don't have the itinerary from that trip but I think we played in Pittsburgh first with Wimp Factor 14, then maybe moved on to Morgantown, WV with Eggs. It's likely we hit Columbus and I have a photo with Rachael under the Staches' sign, so that is probably true. I vaguely remember that we had a day off in Columbus and went to see "What's Eating Gilbert Grape" in an empty theater in a mall. Our third or fourth show was in East Lansing at an old frat with windows that were nailed shut. I think it was a good show but I have no memories whatsoever. If I didn't have pictures I think it would be very hard for me to make sense of what transpired, and even then, these only give a very limited view. As we loaded into the building, a fellow named Fred Beldin arrived and helped out. I was struck by his neon disco letter punk rock hat and his Def Jam t-shirt so I asked if I could take a picture. This photo ended up being the cover of my first book, Scraps.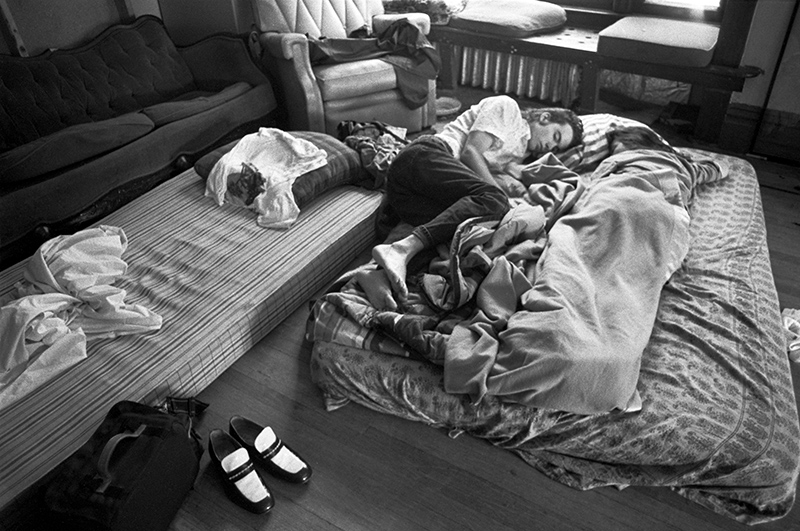 #4 Sleeping in the room we played in
That night in East Lansing we slept on the floor in the smoke-filled, beer-soaked room we had played in. I had a crooked nose that had been broken in a car wreck when I was around 11. I knew that I was getting it fixed at the end of the tour because after that August I'd no longer be on my parent's insurance. With my deviated septum, I would get terribly stuffed up in rooms like that, so I woke up early and took a picture and then a walk. The surgery itself seemed to work, but the recovery was the most painful thing I've ever experienced. Many years later, after the advent of social media, I reconnected with both Fred and Brian Ramirez, who booked the show. I ran into Brian at a film festival in Missoula, Montana and ended up seeing him every year for a while. The longer I've lived, the more interconnected the world has become.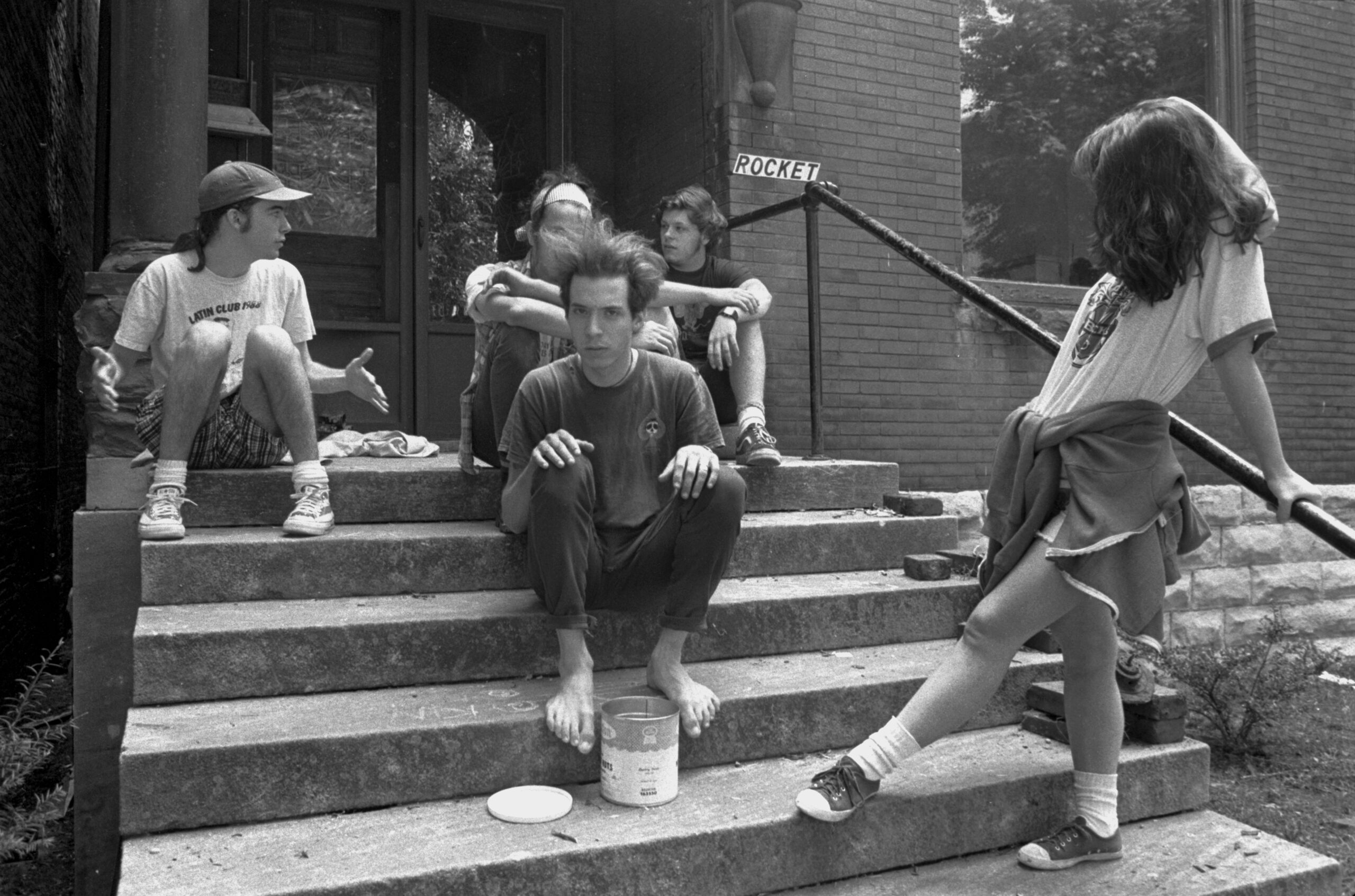 #5  on the Rocket House steps
I believe we then hit the Lounge Ax in Chicago before heading down to Knoxville, but honestly, I can't remember. That might have come later. The Lounge Ax was always super supportive and every time we came through they found a show for us. We played there well over a half dozen times. Since Rachael was in graduate school and then became a teacher, we could only really tour during the summer or during school breaks. We ended up doing a nine-day route out to Chicago and back a couple of times a year and I think the Lounge Ax is the only place we played in Chicago.  When John Cook was in high school, he had taken inheritance money and bought and old mansion, dubbed it the Rocket House, and turned it into a hub of creativity. It was a huge crash pad for artists and musicians both locally and for folks who were on tour. A month earlier, Jon had tried to get us a local show, but hadn't been able to find anything. When we got in Louisville from Chicago, Jon took our band over to a bar called Tewlligans and asked if we could play first on a five-band heavy metal bill. They said fine, and we played to a few people about an hour later and then quickly went back to the Rocket House. We'd learned that every show was like 5 or 10 practices in terms of making us a better band, so we jumped at the opportunity. When we got back after playing, we met other people who lived in the Rocket House, then took some mushrooms and went to a diner. Everyone was wildly welcoming and creative.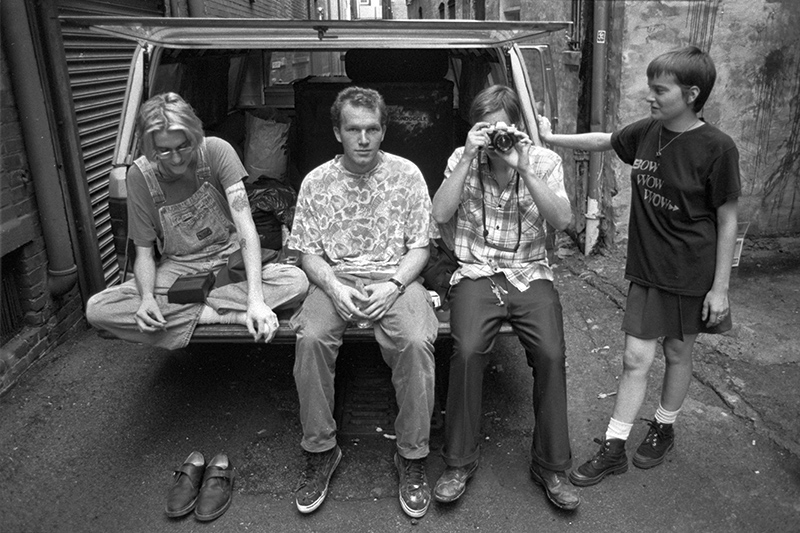 #6 Meet Boondoggle in Knoxville
This story really starts when we pulled up behind the club in Knoxville. In a small alley that could only fit a single vehicle, we parked behind another band, Boondoggle. They had just left their hometown of Chattanooga – four people in a truck with all their gear. I took their picture and Sean Meadows took mine. This was kind of a life-changing moment of the tour. A few minutes later Versus, a band we knew of from NY, showed up. In the club that night, we played to each other and drank a ton of cheap beer. We all ended up hanging out together for the next several days.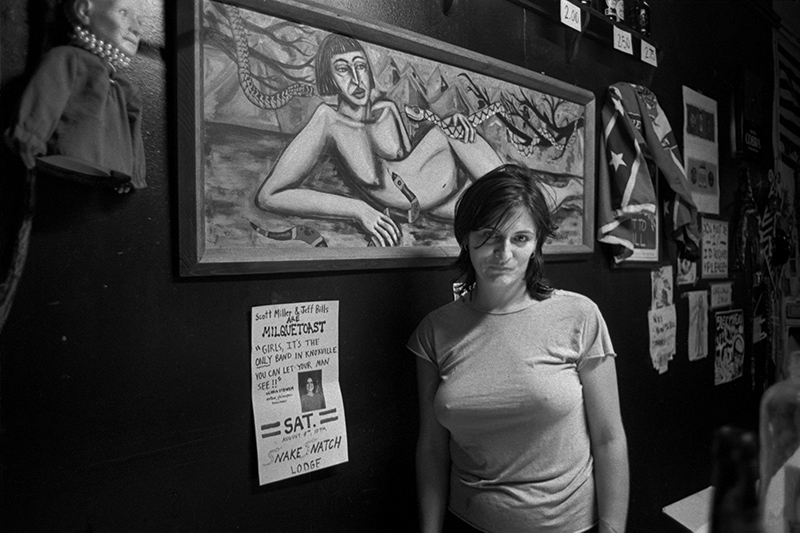 #7 Jackie at the Snake Snatch Lodge in Knoxville.
After we finished playing at the Snake Snatch Lodge with Boondoggle and Versus we packed up our gear and I went to settle up our tab at the bar. Between the three bands, we'd drunk a ton of PBR at $1 a can. Jackie forgave the tab and then gave us about $40 even though there were only a handful of people there. She asked me where we were staying and I didn't have an answer. She turned to a guy named Tommy who was drinking at the bar and asked if he could put up some musicians. "How many?" he asked. She turned to me and I counted it out on my fingers like a cartoon character. I told them twelve. He paused, thought for a moment, and then said, "Sure."
#8 Jon Brumit at Tommy's Blue house
I was exhausted when we got to Tommy's house, but most of the Boondoggle crew and a couple of folks from Versus headed to an all-night diner that was known for being a big drag queen hang out. I would normally jump at an adventure like that, but after a week on the road with almost no sleep and way too much drinking I couldn't do it. Eventually, almost all of us spread out on a small living room floor. I think I tried sleeping in the van at first but it was Knoxville in August and the windows in the van didn't open. The room was so packed it was almost impossible to get up to piss during the night. The next morning Jon Brumit from Boondoggle found a tricycle in front of the house and rode it daredevil-style down a steep hill. A few years later he started a Big Wheel race down the famous winding street in San Francisco. Like everyone else in the band, he's still making art. After Knoxville, none of us had a show for the next few days. Sun-Tuesday can be pretty dead in the summer. Richard from Versus had a number for Jonathan Marx in Nashville, and we headed there.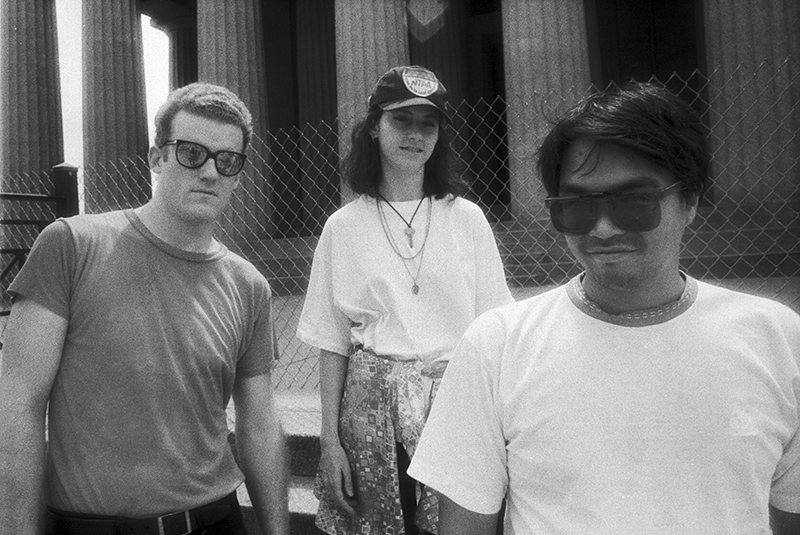 #9 Versus
Jonathan Marx is from Nashville but had gone to college in NY. He was always happy to have people visit and while he hadn't been able to get a show set up, he offered to show us around and put us all up. As soon as I walked in and heard him speak, I felt like I'd met him before. Suddenly I realized he had been a DJ on the Sunday morning country music show we listened to every week in college, The Tennessee Border Show. That was wild. He took us around and showed us sights like the Parthenon replica that I shot this photo of Versus in front of. After that visit, we still had nowhere to go, so we headed back to Louisville and stayed at the Rocket House again. This time it wasn't just us, it was us/Boondoggle/Versus and there were three bands already there. Velocity Girl and Tsunami had played the night before in Louisiville, and I think there was also another band from Chicago called Dog that had crashed in the house as well. Again, from my photos, I can piece together that we played in Cincinnati next at Sudsy Malone's, a brew pub laundromat. Boondoggle followed us on up and also played that night. I don't think we got any money, but we probably got some free beer and a lot more experience. At some point, we hightailed it to my parent's house in Chapel Hill for our last show.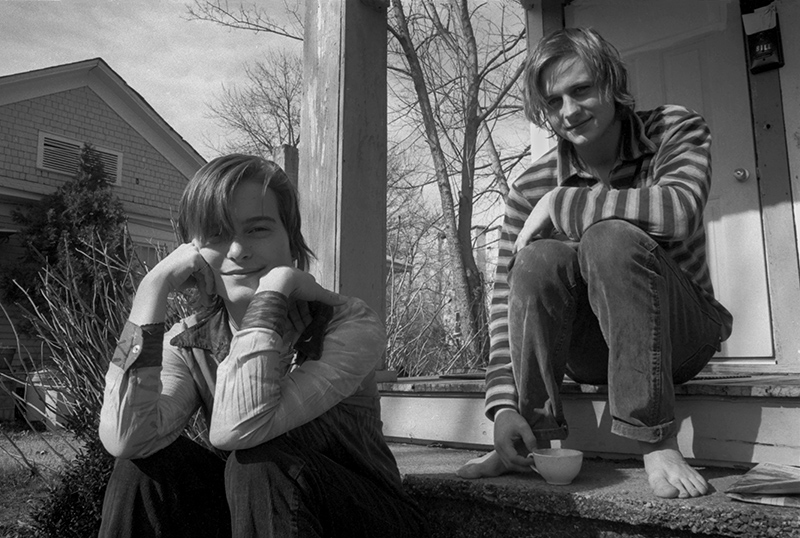 #10 Sean and Barbara
While we hadn't made enough money to cover the cost of gas, the tour felt like a big success because we had drastically improved as a band and we had met so many people who would become part of our lives. In addition, we were able to help a lot of them get shows in NY and we also helped other bands – like Ruby Falls and Dungbeetle – make their own trips out of town. Touring bands are like the Pony Express, bringing news and connections up and down the trail. A couple years later, specifically meeting the crew from Chattanooga and then traveling on to Louisville and Nashville, would be the impetus for "Half-Cocked." Sean from Boondoggle ended up moving in with my bandmate Chris for a while. This photo is from a trip with a band we knew from Providence, Dungbeetle.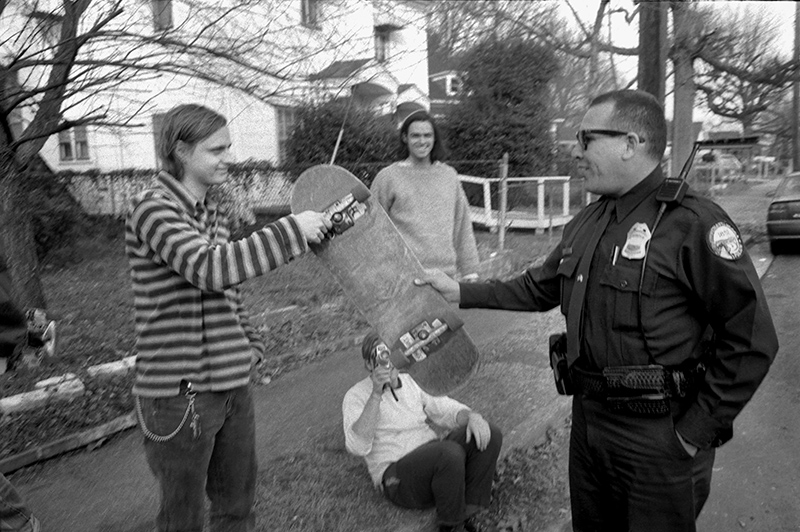 #11 Sean and Cop
The night before, we'd played in Chattanooga with Dungbeetle and Barbara's band Big Heifer. It hadn't been a very good crowd, but it was a good show. Afterwards, we stayed up late drinking and Sean told us, "The first-time Black Flag played in Chattanooga, there were only about 7 motherfuckers there. But everyone in Chattanooga knows who those seven motherfuckers are." That really cracked us up and it stuck with me. We played every show as if it was the most important we were going to play. That day we didn't have a huge drive to get to Nashville, so we hung out in Chattanooga into the afternoon. Sean and Barbara's dog Otis had gotten out and Sean had taken off on his skateboard to catch him. When he got back, he was doing tricks on the empty street when the cop pulled up. It was all pretty friendly, and the cop asked Sean not to skate on the street. When he handed back the board it felt a little bit like a prop check. I don't really think of this as a great image, but it captures a lot of the absurdity of being in a band. There's often an incredible amount of effort and resources that go into the work with no real hope of worldly reward. None of us thought we would make any money, or have a career. However, all of us were drawn toward making or doing something that had meaning. It can be a very difficult life in a lot of ways. However, the community aspect of it is very strong. Every person in this picture is still making art.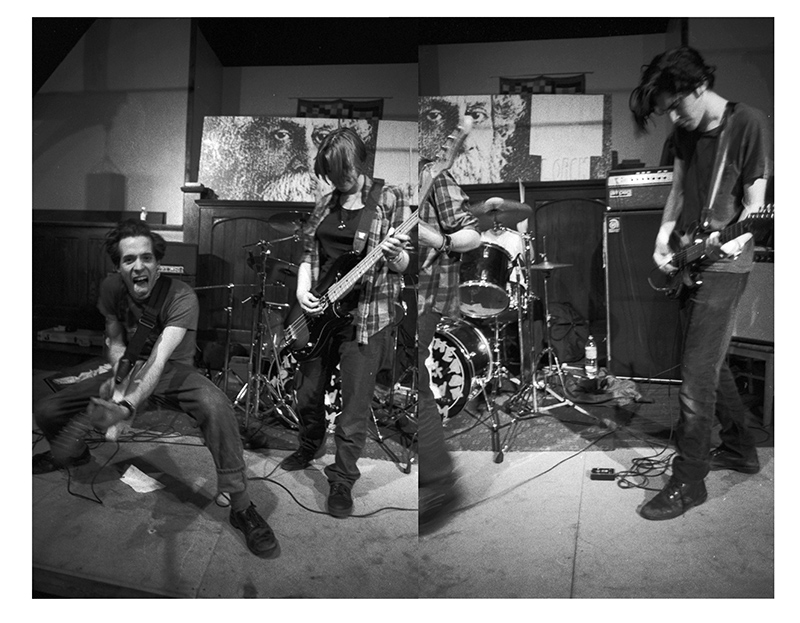 #12 Rodan Live
A few months after the trip with Dungbeetle, or maybe it was a year before, we made a loop down through Louisville and did a few shows with Rodan.  Rodan was Jeff Mueller, Jason Noble, Tara Jane O'Neil, and a rotating cast of drummers. On this trip the drummer was John Weiss. We played two or three shows together. This one was in Champaign IL, a college town with a tight knit music scene. We played at a peace center while another band with a big local following was playing at a local club. So, there was pretty much no one there. It didn't bother us too much, and we played all out for each other. It was experiences like this that sparked the idea to make a film with them. Even if there weren't a lot of people, we often connected even more deeply with those who were there. I have images of us staying at the house of one of the people associated with a band called Corndolly, who booked the show. She made us pancakes and we had a great time. Touring is often a lot of driving which can be boring. However, it's also time to think in ways that it's hard to do when one is working a lot or stuck in a city.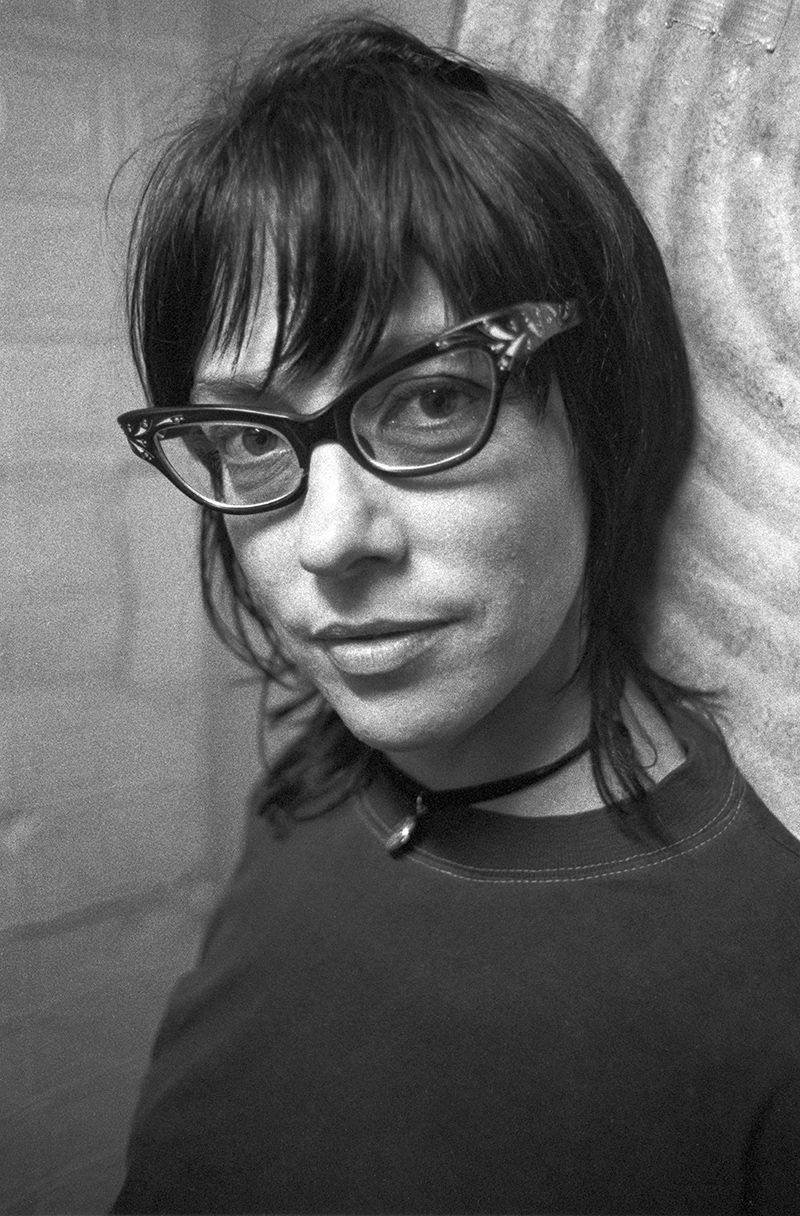 #13 Letha
When we got back from the Dungbeetle trip, we went a birthday party for Letha's bandmate Cynthia. They were in a band called Ruby Falls. That's where I met Suki whom I started to date. Suki was in film school at NYU and I was interested in making films. I had been documenting the music scene in photos for a few years, and I was itching to do something bigger. Just before going on tour with Dungbeetle I had audited 3 weeks of the film class Sight and Sound with my friend Aiyana who was an undergrad at NYU. She worked in the equipment room and knew Suki from checking out camera gear. The class gave me the basics, plus I had been around a lot of film students during college. Aiyana kind of pushed Suki and me together. That spring I helped Suki connect with all the people we knew from the first tour so that she could book a tour for Ruby Falls, and she went on the road with them. When she came back, she had a better understanding of all the people and places I'd been talking about. That made it very easy for us to work on the script together because we had a shared sense of what the film could feel like. Letha and Suki bonded on tour, and Letha was always a big supporter of both of us.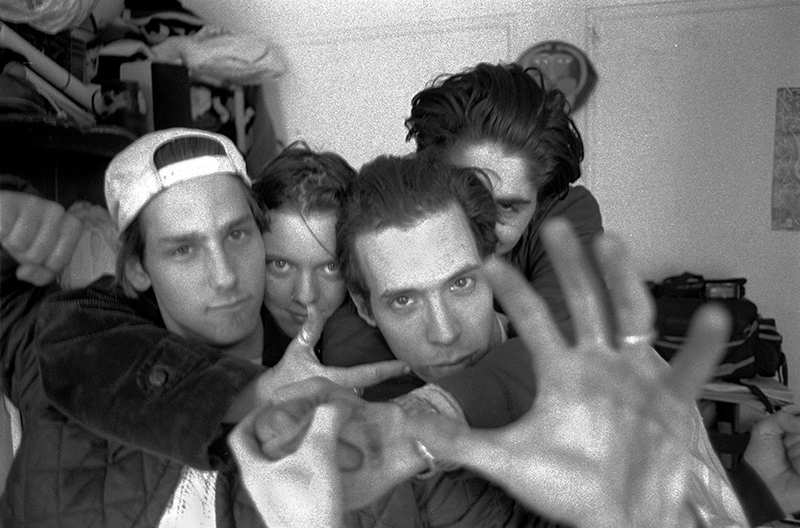 #14 Rodan in NY
In the spring of some year, probably 1992, we arranged for Rodan to come to play in NY. We set up a show in James Murphy's loft with Dungbeetle, Sleepyhead, Rodan, and at least one other band. It was a total blast. I have no real sense of exact dates or times, and they don't really matter to me. What I do know is that over the course of a couple of years, we had occasion to see and interact with a bunch of amazingly talented and generous souls who eventually inspired us to make a movie.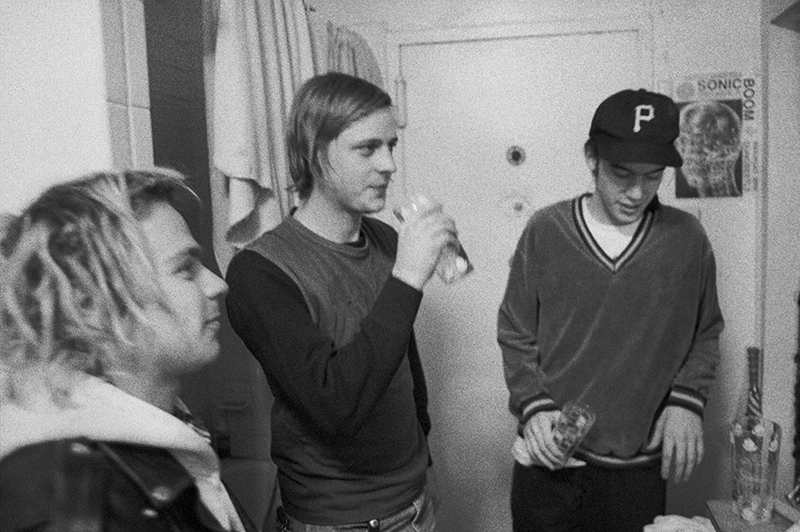 #15 John Moses, Sean Meadows, and Chris O'Rourke
After meeting Boondoggle, we arranged a show for them in Brooklyn at a place called Keep Refrigerated. Unfortunately, we got asked to open for The Meat Puppets at CBGB on that same night, so we had to arranged for another band to play with Boondoggle. Still, we got to hang out after the show. Thom, their bass player, was running a crazy fever so we had to ice him down in the tub in Chris' kitchen. A few years later, Sean moved to NY and lived in this apartment with Chris and worked with him at a company that watered plants in office buildings. John ran Kustom Kitchen records in Chattanooga, and we wrote him into the script as the curmudgeonly, too-cool record store owner.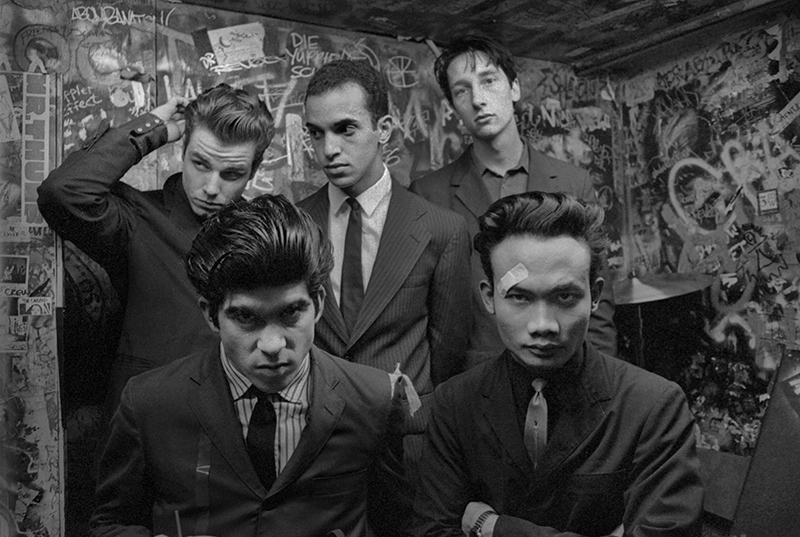 #16 Nation of Ulysses
We started to play shows more frequently in 1991. I believe we first encountered The Nation of Ulysses at Maxwell's and then had a show with them at Hampshire College a few weeks later. We continued to see each other play and had a couple of other shows together. Their total focus and creative energy was a big inspiration. We sounded nothing alike, but that didn't stop us from loving them profoundly. When we had the idea to make Half-Cocked, Ian Svenonius was one of the first people I thought of. At the time that we went to shoot the film, Nation of Ulysses was winding down and James, Steve, and Ian had played some shows as the Cupid Car Club. They were also beginning to form The Makeup, and that's what influenced their direction in the film.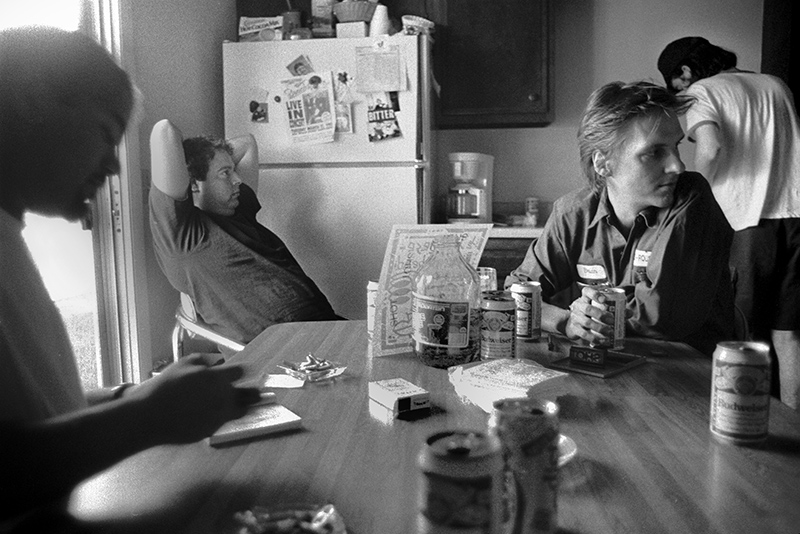 #17 party table in East Lansing Half Japanese tour
In the summer of 1993, we went on tour with Half-Japanese. It was one of our longest tours up to that point. We meandered through the Midwest and spent time at the Rocket House. That fall I talked Suki into dropping out of film school because it was clearly a waste of her time and her money. She got a job as the director's assistant on a film called "Party Girl". The director mainly had a theater background, so Suki ended up shot listing the whole film. This made it clear to both of us that she knew what she was doing which made it possible for me to talk her into making a film with me. I explained that it could be about all the people in Louisville, Nashville, and Chattanooga. Since she'd met them all on tour, she could see it too. It was partly inspired by the fact that a friend had given me a lot of old 16mm color stock for free. It was some unused rolls and a lot of short ends; the bits that didn't get exposed but could still be used. Eventually, after the script was written, we realized that it would be best to shoot in black and white so it might feel more like my photos.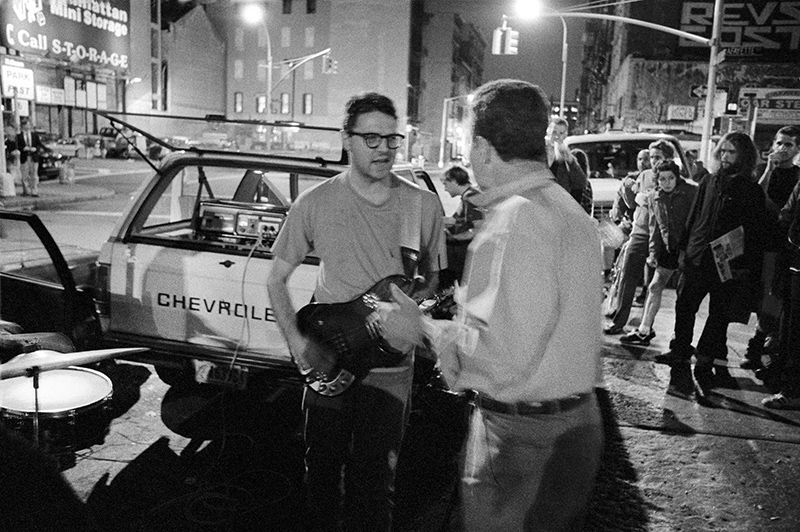 #18 Salmon Skin
Suki and I started to brainstorm and we shared our ideas with our roommates. Steve Thornton and I lived together and Suki lived with Cynthia Nelson. We quickly settled on the idea that plot point one would be based around a bunch of kids stealing a van full of equipment and heading out on the road pretending to be a band. We knew that the Rocket House crew could be the band plus Cynthia, and quickly thought of Nation of Ulysses as the band they could steal it from. We wrote Cynthia into the script as a runaway crashing at the Rocket House. Steve didn't want to be in it, but he came along on the shoot to help us make it. This is Steve playing in his band Salmon Skin during CMJ. They set up outside clubs and made a loud noise. He's explaining to the guy complaining that he couldn't hear because the music was too loud. The band was spearheaded by Steve and Jeff Cashvan. Jeff can be seen in the photo of Sean taking the skateboard from the cop. Jeff often drove Versus around, and he came with us on that tour. He also was instrumental in getting Half-Cocked made. He did every kind of task that needed getting done and was always someone who made situations better.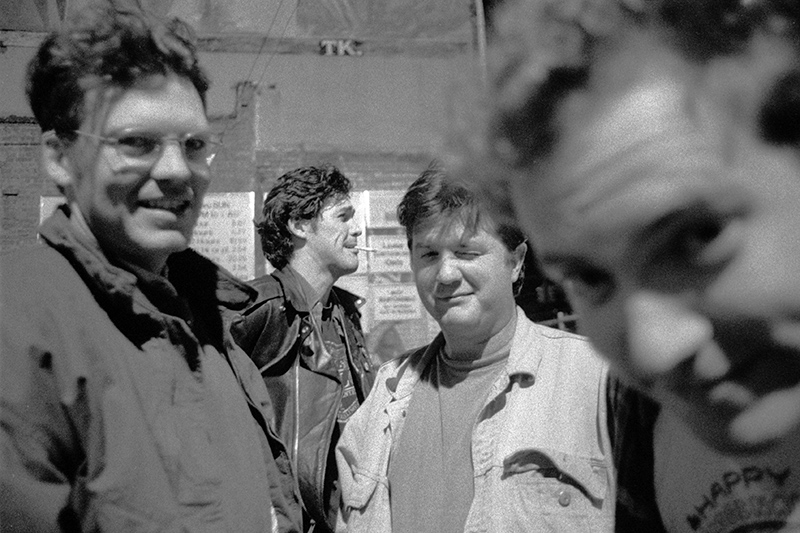 #19 Grifters
We had seen The Grifters a number of times, and maybe played with them once or twice. They were a little bit older so we wrote them into the script as a group of wise elders who might give the upstart band some advice. Dave Shouse took on the responsibility of the part. He delivered a really great speech about life on the road before the final show. I think it's Stan, the drummer, who told him to shut the fuck up after the end of that little soliloquy. They put on an incredible show for us. The last day of the shoot was insane. Not only did we have 10 hours of real shooting to do, we showed up at Lucy's Record Shop to find that they had a hardcore matinee that day. We quickly wrote a couple of extra scenes that we could shoot outside the club. We actually needed them, so that was pretty good. However, we had so much to shoot that day it was kind of unreal.  In the end, it all worked out. We had set out on a task that was kind of impossible. Suki knew that, but thankfully I did not. It was not an easy shoot, and the distribution of the film was very difficult, but somehow it got done.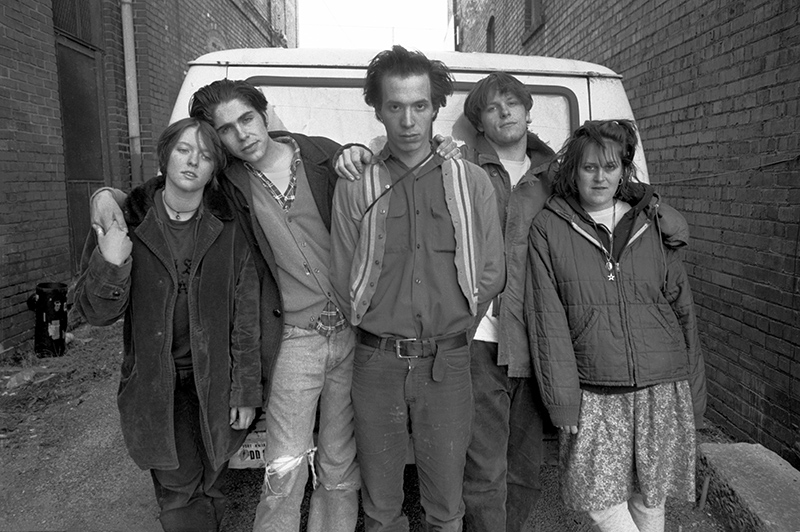 #20  band in front of van
Once we had a rough script together, we sent it to all the people who we wanted in it as well as my father. The plan was to have all the actors re-write the roles so it felt like it was more in their own voice. The only person who called with notes was Jon Cook. His notes involved a subplot where he murdered a pizza delivery guy. That was tough because it was so outside the scope of the rest of the script. He was a bit upset that we didn't take his notes. My father had one note: he scrawled "where the fuck is the conflict" across the front cover, and sent it back to us. He was right. We loved the characters too much. That advice helped, and we re-worked several scenes. Ian Svenonius from Nation of Ulysses made changes but didn't send them back. We got them when we started to shoot. They were brilliant, and it changed things in a great way, but it also meant we had to adjust to a lot of new things, including writing a new ending in the middle of the shoot.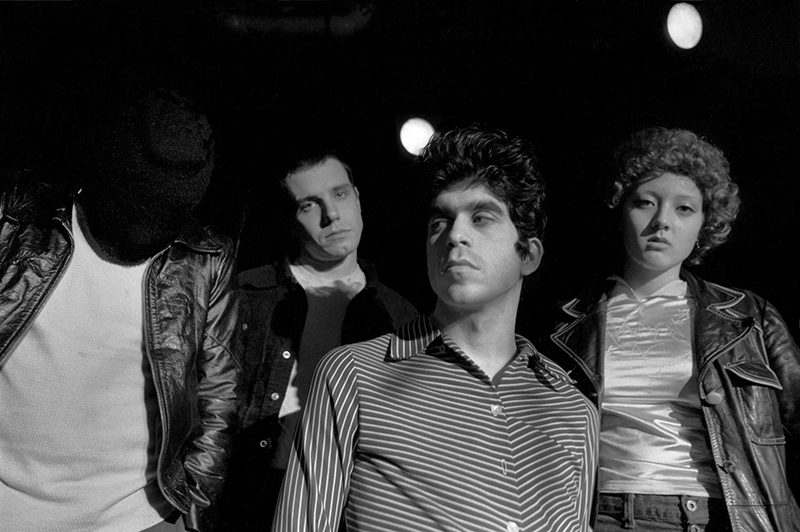 #21 The Guilloteens in Louisville
When we talked to Ian about the film, we told him that they would have to come with some songs and couldn't do covers. They showed up with a Wilson Pickett cover. We knew that we could never pay for a song like that, but they didn't have anything else prepared and insisted on playing it. At the end, they did the Shirley Ellis song, "The Name Game". At the time, we thought of it as kind of a playground rhyme, like it was probably public domain. We were under pressure and really had no choice but to shoot what they had prepared. When we started to cut, we were shocked to find that is a song that had done around 2 million dollars in publishing. So, we had to simply have Ian do his ecstatic intro and then just an outro to the Pickett song that wasn't identifiable. I'm sure he was disappointed, but we had hopes that the film might get out into the world. We were wrong.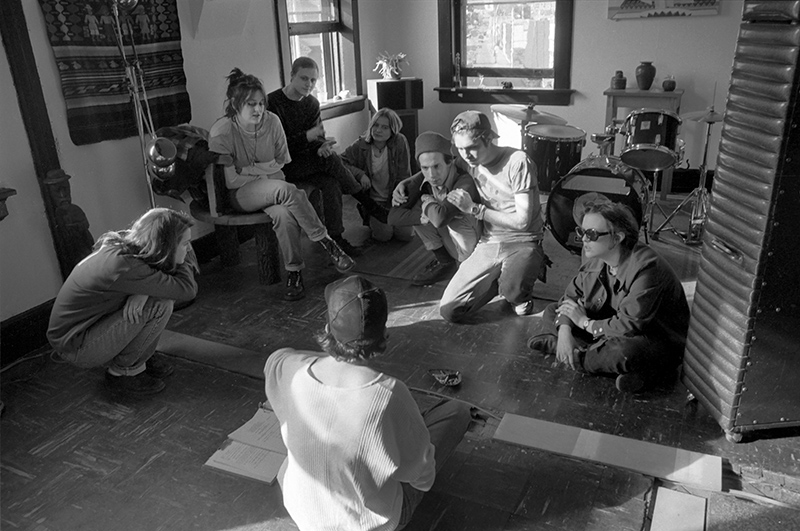 #22 Suki Directs in Chattanooga
I think we started to write in October and had a script draft by November. Even before we had a completed script, we met with Gerard at Matador and asked if they would distribute the soundtrack. Gerard readily agreed, and gave us an advance of 7 thousand dollars. We asked bands that we knew, most of whom I had shot promo photos for, if we could use a song. The budget for the shoot was around 10 thousand, so the advance covered almost all of it. We started planning to shoot in February. It's all a blur but we pulled together all the elements for a bare bones DIY shoot on film. We planned to shoot in a gap between Rodan's tour schedule, that lasted only two weeks. Things were so hectic and difficult for the first week of the shoot in Louisville that I never got a chance to take pictures. However, once we set out for Chattanooga, I knew we'd need stills so I pulled out my camera. This is a shot of Suki setting up for the all-night shoot where the kids who've stolen the van get taught how to play their instruments by Sean and Barbara.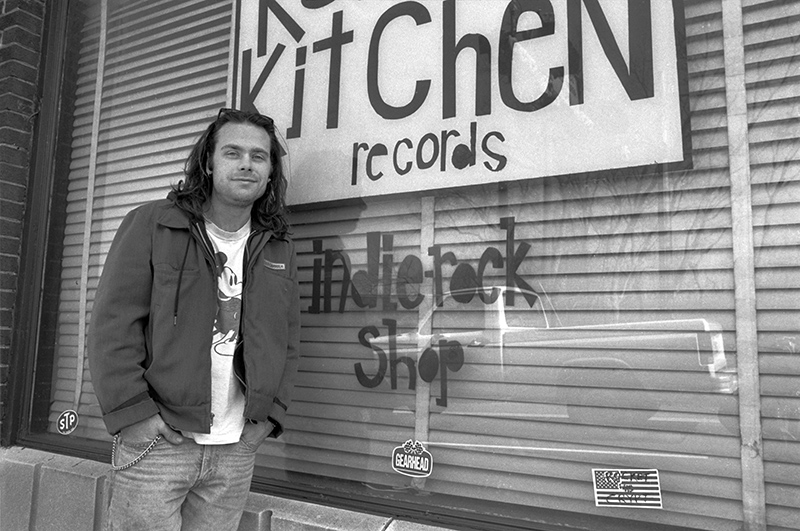 #23 Jon Moses at Kustom Kitchen Records
In Chattanooga, the band gets a show by walking into Jon Moses' shop and asking if there's any way they can get a show. They aren't really a band, just some kids who have stolen a van full of gear from Tara's brother. None of them know how to play, and Jon expects as much, but he's happy to see what unfolds. Jon helped set up everything in Chattanooga and he was an amazing actor as well. He brought so much to the part and was just completely natural. Stores and labels like his were central to the community. That was something we wanted to capture in the film. Before starting a band, I drove across the country to shoot photos in malls. It was a miserable experience and we met almost no one the entire trip. When we went on that first tour, we ended up in clubs where we met a lot of people and at record stores where we also made life-long friends. It was the beauty and power of those connections that we wanted to capture in the film.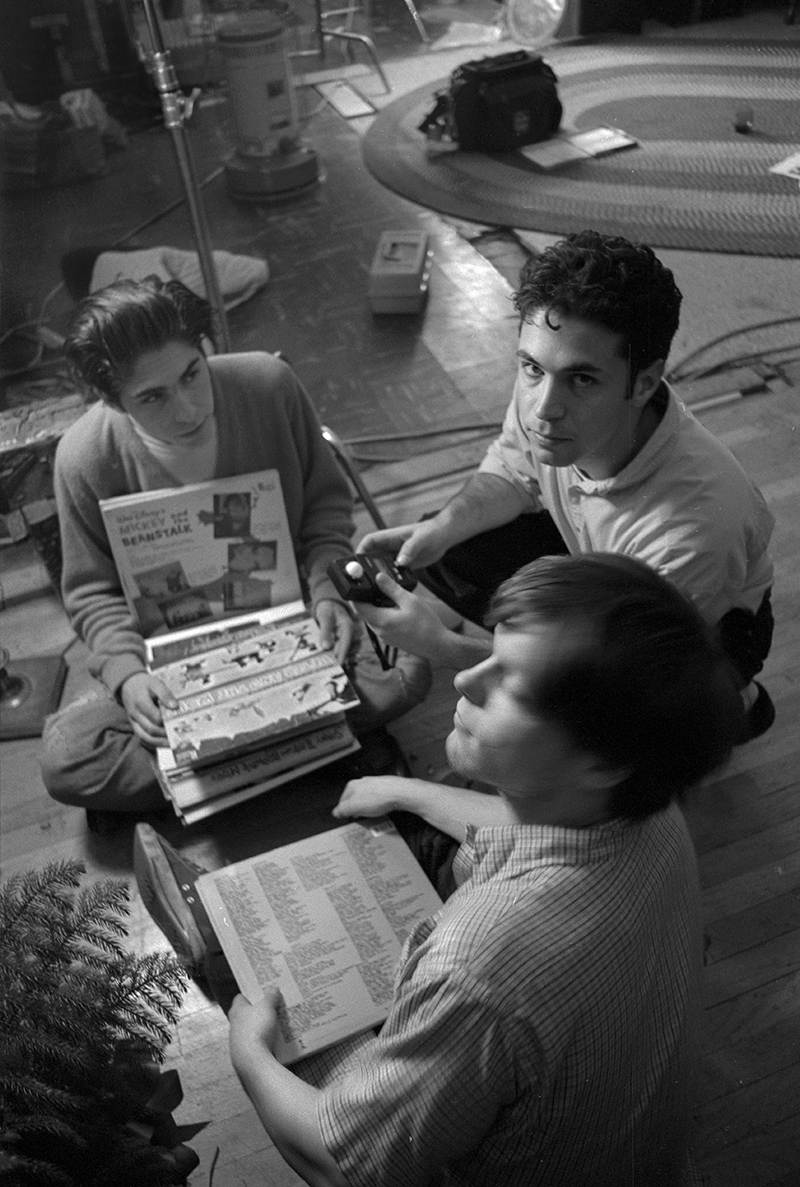 #24 Jon Cook, Jason, and David Ford
Dave Ford, in the center, provided the camera and came along as the camera assistant and gaffer. I knew quite a bit about making pictures, but had only used a film camera a couple of times. He was astoundingly generous of spirit, and taught me a great deal. He also did most of the lighting. In general, his go-to tool was a Chinese lantern from Pearl Paint. Film needs light, so he would use that to bring up the light level in the room and then we would fill in as needed. This is kind of a heavy image. Everyone in the picture has passed away. I can't emphasize enough just how much he contributed. Later he rented us his camera for our second film.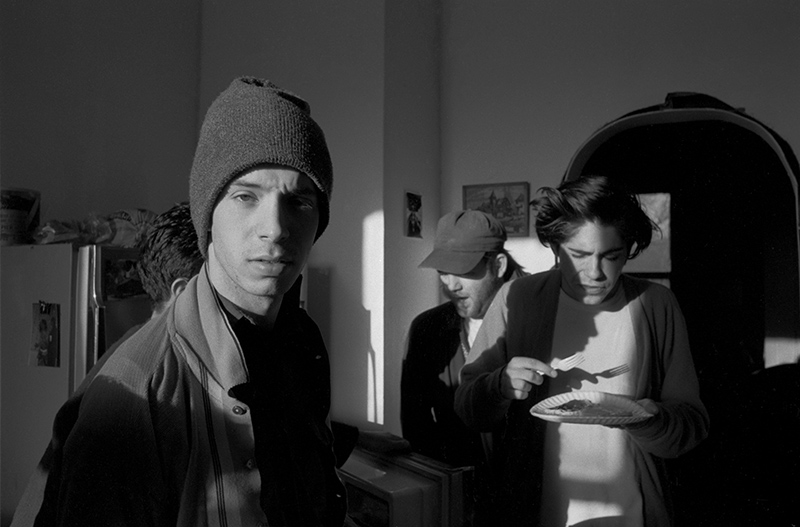 #25 Breakfast with Jeff, James, and Jason
Rachael was the drummer in my band, and she was always the organizer. I booked the shows, but she kept the schedule. When it came time to make the film, we needed a producer and we planned the shoot around her Spring Break. She not only helped us schedule the shoot, and keep it on schedule, but she also cooked all the meals. It wasn't just her. She brought her good friend Val Walsh (who was so inspired by the trip that she went to film school and in her first internship at Nickelodeon, pitched the idea for Dora the Explorer when they started to bring production in house). She also had help from Jennifer Rodgers who did a lot to keep things running. Her meal budget was like 500 dollars for the two-week shoot. I don't know how she did it because no one complained about the food. Most of us were vegetarians, so it was a lot of stews and soups. She also made pancakes a lot. This was the morning after the late-night / "all-night"/ kids become a band scene. Without the tight organizing of Rachael and Suki, there is no way we could have gotten the film made.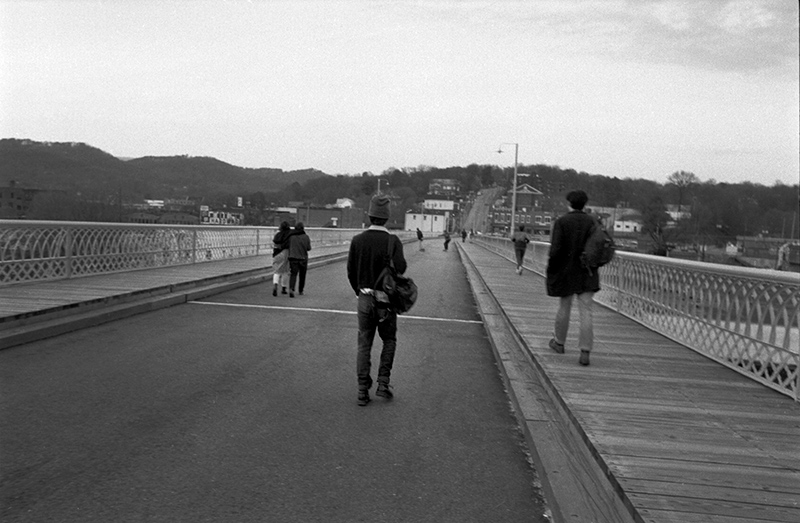 #26 The cast skating on the bridge over the river
In Chattanooga, we filmed a bunch of footage for some montages. In addition to the scenes we had written, we also had a lot of sections where we knew we'd need almost documentary-like footage to communicate the passage of time and the building of connections. We filmed for about an hour, running around with both a film camera and a still camera to capture stuff we could use. Eventually we'd put Povlo's "Can I Ride" under this scene. A friend of mine in NY, Mike McGonigal gave me the first Polvo double 7-inch and I loved it. I don't think I even realized they were from my hometown when I went to see them. In the deli across from CBGB, I ran into a woman I'd known since 2nd grade and was flabbergasted to see her there. It turned out that she lived in a house with the guitar player Ashe. I ended up seeing them in Chapel Hill when I went home for visits and later we went on a full-country tour with Polvo.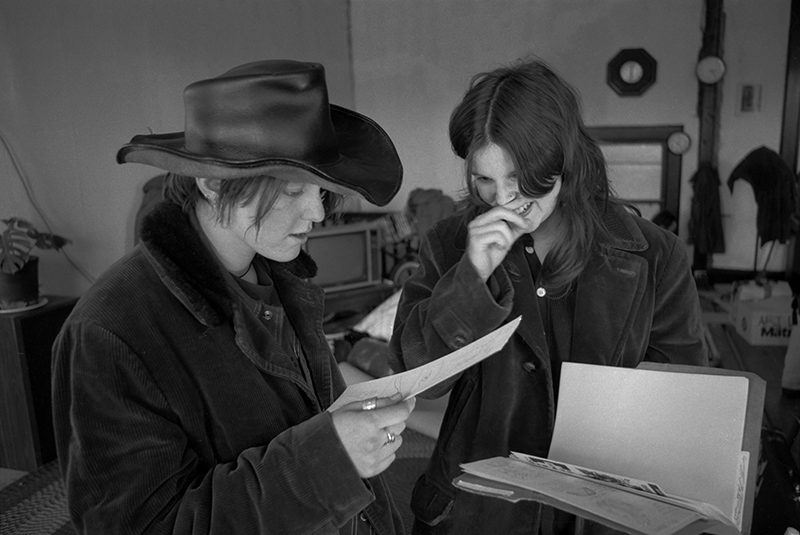 #27 Tara and Jennifer Rodgers
Recently, I shared this picture and Barbara Johnson from Big Heifer, who is in the film, pointed out that Jennifer is showing Tara a comic book she'd been working on. Jennifer was in Ruby Falls with Cynthia and came along to help out on the shoot. She and Jon Cook became close. Later in the film, he's wearing a shirt that I think Barbara made for Jen with a panel from her comic book. The hat was Tara's and I think it was all her idea to don it as she steals the van. She didn't see herself as an actor, but she did a really amazing job. She mumbles a little, and I would argue because of that, Half-Cocked is the first mumble core film. Andrew Bujalski who is seen as the progenitor of mumble core rented the film a dozen times before making his first feature "Funny Ha Ha." The owner of the video store who rented it to him is a friend and was also his landlord.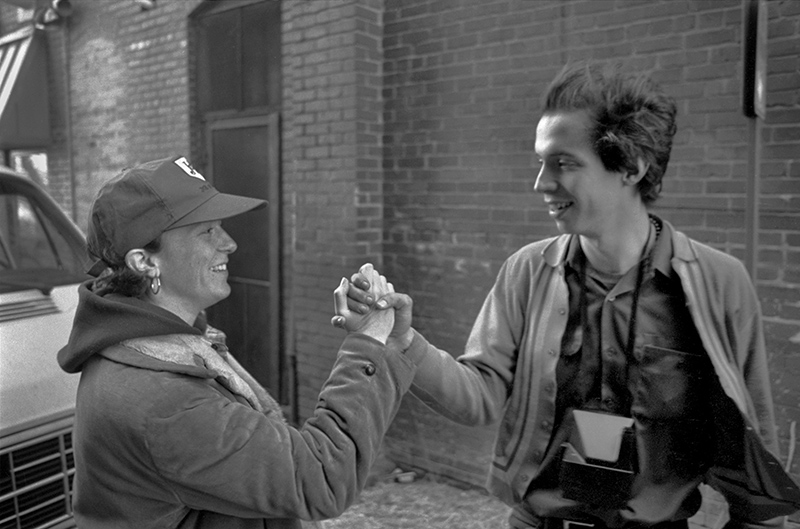 #28 Jeff and Suki in front of the Van
Just before leaving from Chattanooga, we did a photo shoot in front of the Van. Making the film was a lot like going on tour. The first part was a little rough and awkward. By the time we got to Chattanooga, we had hit our stride and everything was gelling. When we got to Nashville, we were burnt out and for the most part had to just get through it. I don't think I took any photos in Louisville, but made up for it in Chattanooga. I knew we'd need some kind of poster image. The film was modeled on teen riot films in many ways, so it made sense to shoot it almost like band photo. I shot about 15 shots of the main image and then just kept shooting.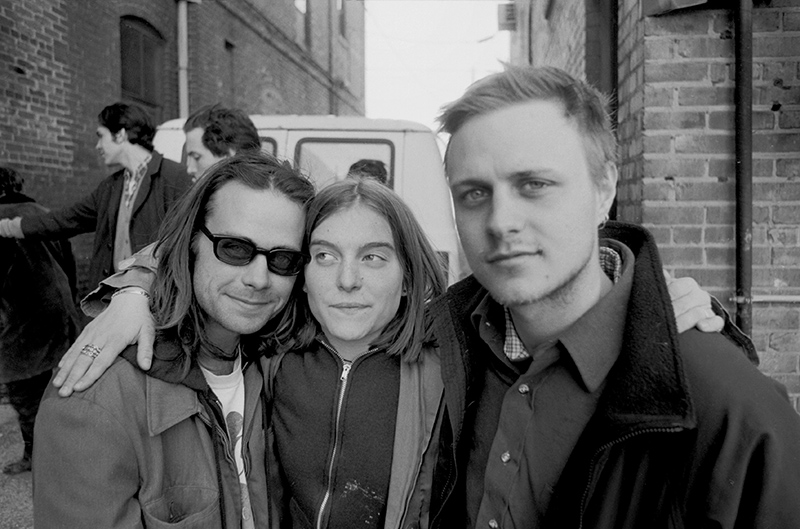 #29 John Moses, Barbara Johnson, and Sean Meadows
Meeting Sean and Barbara was a major inspiration for the film. They were also incredible collaborators. Everything in Chattanooga went really well. They had it a little bit easier than the Louisville crew. Jason, Jeff, and Tara were getting ready to go on a big tour for the first Rodan record, so leaving for two weeks to make a film was tough. I think Jon wanted the film to be a bit crazier than what we had envisioned. By the end, he was not real happy, and that made things difficult. We had a really low budget so as much as possible we tried to do scenes in one long take so we wouldn't have to use a lot of film. We had one scene where the Grifters walk into a record store/club after Jonathan Marx has already mistaken our band for the Grifters. So when the real band enters and tell him they are the Grifters, Jonathan turns to Jon and says "Well, who are you?"  John is supposed to say, "I don't know, who are you?" Each time he would just stare at the camera. It ruined a lot of film. Finally, he said it on the third take, but that's where things were at by the end of the film.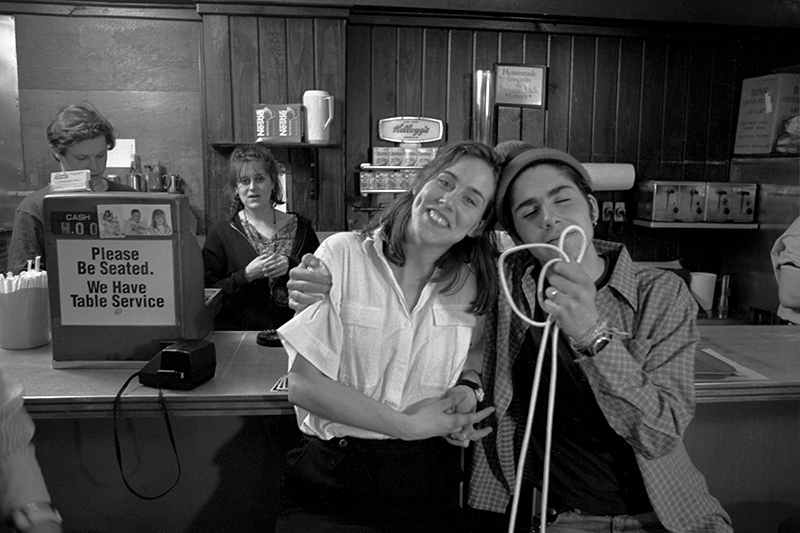 #30  Robbing the restaurant
One of the first things we shot when we got to Nashville was a scene in which the band, out on the road for a couple of weeks, is broke, tired, hungry, and frustrated. They pull up to a diner and can't afford food. The waitress takes pity on them and convinces them to tie her up and rob the restaurant. Corky, the actress, was a friend of Akeo, who was doing props and design. She came in for the shoot from Chicago and she was a total firecracker and brought so much to the scene. Before she offers to have them tie her up, Tara goes to call her parents but her brother, who she stole the van from, answers.  At that point, we hadn't recorded what he had to say, because we wrote the scene after he had left. A few weeks after the shoot, my band played in DC, and we had him and James record phone calls in the dressing room. The restaurant we shot at in Nashville was called Varallo's and it is one of the oldest in Nashville. Jonathan Marx, who we met on our first tour, set it up. That's how we were able to get everything done; people reaching out to connections for all of the places we needed to shoot. What we accomplished was really close to impossible, but not knowing that made it more possible.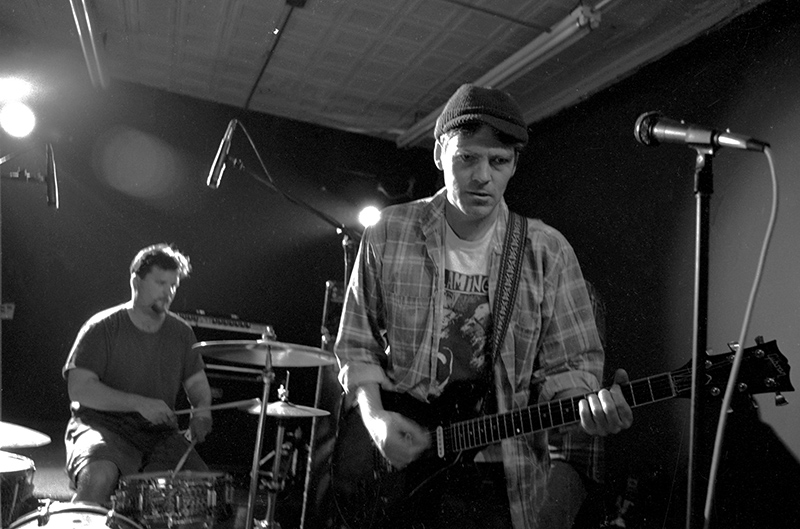 #31 The Grifters
As soon as we realized we needed an older, wiser band to give our younger characters some wisdom, we thought about the Grifters. I had seen them a half dozen times since first seeing them at The Bicycle Space in Brooklyn. I took photos at that show and sent them to them to Memphis a few days later. I had never heard of them before that show, but totally loved it. I bought their first single Soda Pop and played it over and over again. Dave, the singer, got the photo in the mail the same day they were asked by the local paper for pictures from their tour. We stayed in touch, and played a show with them in Brooklyn on their next tour. Dave nailed his role, playing a "Sam the Lion"-like character from The Last Picture Show.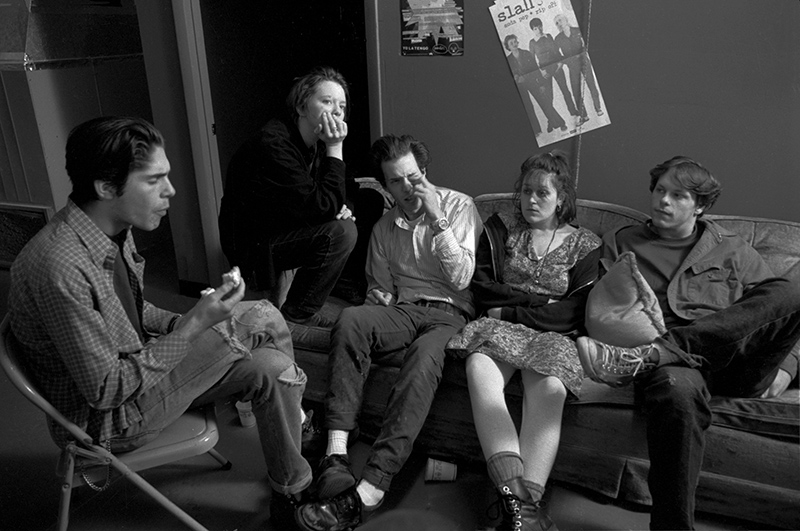 #32 Cast Backstage
This was a hard scene to shoot. In the film, the band had been having a difficult time, but now they had a real show, playing with the Grifters. Tara's character had taken on even more leadership, so she feels like she has to psych them up to play, but also feels awkward stepping into that role. There's definitely a sense of foreboding even as things are going well. She pulls them backstage after watching the Grifters. They were all great musicians so it was hard to hold them back throughout the film. In this final scene, they get to truly play like a band. Jon is an amazing drummer and he crushes it. We had played at Lucy's Record Shop several times and it was always a great place to play. Later we would bring the film back to Lucy's and project it back onto the same stage.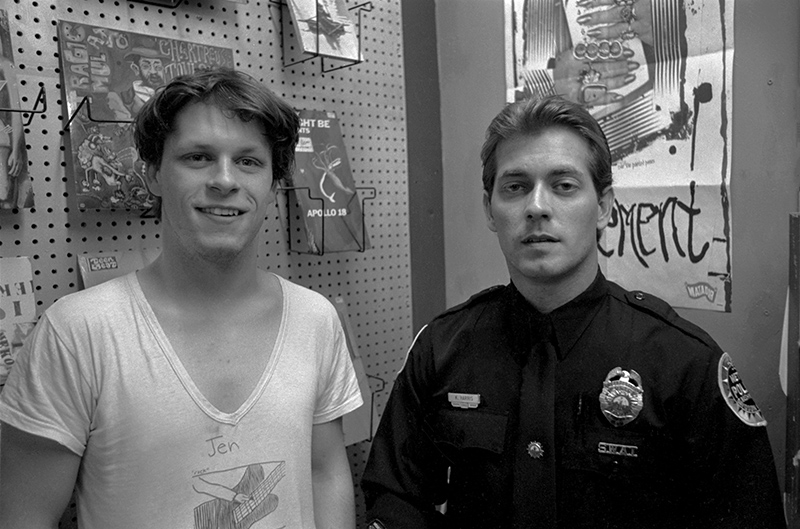 #33 Jon Cook and the Cop
In the original version of the script, Ian and his band were supposed to come back and get into a fight with the main characters.  He and his crew left after the first part of the shoot in Louisville. At the same time, it also didn't make the same kind of emotional sense anymore for him to return based on the way he had played the part. In order to find an ending, we decided to have Tara get arrested at the end of the last show. Rachael, being the incredible producer that she is, called the police department and they sent over an officer with a car for I think $50 an hour. He was even willing to handcuff her and drive her away. He looked a lot like Terminator 2 and it worked out perfectly. Suki brilliantly sent me to the roof of the building to film Tara's walk out of the club, as well as the cop driving her away, and then pan back down to the rest of the band watching her go. It's all one long shot that helps the film feel finished. The Helium song works perfectly here.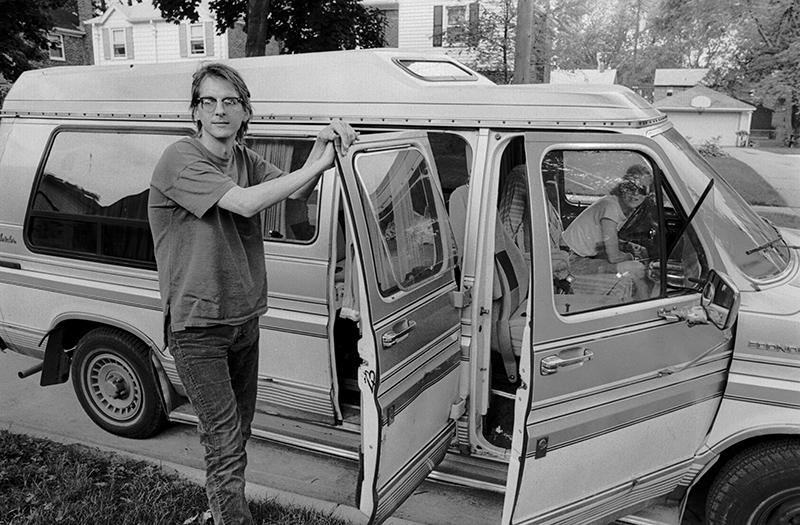 #34 Drop Ceiling on Tour
After the shoot, we went back to Suki's place on St. Marks Place and started to edit. Suki had a lot of experience editing on film, and we rented a Steenbeck flatbed machine. Editing on film is very different than non-linear video editing. It isn't easy to make a cut, so you have to be thoughtful about each one. If you lose a frame of film, it's very hard to move forward. It took about 3 or 4 months to get an assembly cut together. Surprisingly, it worked pretty well. Over the next few months we made a lot of small edits and found the music to put in the film. We started to apply to film festivals and we had a cast and crew screening in NY. We got rejected from the first 35 festivals we applied to, but got an incredible surprise rave review in Variety when a friend brought a reviewer to a screening. Even still, that didn't make much impact but it helped us know we were on the right track. Eventually, we started to just show it in rock clubs, taking it directly to its core audience. Then the soundtrack came out on Matador and eventually the VHS did too. We did more touring, and formed an improv band with our friend Tim in order to have something to do as we traveled with the film. Tim and I were on guitar and Suki on drums. That turned out to be really satisfying.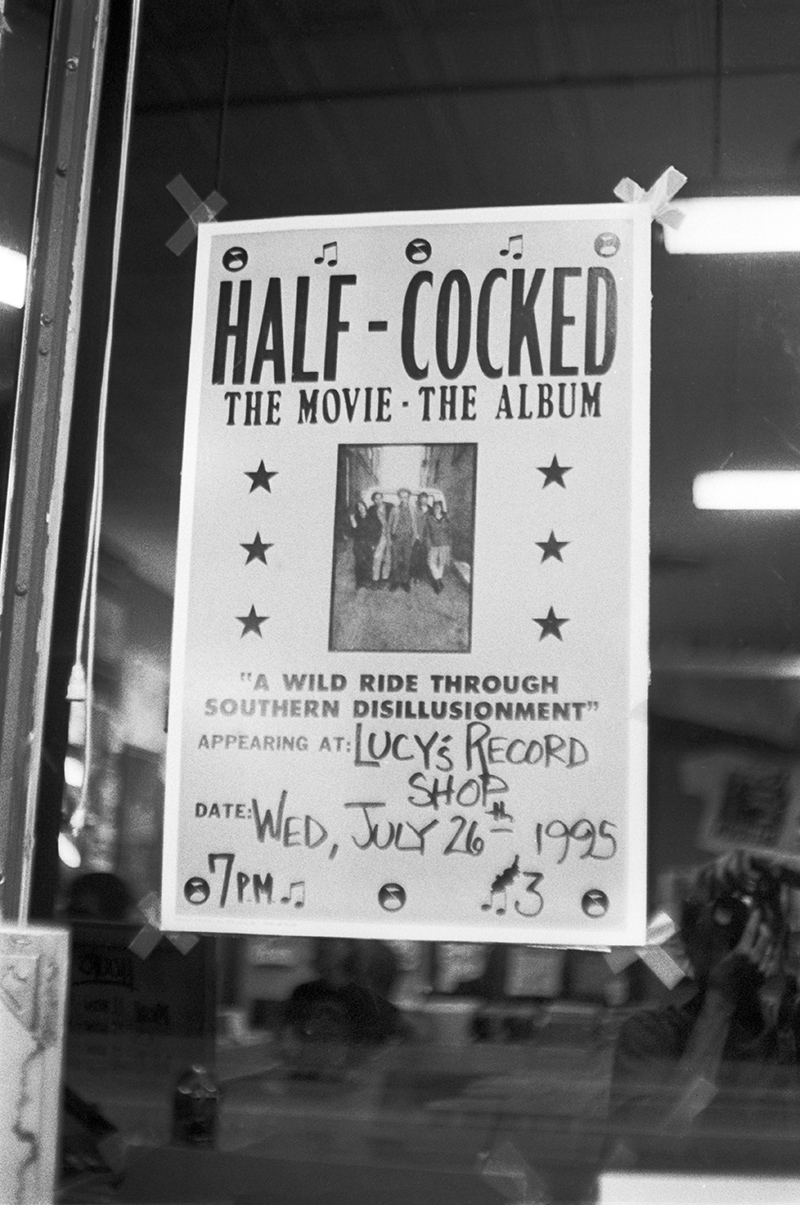 #35 Poster at Lucy's
One of the most surreal moments was projecting the film in the room where we shot the final scene. Since the film was shot on 16mm, like the films that got projected in schools during the 70's, it was possible to take an old school projector on the road with us and plug it into the club's PA. Still, it was a little difficult, and the print started to wear out. It actually sounded pretty good through rock club PA systems even though it was on mono with an optical sound strip.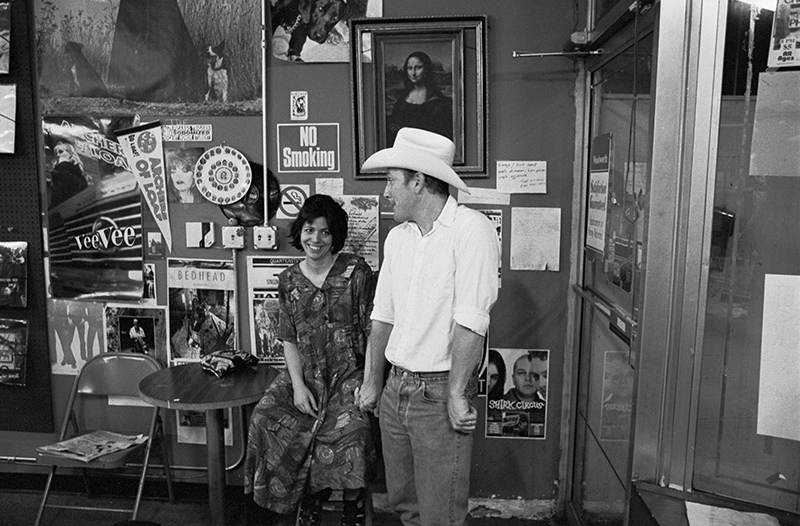 #36 Kurt and Mary at Lucy's record shop
Like Kustom Kitchen in Chattanooga, Lucy's was a record store. It was also an all-ages club and we played there a few times. Mary Mancini, who owned the club, was married to Kurt Warner who started the band Lambchop. Jonathan Marx, who introduced us all, played clarinet in the band. I think this was taken at the screening and not the shoot. In addition to touring the East Coast and Midwest with the film, we took it out to California where we toured with the band Fuck. Later, we got it screened quite a few times in Europe as well. When my band went to Spain, our promoter offered to do a tour of Half-Cocked there. When I told Suki, she burst into tears. So I talked her into doing it while making our second film in Spain. That one is called Radiation. It premiered at Sundance and then did play a lot of festivals, but it was blown up to 35 mm so when it didn't find distribution we had no way to easily take it on tour.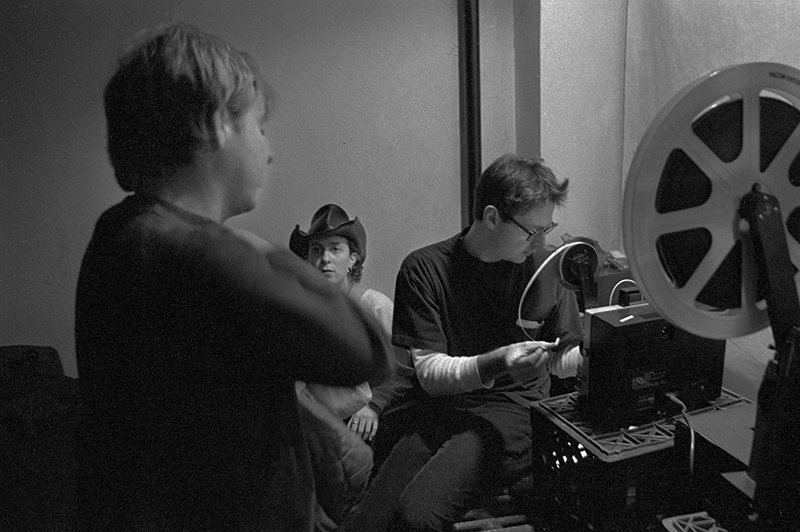 #37 Alleged Gallery
The only real organized run of the film took place at the Alleged Gallery on Ludlow Street. We did three weekends of screenings with two showings nightly. We had bands play before each screening, and it was a wild blast. Here, Steve Thornton cues up the masterpiece he made by shooting images of the opening of Beverly Hills 90210 off the TV screen on super 8. It was a wild experience to make a film outside of the film system and then distribute it outside of the system. We went on to make a second music film on film. Then we pivoted to documentary. We never found the same connection with the film world that we did with the underground music community.