05 Sep

Horns and Halos- More relevant than ever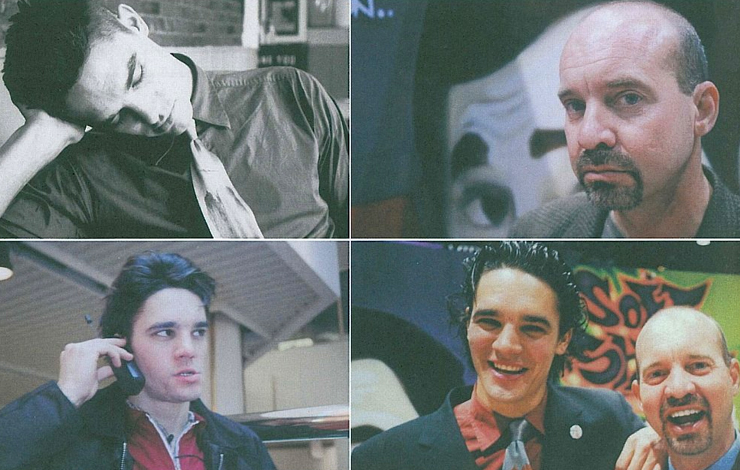 We made a couple of narrative feature films in the 90's that documented the underground music scene. They were shot on film and they were hellaciously hard to shoot. In 1999 digital video cameras began to get produced, and the quality was great for documentaries, and freed us up from the necessity of working with a crew. We got an XL1 and paid for it pretty quickly by renting it out for shoots. I also started to use it to make mini docs about bands to put on insound, the now defunct music and culture website that I began to work for around the same time. At that job I got a press release from an underground publisher who was going to re-release a discredited bio of GW Bush. I had read about the book being pulled and immediately thought that it might make a good doc so I called him up to ask about it. Two days later we were shooting.
To make a long story as short as possible the book was a clip-job that was put together after author James Hatfield pitched it in 1997 because he had a hunch that Bush would run. It turned out to be a very good clip job and Bush was an immediate front runner so the print run quickly ran from 2000 to 84,000 copies. It also had a hastily added afterword that discussed GW's run in with the law over alleged cocaine use. The day after it hit shelves the Dallas Morning News outed Hatfield as a convicted felon. The book was pulled, and the persistent allegations of Bush's drug abuse disappeared with it. This is all dealt with in the opening credits.
Our film details the efforts of the publisher and the author to get the book back on shelves. It was a rocky process, and it gave us a way to look at the roiling mess of relationships between money, media, and power that define our political system. It isn't a take down of Bush, but as we rushed to finish it during the first six months of his tenure, anger was growing at his ineptness. Our last day of shooting was Sept 10, 2001. It was a tough year after that. However, after having it's US premiere as the opening night at New York Underground Film Festival in March 2002 (the day after our daughter was born), it began to be programmed at a few more festivals. Eventually it was programmed by the Toronto Film Festival and we self-distributed it in fall of 2002. It got short listed for the Oscar and picked up by HBO. However, it has pretty much disappeared from site because we don't have it up online or properly distributed. I'd love to get it seen again so I'm putting it up here so programmers can see it and start showing it this year.
Here are some of the reviews
NY Times- Dave Kehr – "If it were a fiction film, "Horns and Halos," which opens today in Manhattan, would end with the triumph of the feisty little guys over the system. But this is reality — or at least, the reality defined by the Bush administration — and so the ending of "Horns and Halos" is both shocking and sad. Here is a rich tale of our times, very well told with an appropriate minimum of means."
Detroit Free Press- Terry Lawson – " Horns and Halos benefits from serendipity but also reminds us of our own responsibility to question what is told as the truth.
Austin Chronicle – Marjorie Baunmgarten – "Hatfield and Hicks make the oddest of couples, and in this sense the movie becomes a study of the gambles of the publishing world, offering a case study that exists apart from all the movie's political ramifications."
Horns and Halos Full from rumur on Vimeo.