23 Feb

Not About the Benjamins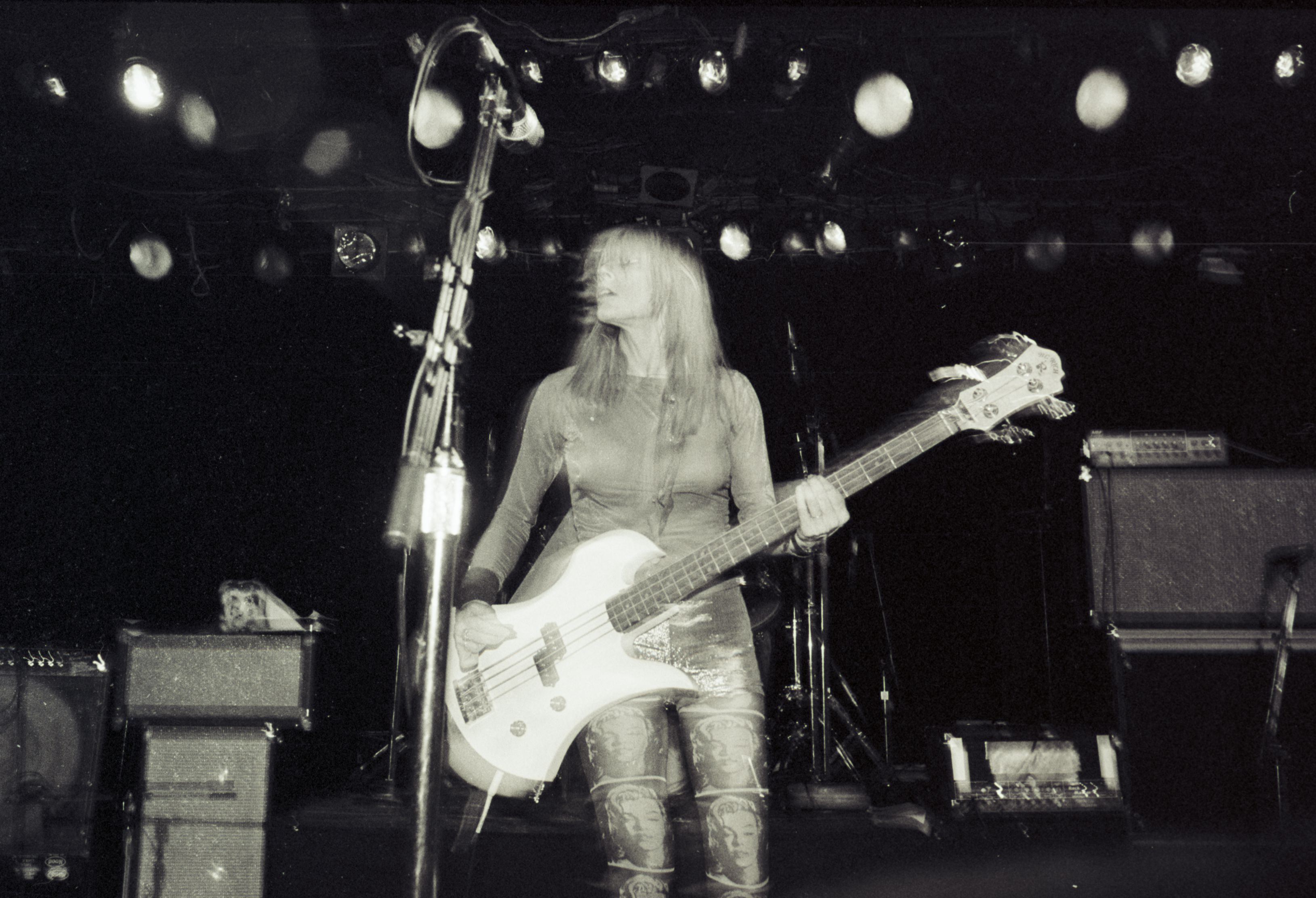 The other day a friend asked me if I had a Kim Gordon photo he could use for a Salon article he was designing. He let it be known that there was no budget to pay anyone. I of course would rather be paid than not paid. But I was happy to have the images connected to an article about her new book, which, from the excerpts I've read, seems fantastic (and the guy asking was a good friend who has bent over backwards to help me as an artists- designing my first book "Scraps" for free). I had to search for the negatives for a while, but I eventually found them. I posted an image on facebook and explained the situation. Several friends made it clear that I shouldn't let Salon use the image if they weren't going to pay me, even if they gave me credit. We got into a long discussion which led me to think a lot more deeply about why I make images, and to ask myself why I don't do more to try to make money off of them. A few years ago another photographer friend made an effort to get a collective photo agency together to pool our images and find a way to get paid for them, but it was a daunting task and the efforts never got off the ground.
My thoughts quickly turned to my friend Letha. Last year, my wife and I made a short film about her where she talked about the reasons that people make art. She argued that we really make work because we want to be acknowledged. A week ago, we screened the short at a film festival in Montana. During the Q&A, a woman asked me how we found the artist to make our film about. I started to say that she was one of my best friends, but by the time I got to "one" I broke down and it was several minutes before I could speak. I often have difficulty expressing my grief, so in this moment I simply accepted it. It was cathartic.
Under the Bed from rumur on Vimeo.
Letha and I have always had similar impulses in terms of making art. Both of us felt compelled to make work and had difficulty thinking of it as something to be sold when we conceived of it. We met because we both played in New York bands in the early '90s, and often played together. It was at a party at her bandmates' house that I met my future wife, and filmmaking partner, Suki. Letha could see that I had my eye on her and she pushed us together. They became very close and 25 years after they met, Suki spent time with her almost every day in the last painful months of her life.
We were inspired to make the film about Letha, not because she was dying, but instead because she was living. All of her energy went into making art. When she showed us the piles of artwork under her bed, we knew we had to help her set up a show for it, especially because in her interview she had made it clear that she too wanted to be acknowledged for her work. That show was a tremendous success in many ways. She sold some of the work, but the amount paid for it was so small that the money itself was meaningless. Instead, the fact that people wanted it was meaningful to Letha. Making the film was meaningful to us, and it took a good deal of effort. It is invaluable to us, to her friends, and to anyone who thinks about the value of art.
In the early '90's, even before I played in a band, I begin to take pictures at shows. I shared those images with fanzines like Chemical Imbalance. Once I began to play in a band, I photographed the bands that we played with, as well as life on tour. I had a desire to document the world I was a part of. I liked taking pictures, I liked to show them to people, and I liked to get them printed in fanzines. It was a way for me to be a part of a community that I felt deeply connected to.
Scraps with spoken word from rumur on Vimeo.
When I met Suki, she was a film student. Fairly soon in our relationship, I talked her into dropping out of school to make a narrative film with me. The idea was that it would be a document of the indie rock scene that we were a part of. Most of the funding for the shoot came from a record label that gave us a small advance for the soundtrack. I knew a lot of bands, and asked many of them to contribute a song to the soundtrack (they got no advance, but did get records and payment when it sold). I had done promo photos for most of those bands as a favor. Many times, I grabbed the band right after they played and took their photo, sometimes just one image. At this moment – after the cathartic experience of playing music – they often looked especially natural and at peace. More often than not, they found it represented them honestly, and wanted to use it for their promo photo. We shot the film Half-Cocked on the tightest budget imaginable, and it wasn't easy. Twenty years later, it has much more meaning.
I made a lot of pictures, but I didn't do it for money. Instead, as Letha recognized, I did it because I wanted to be acknowledged. In some way, the desire to have my images seen was ego driven, but it was also about subsuming my ego to some less coherent goal. This week, when my friend asked me if he could use the photo, I didn't hesitate. I shot them to be seen, and I want them to be seen. As I said, several people expressed their feelings that the website should pay me. I didn't disagree, however the fact that they were unwilling to was not reason enough for me to refuse the image. I questioned my impulse. Was I stupid? Was I being unfair to other photographers who deserve to be paid? In the end I tried to explain that the fact that people didn't to pay me for it did not mean, and does not mean, that I don't value my work. Instead, I value it so much that I want people to see it. Still I'm conflicted by this issue because, for most people, money is one of the only measures of value. Also, I have two kids and responsibilities. Still, like Letha, I make work because I have to, because it gives my life meaning; because it makes me feel alive.
Before I started taking pictures of bands, and the music scene, my first big project was to drive across the country and take pictures in malls in 1989. I was 20 years old at the time, and had so little money that my friend and I slept on the side of the road rather than spend the $10 on a campsite. After having driven from North Carolina to the West Coast, we got to San Francisco, where our car was broken into and most of the things we'd collected on our journey were stolen. Luckily, the night before, I had separated out the film that I shot from that which I had not. My unshot film was gone, but my exposed roles were still under the front seat where I left them.
Punk Rock City USA from rumur on Vimeo.
The images I made were informal, soft focused, and shot from the hip. They were almost like the images I might've shot at a punk rock show. I was less interested in making perfect images than I was in capturing things that felt alive. At the time, the art world was very much about control and artifice, and my images were not relevant to what was going on there. I showed them to a couple of galleries, and they basically laughed at me. Twenty years later, I put them online and they struck a chord with people. I wasn't making fun of the subjects, I was simply documenting them. When people saw the pictures they felt comfortable, as if their friend had possibly grabbed a photo of them at the mall. I think the lack of artifice is what made them connect on such a deep level.
When they went viral I decided to make a photo book, and started a kickstarter campaign. Eventually a designer who had an imprint with an important publisher expressed interest in making the book. When he came over to see the slides in person, he expressed reservations about the fact that the images had been so widely seen on the Internet. He wondered if in some sense their ubiquity devalued them as art. I pointed out that if they hadn't gone viral, he wouldn't even be there. I also argued that in some ways the more they were seen, the more famous the images became and therefore the more important they were. In the end he was probably right, because I still have not been able to find a gallery willing to show them. However, the books sold out before it even hit stores because the images went viral once again due to the publication. However, I lost a great deal of money because I had to buy copies from the publisher for five times what I had budgeted when I originally raised money via fast cash approval process at yahoo to make the book myself via kickstarter. The publisher also never paid me anything for the books that sold. Of course, this is frustrating, but as with the photos that I made of musicians, I didn't shoot them for money. I shot them because making this work gave my life meaning, as it still does. I struggle with the fact that the world does not assign value to what I do. I won't deny that this is hard for me. However, I think that the work that is made from an impulse that is beyond money will last long after the money is gone.
A couple months ago, the website mashable, without contacting me, re-posted about 80 of my mall images. It took me a couple of days to make sure they properly credited the images, and eventually they did. They were shared on facebook 182,000 times. I still haven't made any money off those images, but when that many people make a decision to share what you've done with no gatekeepers attached, the work has been acknowledged. It's a complex discussion, this struggle to assign value to art, and I don't think I have a strong sense of the rights and the wrongs. In the end though, I know that I will keep making work whether or not it has monetary value. In the last couple of years, I have posted over 10 thousand images to instagram. This outlet does not give me money, but it does give me focus. It is what I do.