02 May

Throwback Thursday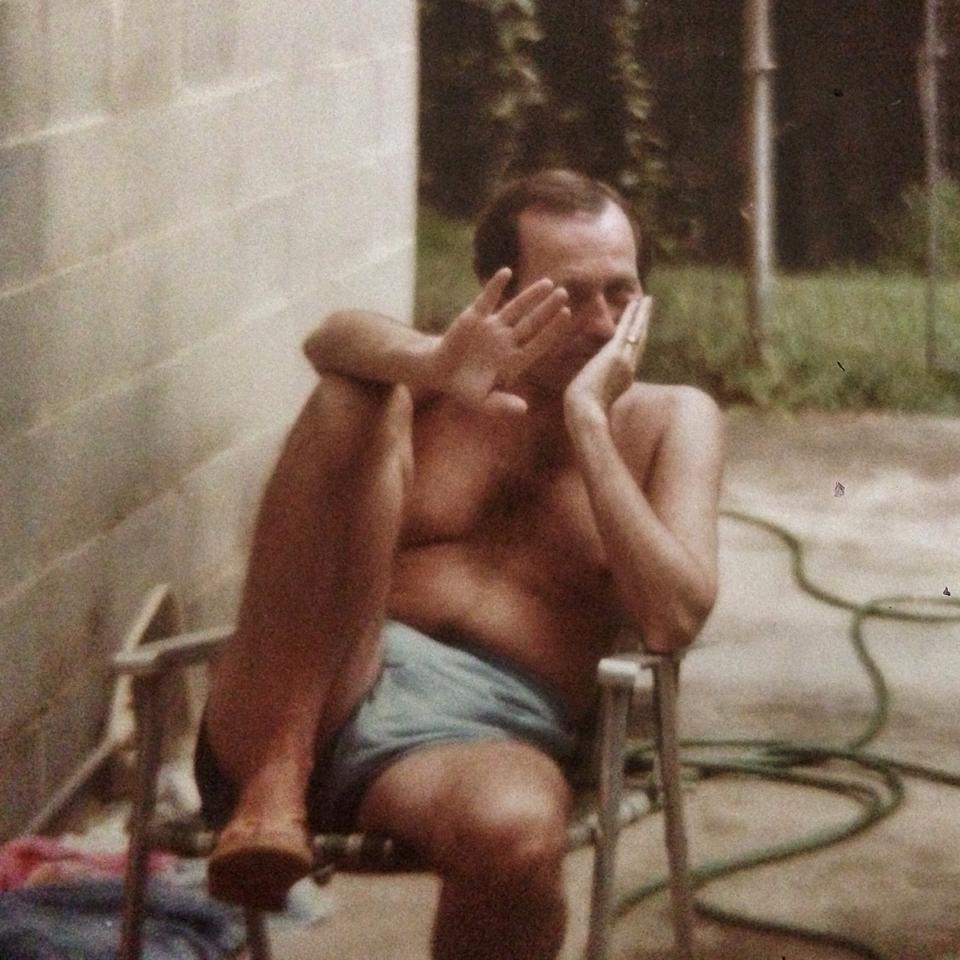 Yesterday I started poking through a box filled with photos from high school. I'm living in the house I grew up in, and though we've relegated much of the past to the past, there are still closets and boxes (and even a room) that house the remains of the days.
Photos age, well, they do, I believe. The shot above is a section of a crappy print. It is my father. He hated to have his picture taken. I just looked for a collage I made of almost an entire roll of him chasing me around the living room trying to hit me. He was livid that I was taking his picture. I should have left him alone, but I also couldn't understand why he hated it so much. He was attractive and strong, it didn't make sense. Pictures were so important to me even before I knew how to make them.

I have a lot to do, but I couldn't stay out of the box. I found pictures of friends that I still hang out with, and of people who I couldn't recall. Some of the images brought back powerful memories.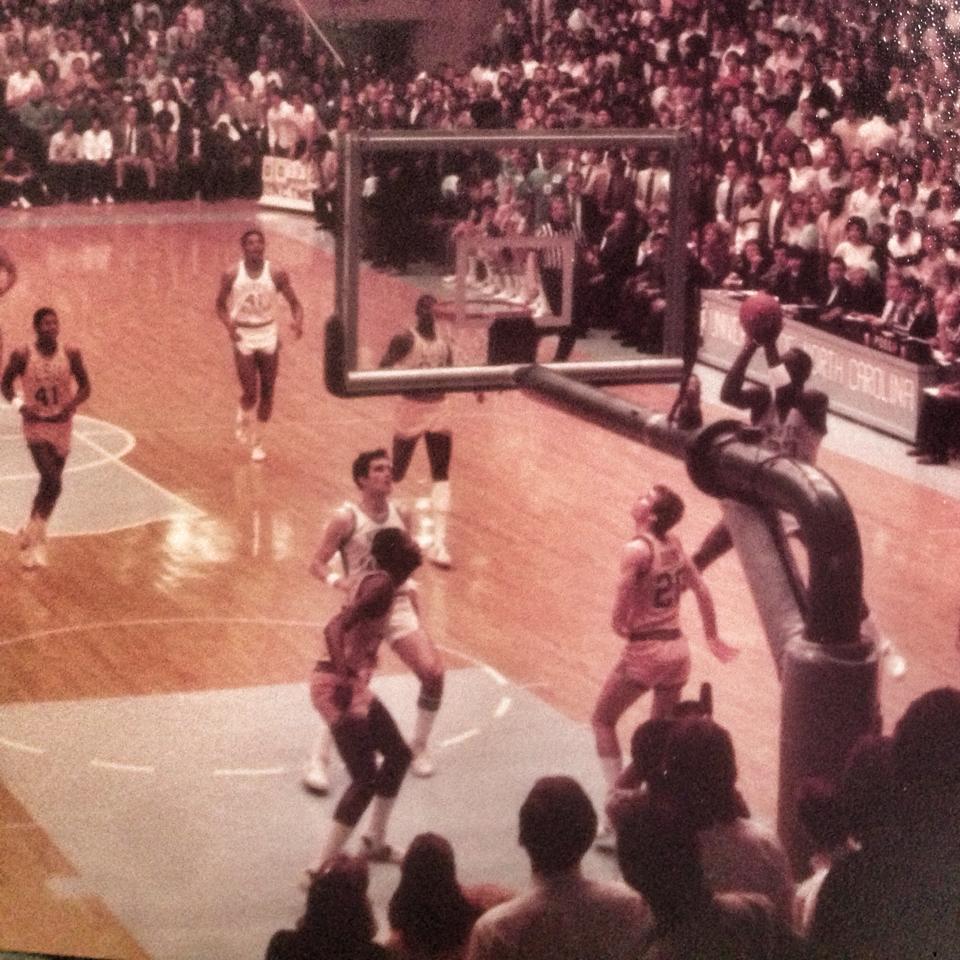 This one of Michael Jordan scoring as a freshman at UNC brought back a real sense of excitement. My brother and I would sneak into games, often running between our parents as they handed in their tickets. We'd then float around to empty seats or sit on the floor or the stairs until someone kicked us out. I was probably 12 here. It was 1981 or early 1982. Basketball was important. In some ways this is just a crappy picture from the stands. In others though, its even more powerful than a fancy shot with a good lens taken from the floor. The unprivileged access makes it less mediated, and therefore more immediate. This is what the game felt like to us then. That place was electric. It was nuts.
It was around this time that I got an SLR camera; a K 1000 I think, or maybe the Nikon FG20 that I would use through college. At first I shot color film, and this picture of my dad, as well as the Jordan one, are some of the earliest images I made with it. I didn't take a real photo class until high school. I still have most of the pictures I took. They're piled up and organized, but I have them, and I'm pleased. As near the half century mark I understand how valuable words and images are in terms of orienting us towards our future. Clearly, they are good for getting a sense of our past, but they are also the essential data that help us to extrapolate the rest of the graph.
From high school through my late 20's, except for my 1989 mall project, I shot almost entirely in black and white. After I had put together a couple of books of that work, I was ready to move on, and I got a point and shoot photo camera (the T4). I went nuts with color photos again. I am, and was, less concerned with individual images than the idea that images combined tell a bigger story. I was broke then, and I shot a lot. So I'd bring the rolls the hallmark shop where I got double prints for about 9 dollars. I'd use some of the prints to make little books, and I'd try to save the others as kind of a contact sheet. I also started to make collages with them.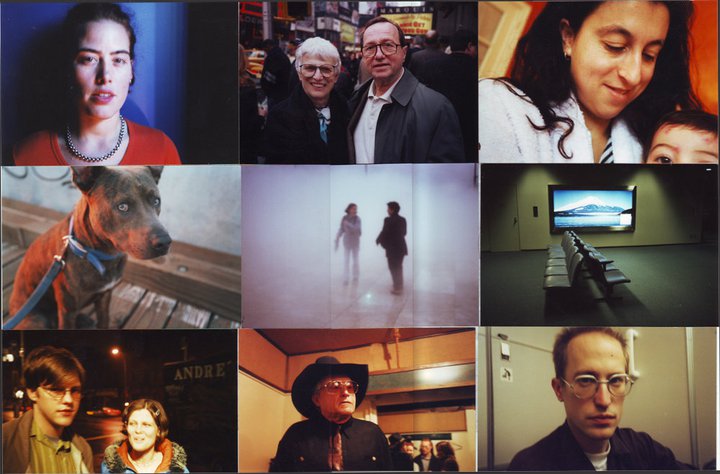 After a few years I put up a show of the collages at a small book store that was housed in the jazz club Tonic. I left out a book for people to write notes. Of course some of my friends wrote nice things. People I didn't know wrote things like "Make your own work". Their point was presumably that the images were derivative. It stung. I think that many artists struggle with ideas of worth, originality, and meaningfulness. What's the point really, of making work? Like everyone else, I seek praise and understanding. However, its also somewhat compulsive. There's a need that I have to make things. It's making things that makes me feel alive. It's communicating ideas and feelings in a way that just might make someone else feel more alive in the way that I have felt more connected when I stumbled upon things that mattered, or made sense.
It's getting late and I'm getting tired, but that's the compulsion- to make something now, without thinking too much about it, to connect these swirling ideas, that are clear in my head but have to be processed and connected by my fingers and my brain.
This started out about old photos, and in the process of looking for the collage of my father I found these collages from the 90's. I liked the way the "felt" then, but I knew they had to age to find their meaning. They're ripe now. My father is gone. Laris and his girlfriend broke up. Aiyanna's father is on in years (and playing birthday parties for his grandsons today). Our dog spooky is no longer with us, and my granny glasses have gone in the granny drawer. The images have a lot of meaning for me, and I image that for others the combination creates a wealth of stories. They may be derivative in some ways, but I think they have "value". I am a middle path kind of artist, less concerned with inventing a new future than accepting and working off ideas that have always worked.
I also found the last "letter book" i made.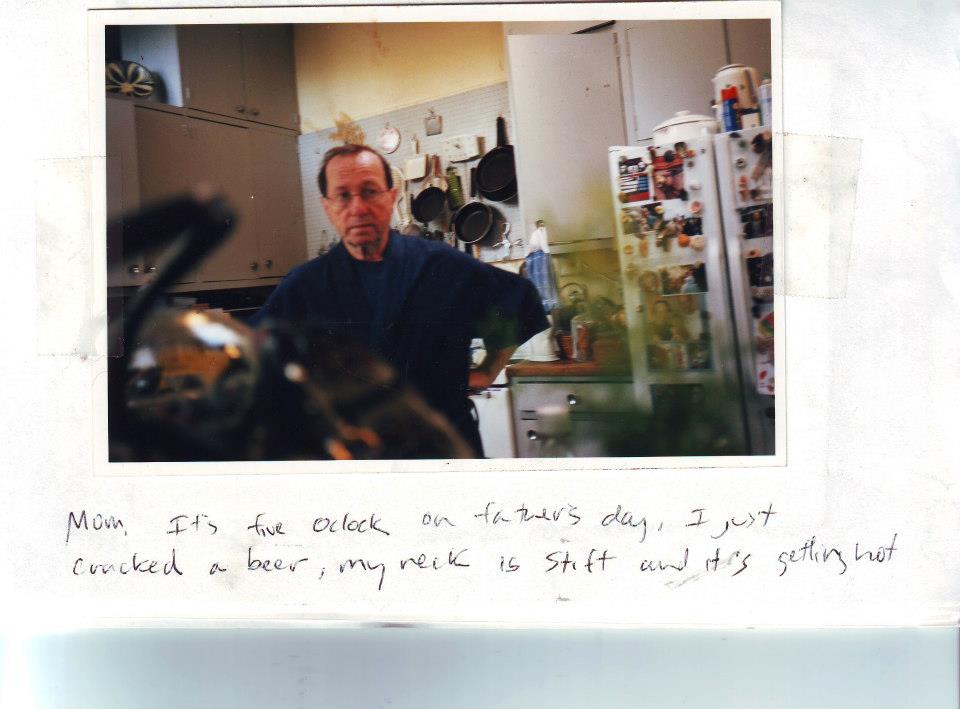 I made this a few months after my father had died, and presumably before my second daughter was born. this is the front page of a letter to my mom. My father had, by this point, vaguely accepted that I would take pictures, but I also had learned to sneak them.
The letter books were a little like this blog post, written in some ways to an individual but really meant as philosophical/existential rants. The words, the images, all of it meant to be buried with vinegar and allowed to age. As I hopped in the car to pick up my daughter from school this afternoon I thought about all the things that I had to get done, but I also thought about how opening up the box of old photos had sparked creativity, connected me to old friends, and inspired me to both appreciate my process and make more work. Even the badly framed, poorly exposed images excited me. In fact they excited me more than the perfect ones.