31 Dec

United Scrooged us this Christmas

I originally wrote a short piece about the terrible experience that we had on December 23-24th while trying to get to Santa Fe for Christmas on United airlines. Then we had an equally screwed up experience on the way home that spawned 2 more posts. I have now combined them into one longer piece. I understand that in the grand scheme of things our travel woes don't compare with the woes of those suffering under constant war. However, I also believe that those in power who make the kind of decisions that led to our issues need to be held accountable. I don't want what happened with us to happen to anyone else. I'm writing this because I felt powerless and I writing is powerful. The hardest part of the trip was that every step of the way the airlines let us down, so by the time we were on our final plane we found it hard to shake the expectation that something terrible was about to happen. second update ::: United really came through and covered our expenses and gave us generous vouchers. Delta – after not putting us on a plane that we had confirmed seats on- confirmed ticket nubmers- and confirmation numbers did nothing for us and ended up making us stay in a hotel for a third night. When we got to the airport with these tickets that had been arranged by United they treated us like second class citizens and told us that United kept sending over people with these tickets that didn't work. How they didn't get on the phone right away with United and make sure it didn't happen again is beyond me- They offered us a token voucher that's basically useless and continue to say that it wasn't their fault. According the person that I have corresponded with she is part of the "executive committee" and there is no one else I can talk to. Now I have to tear up my Delta card too! Hopefully Bernie will break back up the airlines too!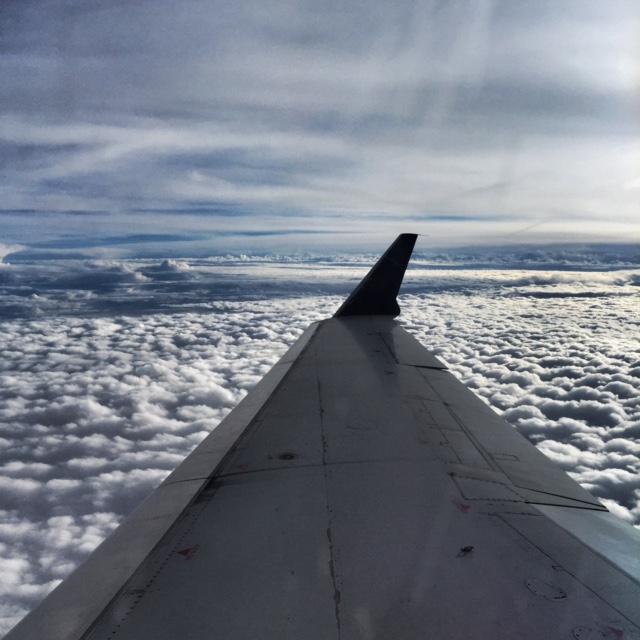 Our problems started when we booked flights for Christmas back in September. We thought that our kids' school went until the 22nd, so we got our tickets for December 23rd on United Airlines. Prices were already very high and we only went with United because it was good timing and the best price. I had a terrible experience with United two years ago and had been avoiding the airline. About three weeks before vacation we found out that school actually ended on the 19th. I called United and offered to fly earlier since we knew that they would be overbooked on the 23rd and that freeing up our expensive seats would be a benefit for them. They said we could only do so with change fees and increased fare. We took our chances and we lost big time.
Our flight on the 23rd was originally scheduled for 6:40 am but they changed the time to 7:00 am about a week before we were due to depart. That still left us with an hour for our layover in Chicago where we were transferring to a flight that went on to Albuquerque. A couple of weeks earlier we had flown to New York and almost missed our flight despite getting to the airport an hour and a half early, so we got up extra early at 4am and headed to the airport in the pouring rain. When we got to the long-term parking lot we always go to it was closed because it was already full. This was only a minor bump in the road and we headed to another airport lot and found a spot. We still got to the terminal well over an hour before our flight. It wasn't even 6am and the security line wrapped around the entire lobby. They were fully staffed though and doing everything they could to move people quickly so it only took about 40 minutes to get through. We got to the gate with a few minutes to spare.
The flight boarded quickly and even though it was a full flight the door closed on time. However, the pilot came on and told us that there was some fog in Chicago so they had to take on extra fuel in case they had to circle. It took a while for the fuel to arrive and when it did they seemed to add it for a really long time. I was sitting over the spot where the nozzle was attached. The fuel made a loud whooshing sound as it shot into the tank, and the sound freaked out my daughter. About 10 minutes later we were told that due to the fuel weight they had to re-balance the bags. Still, the pilot assured us that we would be ahead of schedule.
Then after another 15 minutes at the gate he told us that they had taken on too much fuel and that we had to taxi to the end of the runway and burn some off. It took awhile to get where we were going and then we sat there with the jet engines screaming for about 5 to 10 minutes as the daylight started to creep in through the clouds. While weather might have played a part in the delay there was clearly human error involved. They took on too much fuel, which meant they had to move the baggage and then they had to burn that fuel. Instead of arriving with an hour for our layover (or 1:20 if they hadn't changed the time of our flight) we arrived 15 minutes before our plane was scheduled to depart. I checked on our flight online and it said it was on time. Clearly the weather hadn't been such a big deal in Chicago.
I called the airline as we taxied to the gate to see if we could get on the next flight if we missed our connection. I guess it was too early for the customer service lines to be backed up because I got someone on the phone fairly quickly. The agent said that our flight would probably be a little bit delayed even if it said it was on time because the updates weren't exactly accurate. Then she said with some shock that it had already left the gate- ahead of schedule. When I got off the plane at gate C4 I could see gate C8, our departure gate, just steps away. Had the airline not changed the time of our flight we might have made it despite the delays. I was still on the phone with the agent as she struggled to find an alternative routing for us. The two other flights on United to Albuquerque were already way overbooked. This was shaping up exactly as we had feared when we offered to fly earlier. She suggested that I talk to the gate agent at our gate or at the one we were supposed to leave from, but there was no one at either. I spotted an agent at an empty gate and soon both of them were searching for solutions. There were none.
The woman on the phone explained that gate agents had more access to other airlines and she signed off. In the past I might have been more agitated, but the two years of meditation practice that I have engaged in have really paid off. I tried to work with the guy at the gate. He was helpful but ultimately helpless. We were told that the next flight we could get would be on Christmas Eve at 5:30 PM, over 32 hours later. I had to walk away from the counter for a minute because I was having trouble processing what he was telling me. I stayed calm but I was beginning to feel overwhelmingly frustrated. He asked us if there was another nearby airport that we could get too. Denver was 7 hours away from Santa Fe by car but there was a flight leaving to Denver in 20 minutes so we agreed to get on that. The four of us ran down about 20 gates to get there in time. We found a big scrum of people waiting to board but the plane was delayed due to mechanical issues. We talked to the gate agent who had been prepared for our arrival and we got seats for the flight. She couldn't tell us when it might leave because it had been hit by lightening and the crew was still trying to deal with it. I called the airline to see if they could help with the cost of the rental car because there was a drive-away fee of $500 to take the car from Denver and leave it in Albuquerque. Once again I was able to get an agent without too much delay, but it took forever for him to make sense of my confirmation code. I must have repeated it 20 times. When he finally got up my flight information he let me know that the airline would not pay anything for a car. Just then Cornell West walked by and I shouted into the phone, "There goes revolutionary hero Cornell West!" He turned and responded with a fist in the air and a rousing, "All Right!" and went on his way. With our flight to Denver getting more and more delayed we headed towards the customer service desk. There was a pretty big line so a representative called over to another terminal. There was apparently a much shorter line there so we headed over.
It didn't take that long to get through the line but we then spent the next 4 hours at the counter trying to find a solution. Things were so overbooked that it was impossible to get our family of 4 on one plane so we agreed to fly separately. It took them a little while bu they split our family of 4 into 4 separate reservations and then tried to book us in groups of two. Still, they couldn't get us there till the following day. They talked about sending us to Houston where we could wait and try to fly standby to our destination but all those flights were overbooked too. None of the solutions were reasonable at all. The people who were trying to help us were nice but they had no options because every flight was oversold. At first they had two of us flying to Salt Lake City and two of us to Atlanta.
Weather was really not an issue on the 23rd, and if it was we could understand why things were so backed up. There was no room on ant flight because of a business decision by the airline to make as much profit as possible. In fact I believe that this is why the left the gate early. If we, and the three other people standing at the counter who had also missed the Albuquerque flight by minutes, had made the flight they would have had to bump 7 other people. I have been on many flights that held at the gate for a few minutes to make way for the people arriving from a delayed flight. They absolutely knew where we were, and how close we were to the flight. They made a decision to bump us because that was the cheapest thing for them to do. In exchange they offered to let us sleep on the floor of the airport in Chicago or Houston. When I asked about a hotel they told us they wouldn't give us one because our delay was due to weather- which was not true. Later, after our exhaustive efforts to find a way to get there, they mentioned $50 in compensation for each of us. I figured that $200 would at least get us a hotel.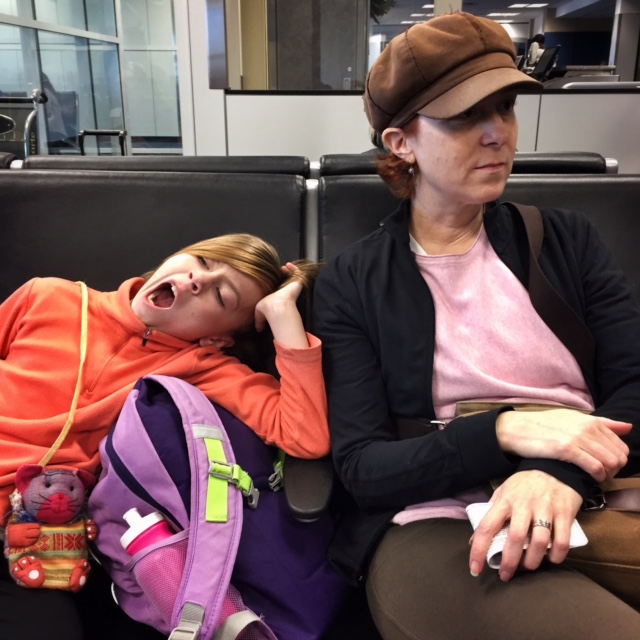 Meanwhile, my kids were bereft, but pretty patient given the circumstances. There were some ups and downs during the 4-hour discussion at the customer service desk, but the people working there were trying everything that they could to get us going. Finally they came up with a plan that sent us to Dallas on American Airlines the following morning, and then onto Albuquerque that afternoon. If everything went perfectly we'd get there 30 plus hours after we were supposed to. My kids were upset that their trip to see their grandparents, aunts, and cousins was going to be cut down by two days so we begged the agents to help us extend it by a day. They had no leeway to change our flights with out high fees plus the difference in fare. This policy seemed absurd to us given that they had delayed us by so long. When I asked for the hotel vouchers that I thought they had offered us they instead handed over $50 flight vouchers. That was when I finally lost it a little bit. I walked away from the counter in shock and I took out my United Airlines credit card and tried to rip it in half.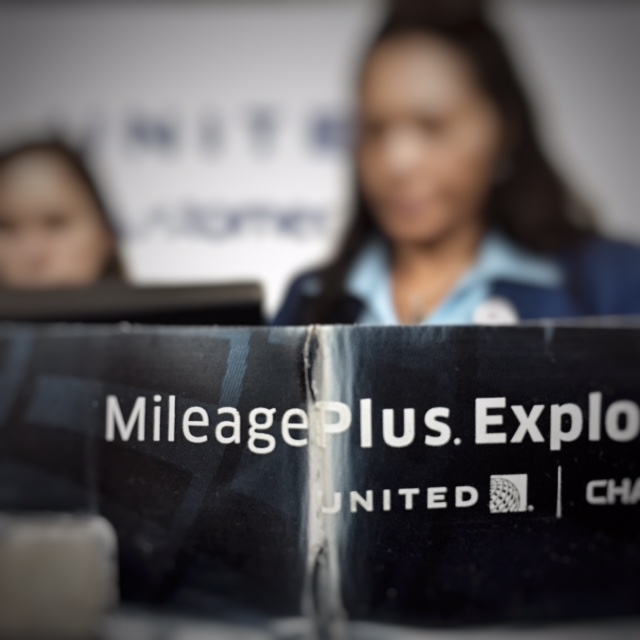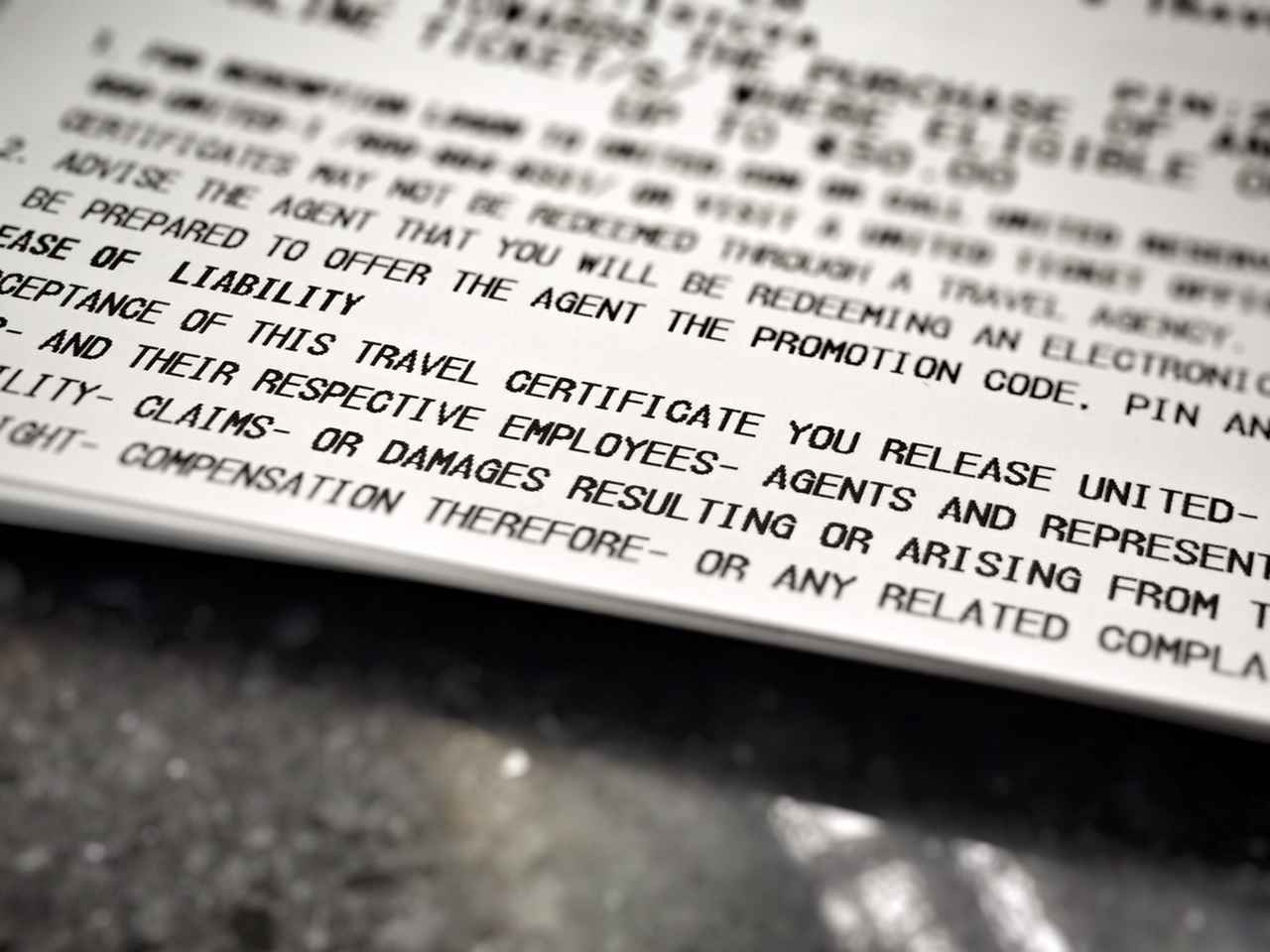 Not only did I have no interest in ever dealing with United again, but $50 was an insult and it had legalese on it saying that accepting this voucher would negate any claim we might make in the future. It also took them over an hour to enter ticket changes because they had separated all our reservations in their efforts to find some way to get us moving. They gave us a form that got us a discount on hotels- but it was no better than what we might have gotten on priceline. The whole thing stunk. They also offered us 7 dollar vouchers that we could use for food in the airport but we wanted to get the hell out of there so we left with all of the vouchers sitting on the counter.
First though, we decided to go to the American terminal to get our boarding passes because we knew how crazy the lines would be the next morning. It took everything we had left to do it then because all the kids wanted to do was be in a hotel room watching TV. It was lucky we did it thought because it took the American agent almost an hour to get our boarding passes sorted out. Again, the people we dealt with were nice, but the airlines have made everything so complicated and controlled from above that it seems insanely difficult for them to get anything done. I used to be a very frequent American Airlines flier and racked up almost 350 thousand actual miles flown over the previous 20 years. However, despite all my miles, I had no status on the airline because I never flew 25k in a single year.
The thing that made me quit them altogether was that they wouldn't let me fly standby on an earlier flight from Shreveport to Dallas a couple of years ago. I had finished a shoot early and wanted to get to Dallas so I wouldn't miss my connection which had only a 50 minute layover. There was a flight almost every hour from Shreveport and I was there about 6 hours early because my work had ended early. They would only let me fly early if I paid a $75 fee. I refused as much on principle as on penuriousness. I pointed out to them that if they filled the empty seats they would avoid the danger of overbooking on later flights and they would make sure that I wouldn't miss my connection. As you can imagine, my flight was delayed by an hour, so I missed my connection and I was stranded for 5 extra hours in Dallas. The fact that I had 350 thousand miles on the airline only made things worse. I cut my American Credit card in two and I started to fly Delta when I could. While American was focused on making $75 dollars on that single transaction they lost about 15 to 20 thousand dollars of business as I have flown about 15 times on Delta since then by myself and another 5 or 6 times with my whole family.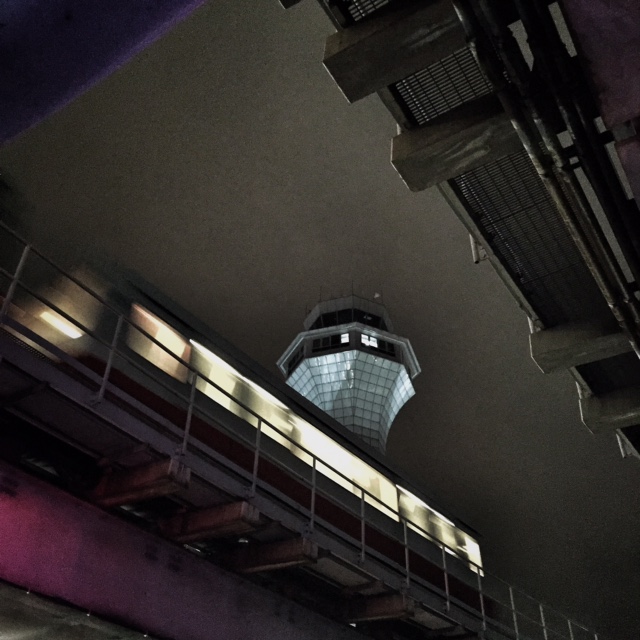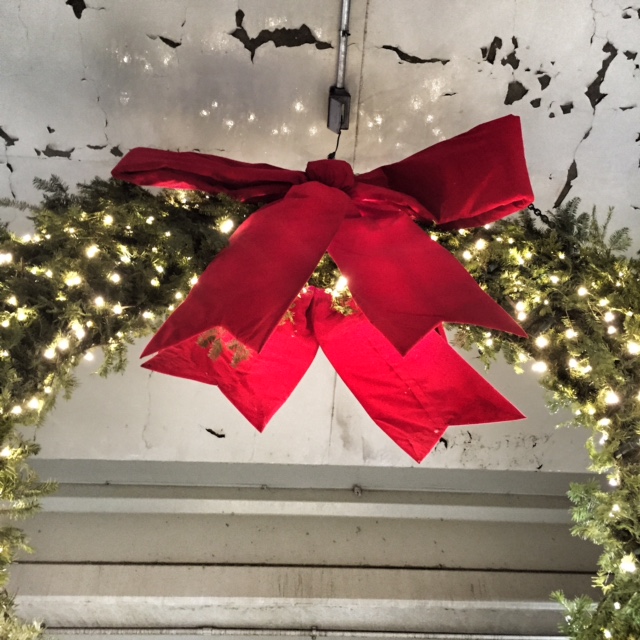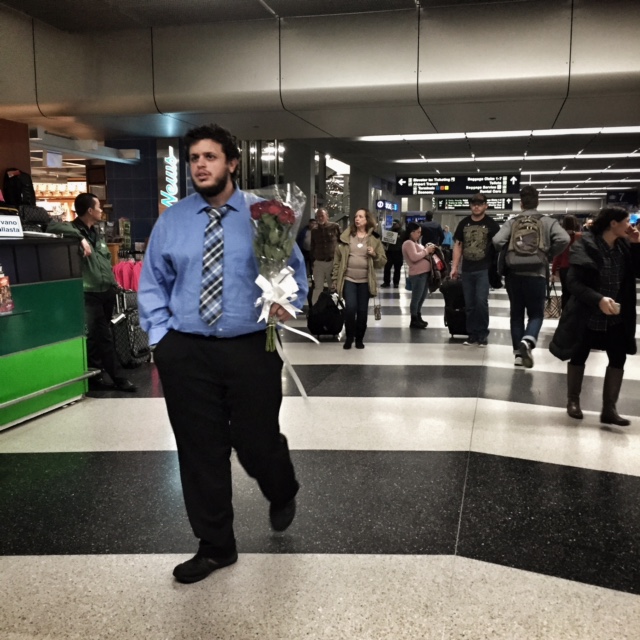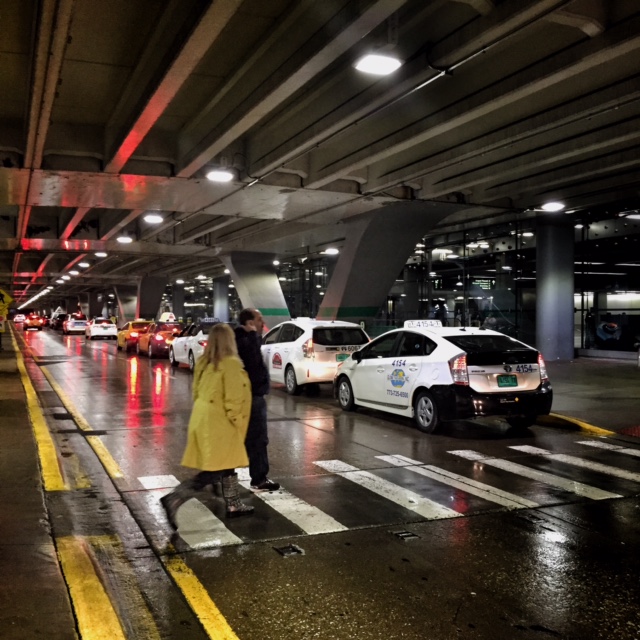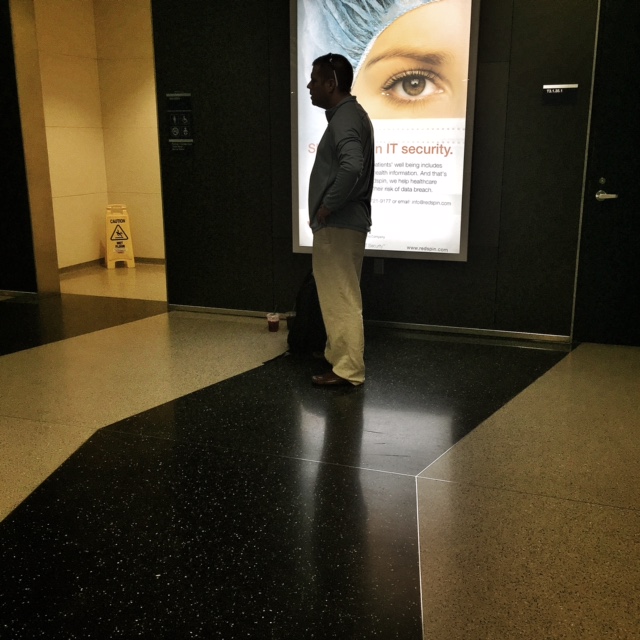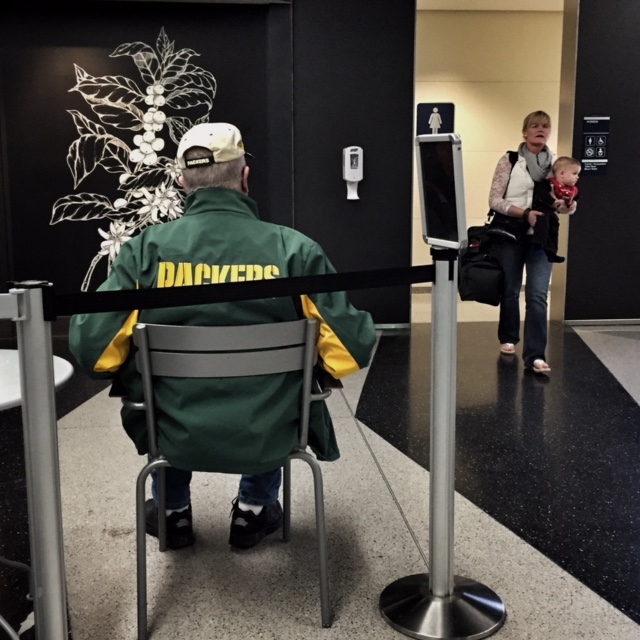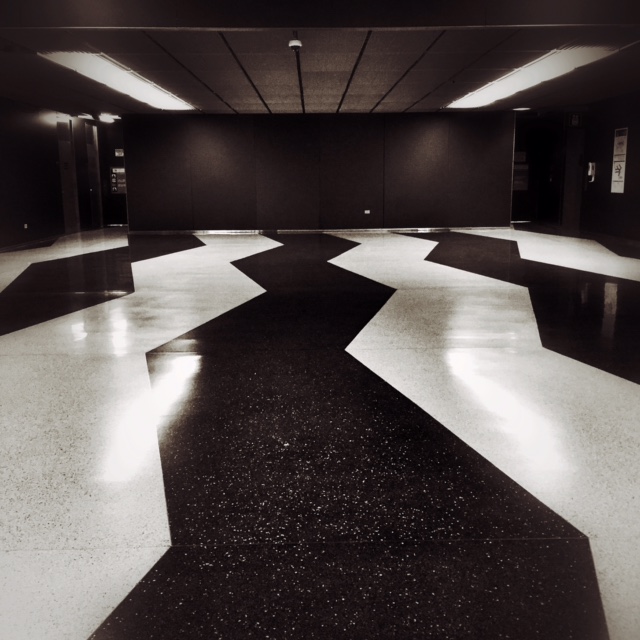 It took a while but we left with our boarding passes for the next day. I had booked a hotel a short ride from the airport but when we walked outside and saw the Hilton right there we switched even though it was more expensive. We went upstairs, ordered some Chinese food and tried to make sense of what had happened. When we called to extend our rental car reservation we were told it would be cancelled if we didn't pick up the car within a couple of hours. A new reservation was more than double since it was for the next day, Christmas Eve. I tried pleading with them, but they wouldn't budge. The expenses we incurred were starting to add up. I sent a complaint to United and got an auto response saying it would take them 7-10 days to respond. I forwarded the complaint number to the United twitter account. In the past I have often gotten a response from tweeting or messaging via twitter, but I wasn't getting any response on this day. After dinner I went down to the pool and swam some laps. I also used the steam room, and I went back upstairs feeling a lot better. We went to bed early because we had to get up at 5:30 for our 8am flight to Dallas.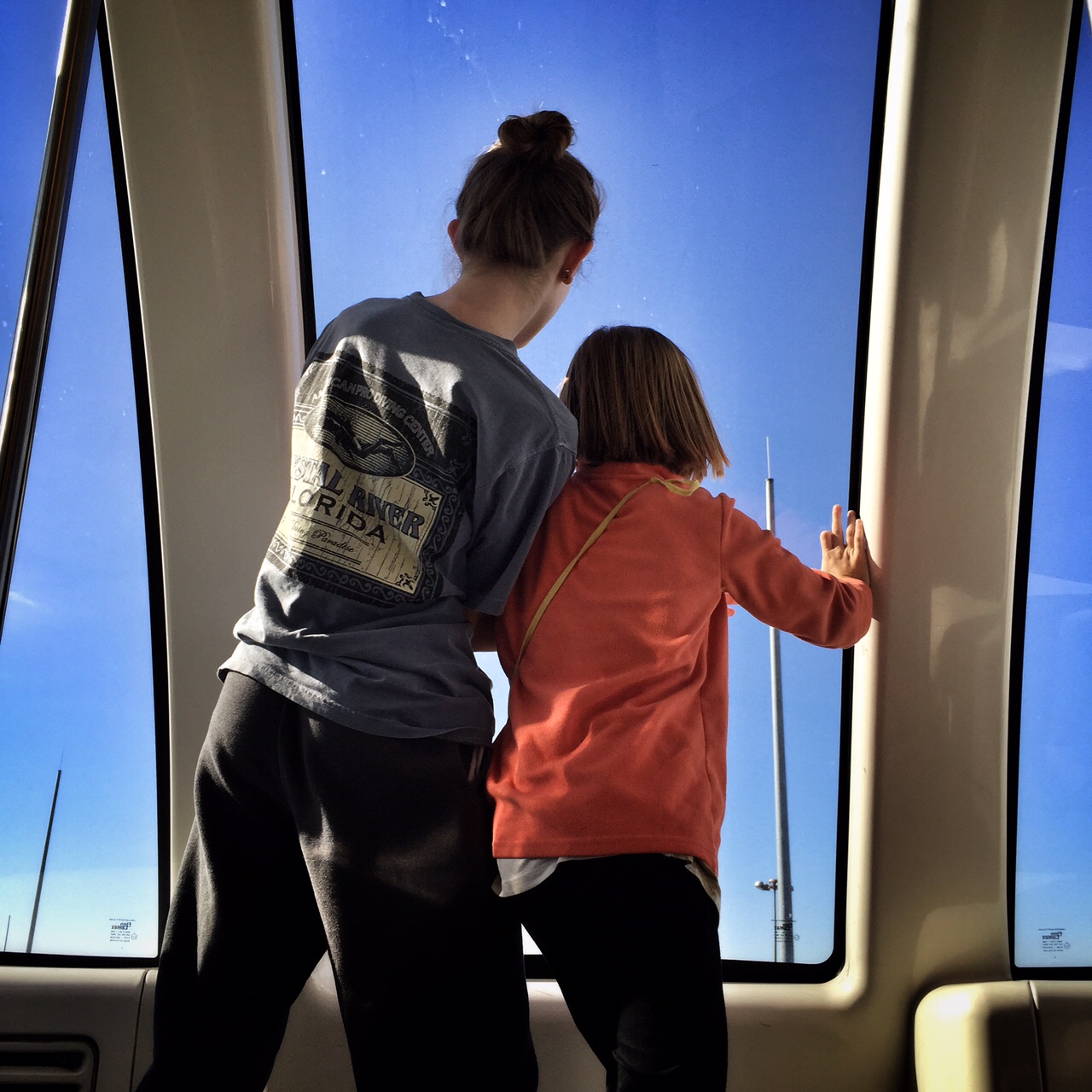 The line in the airport the next morning at 6:10 was as crazy as expected, but once we found the end it moved quickly. We got through with an hour to spare and grabbed some food. When we got to the gate we found that my wife's reservation had been cancelled. Luckily the woman working the flight was the same person who had gotten us our boarding passes the day before. My wife and one of our kids got on the plane while my younger daughter and I waited. I could see the supervisor looking at the passenger list. She could see who was on flights that were delayed and she gave me one of their seats. It was clear right then that United had to have known the day before that we were only minutes from the gate. My daughter was getting increasingly agitated but they finally worked it out and we headed down the runway. I realized that my wife's connection ticket might have been cancelled as well so I barreled back up the jetway – despite my daughter's protestations – to check. The agent assured me that we were fine, and my crying daughter and I headed to the plane.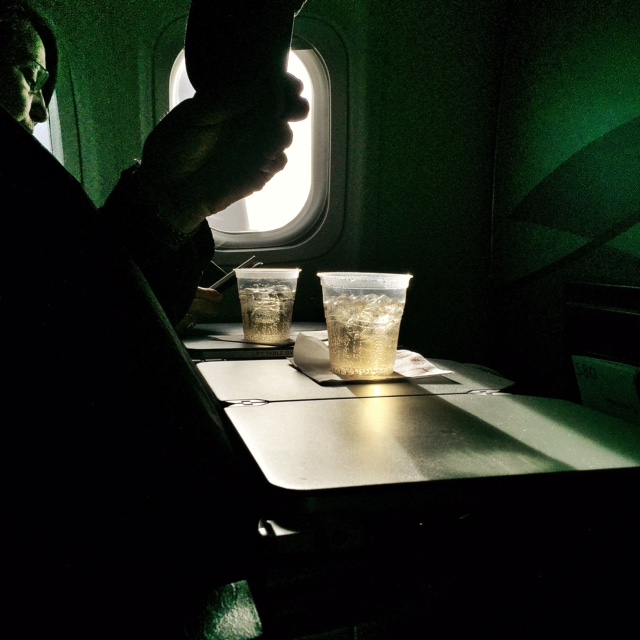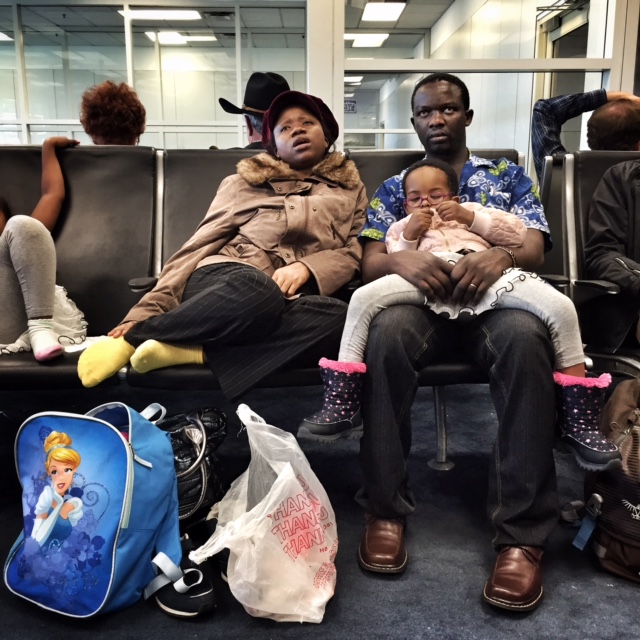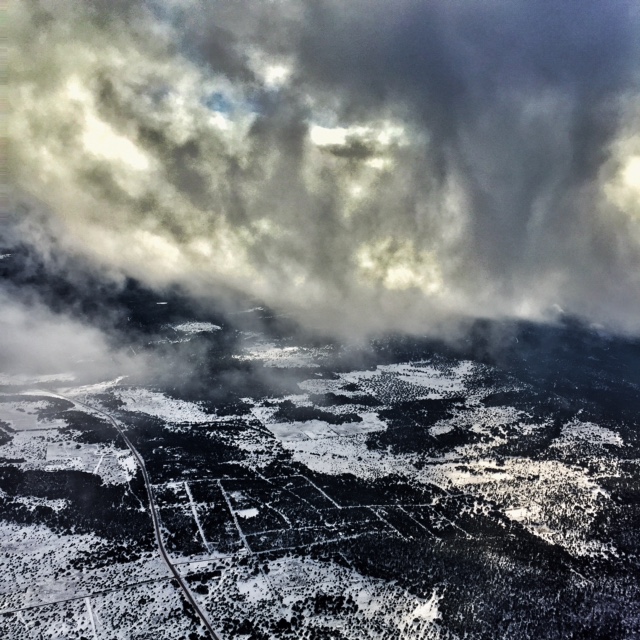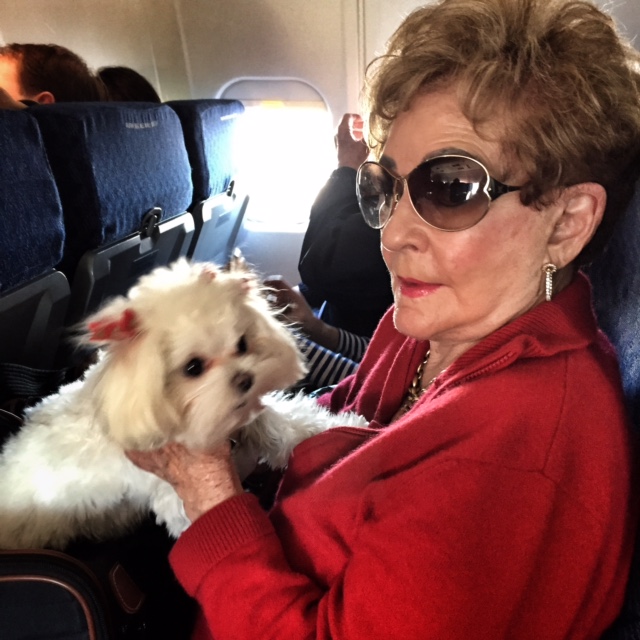 The trip to Dallas was uneventful. We had 3 hours to kill so we rode the tram around DFW a couple of times and then ate at a restaurant. Luckily we got to our gate pretty early and I went to check on my wife's seat. Yup, it too had been cancelled but we were able to get it set again. Thankfully we made it to Albuquerque before dark and got to see the sunset as we headed towards Santa Fe. I like to take pictures from the car so that was nice for me.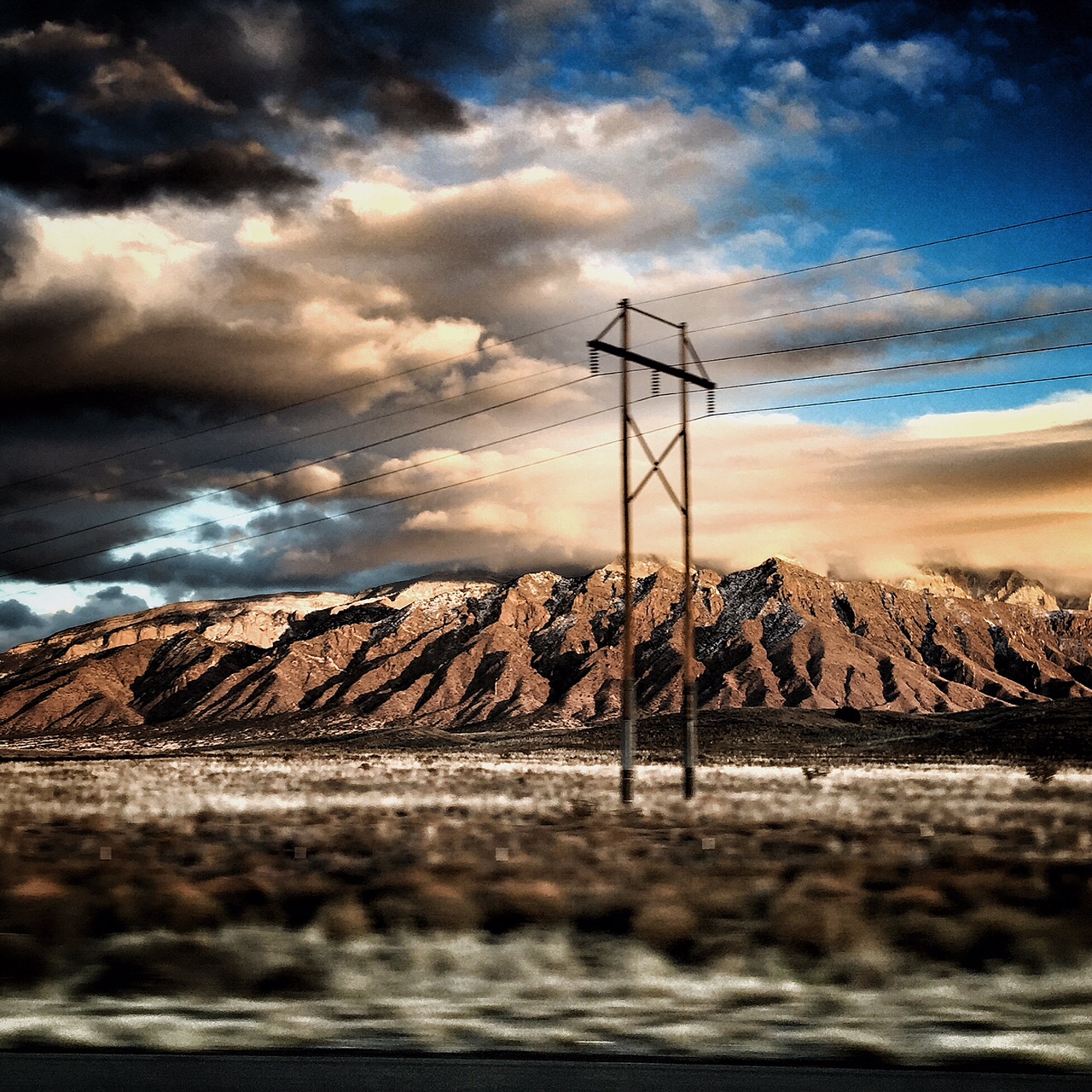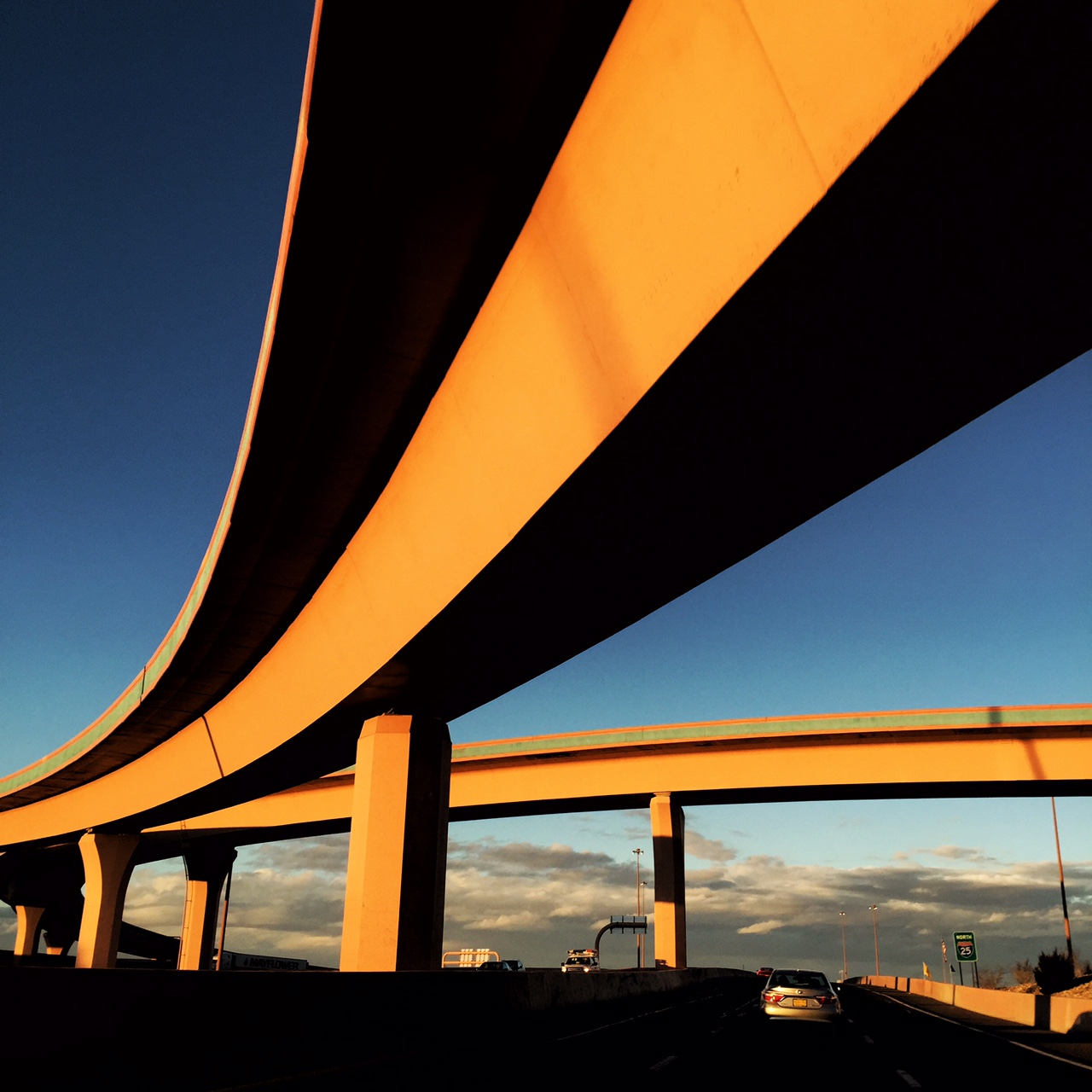 We arrived in time for a really nice Christmas Eve dinner in Santa Fe with all of my wife's family. We had a satisfying Christmas day as well. United hadn't ruined our vacation, but they did put a big damper on it and a big financial pain as well.
Here is Part 2- about our return.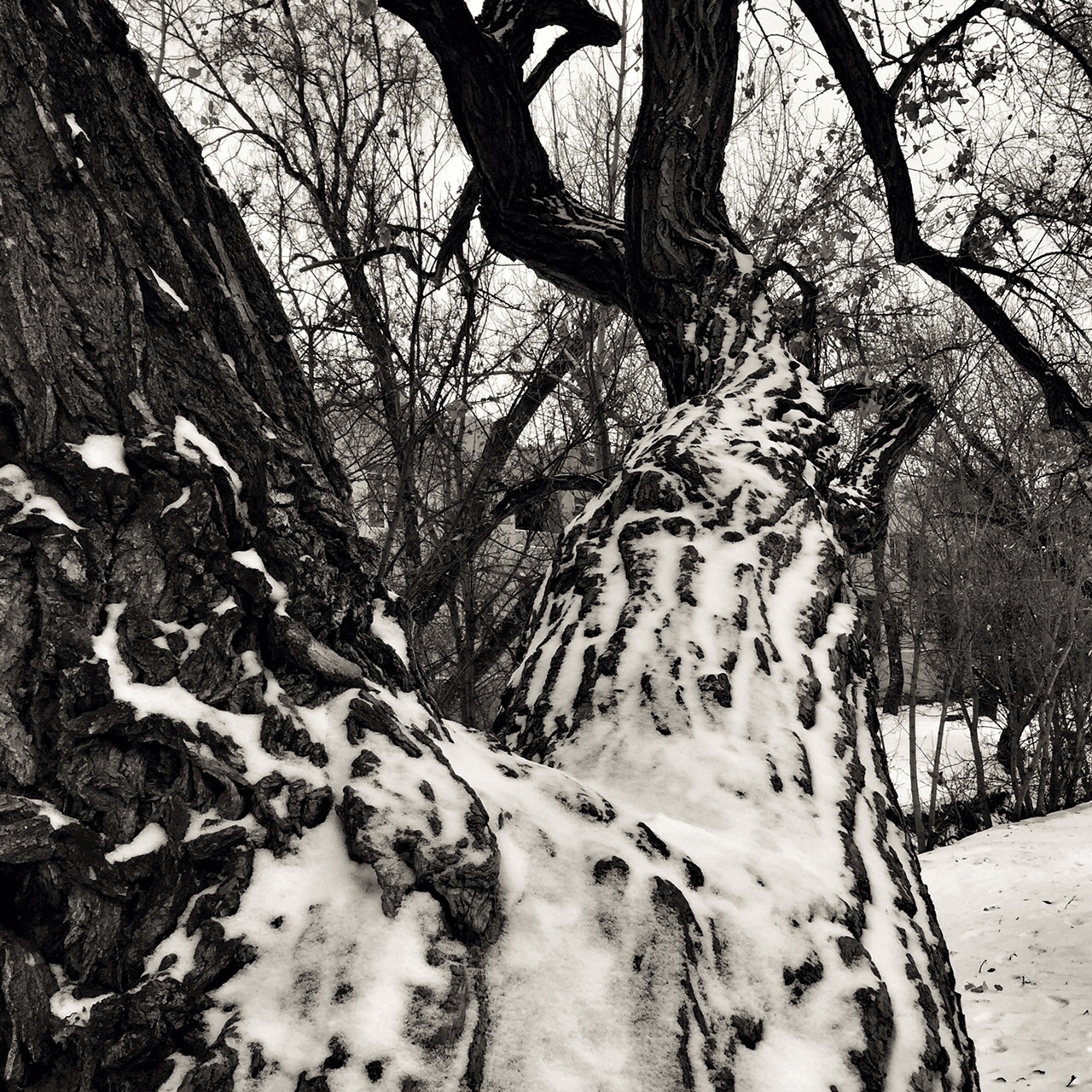 Our saga continued. On the day before Christmas Eve United Airlines let us down every step of the way. Missing our connection by a few minutes had left us stranded for a day and a half. I complained on twitter and facebook and sent in a complaint letter. After a day someone on twitter got back to me and told me that a customer service rep would be in touch. One thing that we wanted was to extend our trip for a day without change fees and crazy price gauging. We never heard from anyone… until 8:30 the night before we were going to leave. At that point it was way too late. We were already packed and it was too hard to change gears at that point. The reservation specialist was very nice at least, and promised me that a compensation person would call me the following day. I didn't realize it at the time, but the reservation specialist didn't have a chance in hell of extending our trip a day anyway. It had snowed snowed a lot that day and almost every flight out of Albuquerque had been cancelled. When we got to the airport the next day we were told that if we didn't get on our flight we might not get out for days.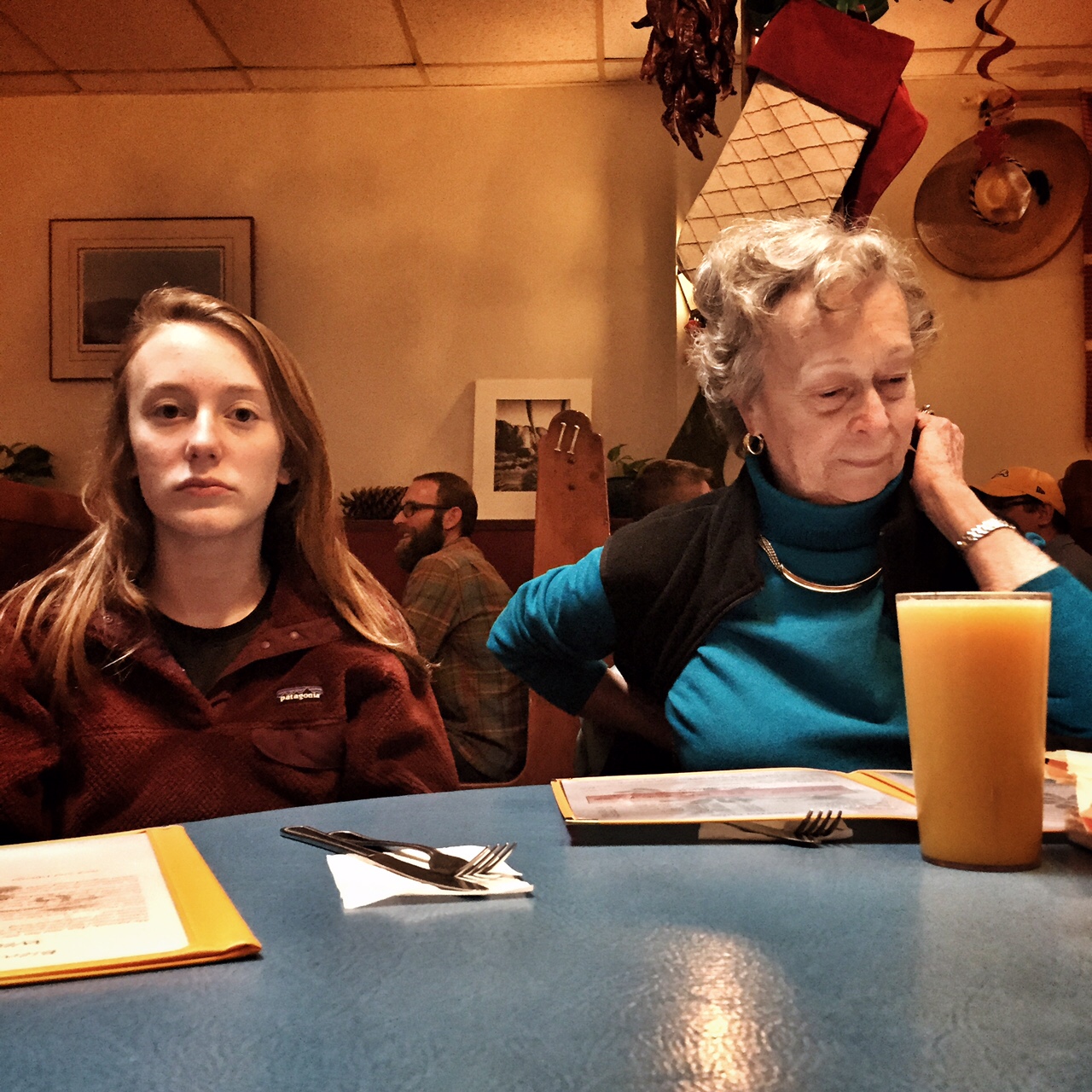 Before I got the call from the customer service rep to discuss compensation for our terrible experience at the start of our trip I got an email alert letting us know that our flight from Albuquerque to Houston was delayed by an hour. I knew that we only had a one-hour layover so I called customer service to see about re-booking. The wait wasn't too bad, but it did ruin my lunch at Tia Sophia's in Santa Fe. I was stuck to the phone the whole time. I told the agent our situation and he went away for 10 minutes. When he came back he told me that he had no options so he was transferring me to a Lead supervisor. This guy told me there wasn't anything he could do either. He confirmed that it was a mechanical issue and that the airline would issue me a hotel voucher if we missed the flight due to the delay. He told me there was plenty of room on flights the following day and that I shouldn't worry about re-booking yet.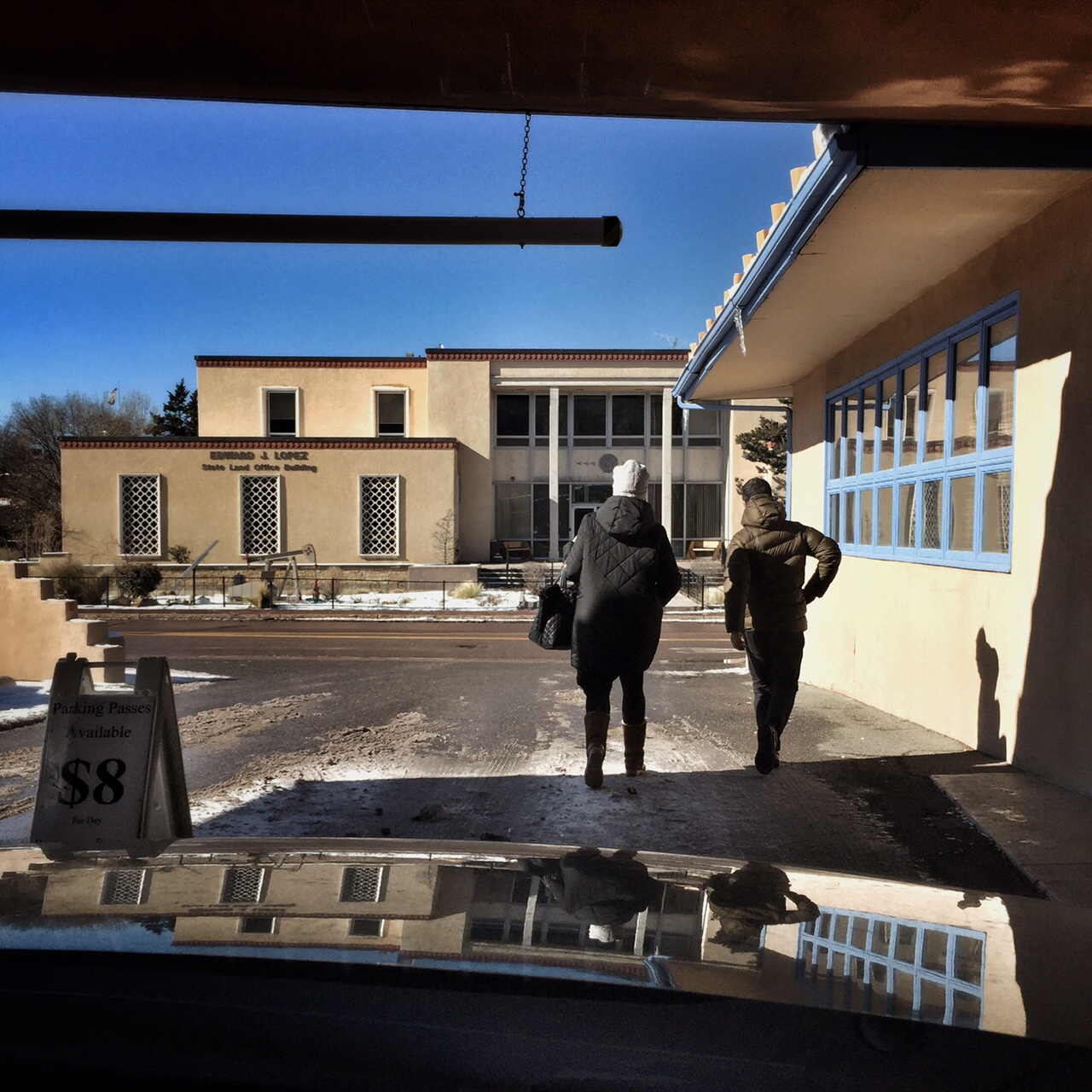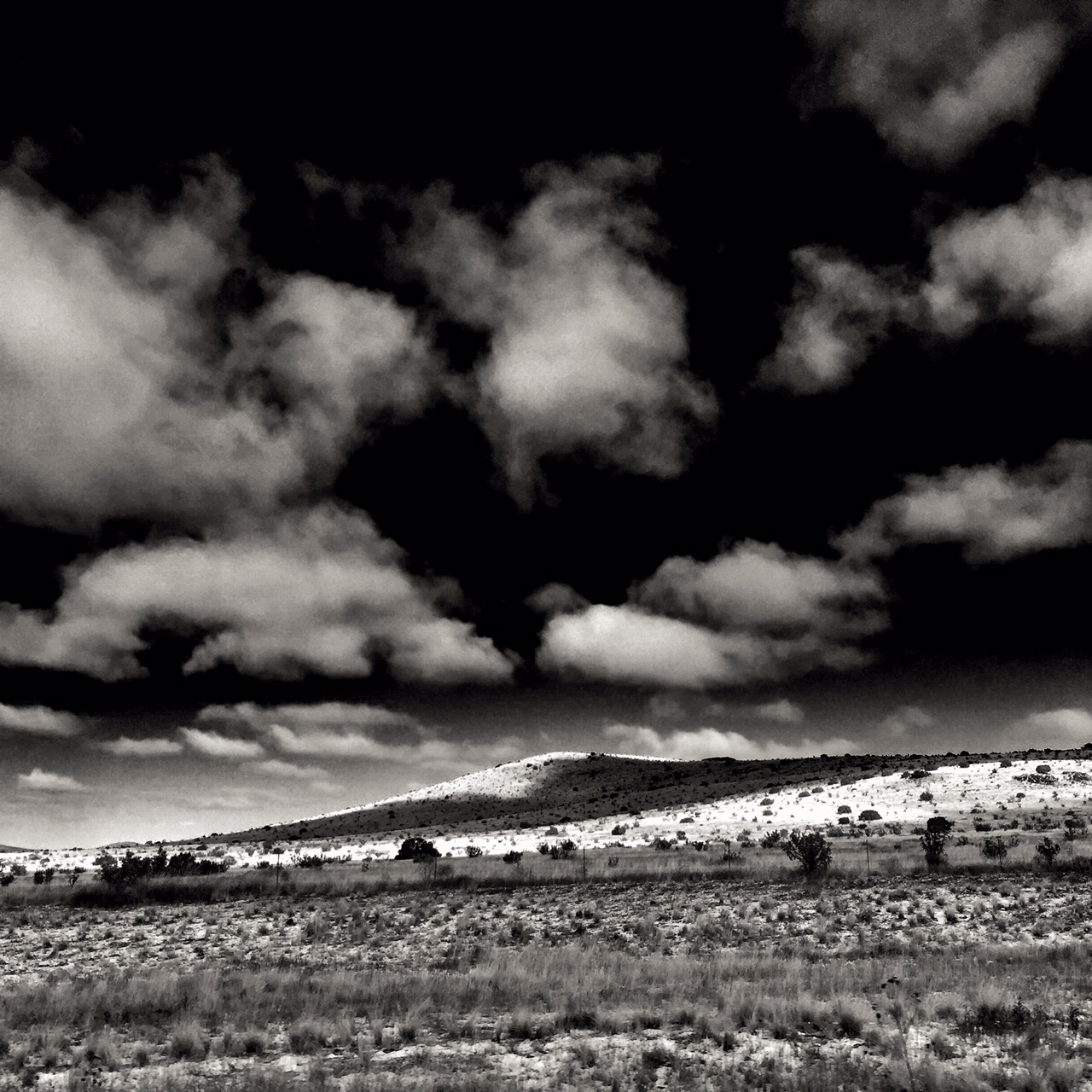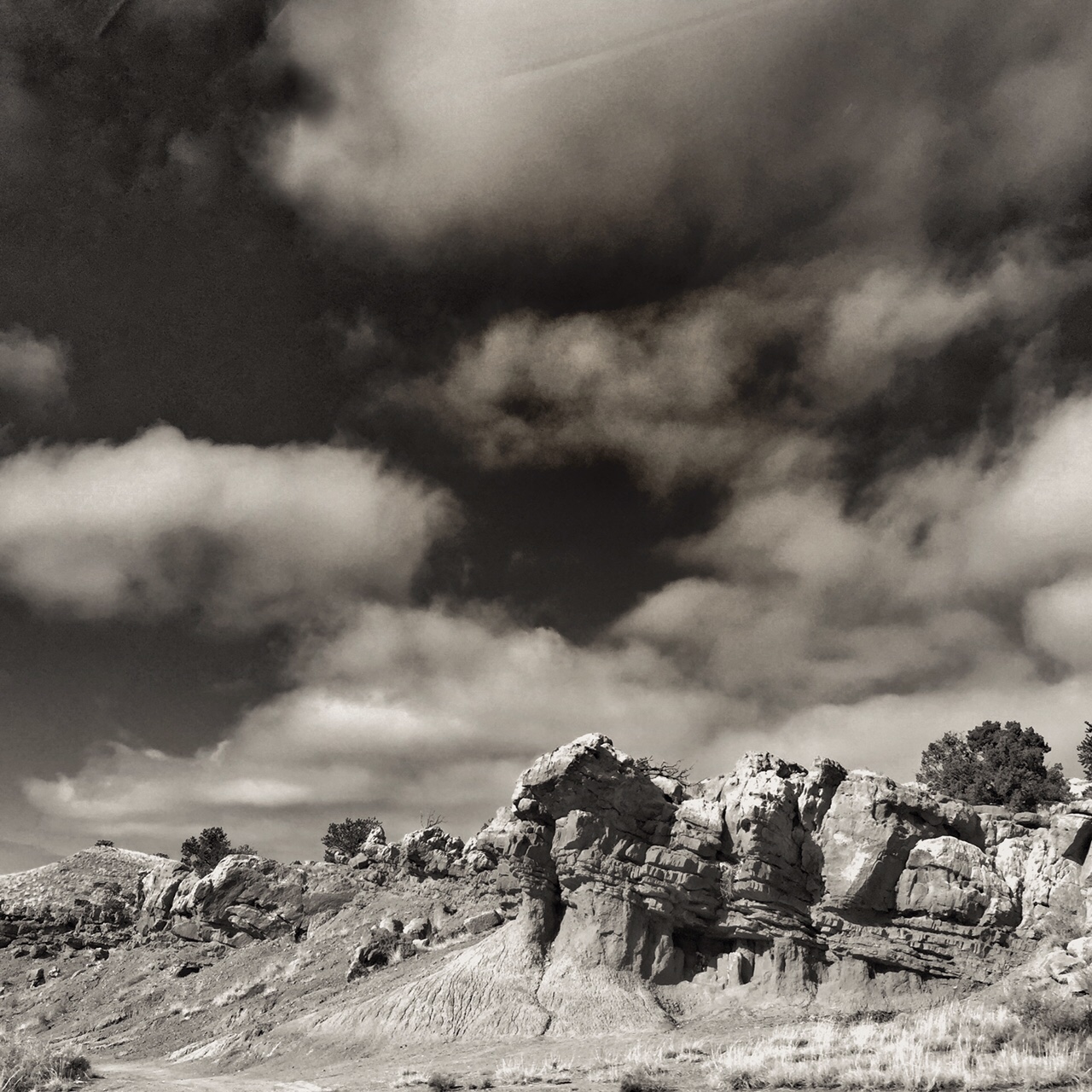 We headed off to the airport hoping that the plane could make up some of the time and that we wouldn't miss our connection. When we got to the airport we were psyched to see that our flight was listed as on time. We hustled to the gate where it was still listed as on time. I asked the agent and she said the signs were updated manually, so that we should pay attention to the website and not the gate sign. We went off to get a snack. When we sat down I got a call from the compensation person.
I told her about our current situation and laid out why I was so upset about how things had been handled last week. She agreed with all of the complaints and said that the people at customer service were wrong. They should have re-booked the second half of our trip that day without any charge, and that they should have paid for our hotel. She also agreed that they should have worked with us to move our tickets up when we had offered to fly earlier three weeks before our flight. She didn't want to discuss compensation yet because she was nervous about the second part of our journey. She offered to look into our possible re-booking with a reservations specialist but I told her she probably didn't need to worry because the lead supervisor had assured us we would be fine for the following day. I was worried about doing anything that might derail our travel if things could work out. At that point I didn't know that Houston was a nightmare of cancellations.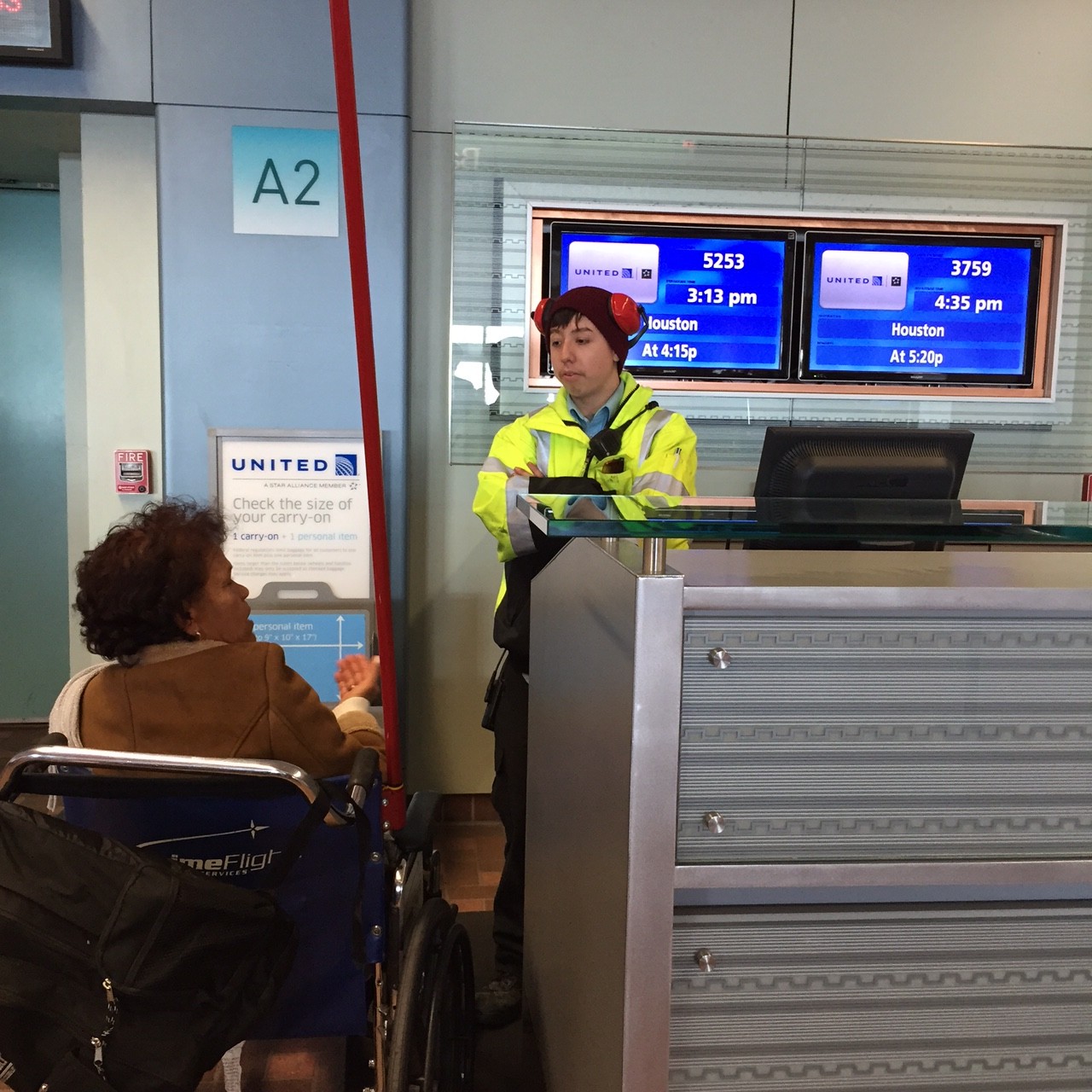 When I got to the gate an hour before the flight I decided to get in line to talk about reserving flights for the next day. I figured that I might as well because there was only one other person on line. The woman in front of me got increasingly agitated as the person re-booking in front of us took more and more time. I got my wife to call so that one of us might get some help because it looked like our current delay was going to be longer than we thought. It seemed less likely all the time that we would make our connection. When the agent finished his epic efforts with the first man he came on the loudspeaker to explain that every flight was overbooked for the next two days so that no matter what we should try to travel to our destination. Then he started to help a woman in a wheelchair who I hadn't noticed because she was beside the counter to the other side. She was a Spanish speaker traveling to Miami. It seemed that the skycap that took her to the gate took her to the wrong gate and she missed her flight. Now she was stuck in Albuquerque for several days. She was not happy. I had been standing on line for an hour, the very nice agent had helped only one person and it was time to board. As we walked up the jetway an agent finally answered my wife's call. She told me that there were no flights out of Houston the following day. I gave her the supervisor's name that I had been talking to and begged her to call her to do whatever she could to get us out the next day. The door to the plane closed and I had to hang up.

When we landed in Houston I got a text saying that our flight to Raleigh was delayed. At least it seemed like we would make it, but now it was scheduled to arrive at 1:39 AM. We decided to head to that gate to make sure things were okay. As we entered the main terminal we saw a line that wrapped around the entire central area. At first I thought it was a line to the tram, but instead it was for the customer service desk. We thought we were ok though. Our plane was delayed but we were getting out of there.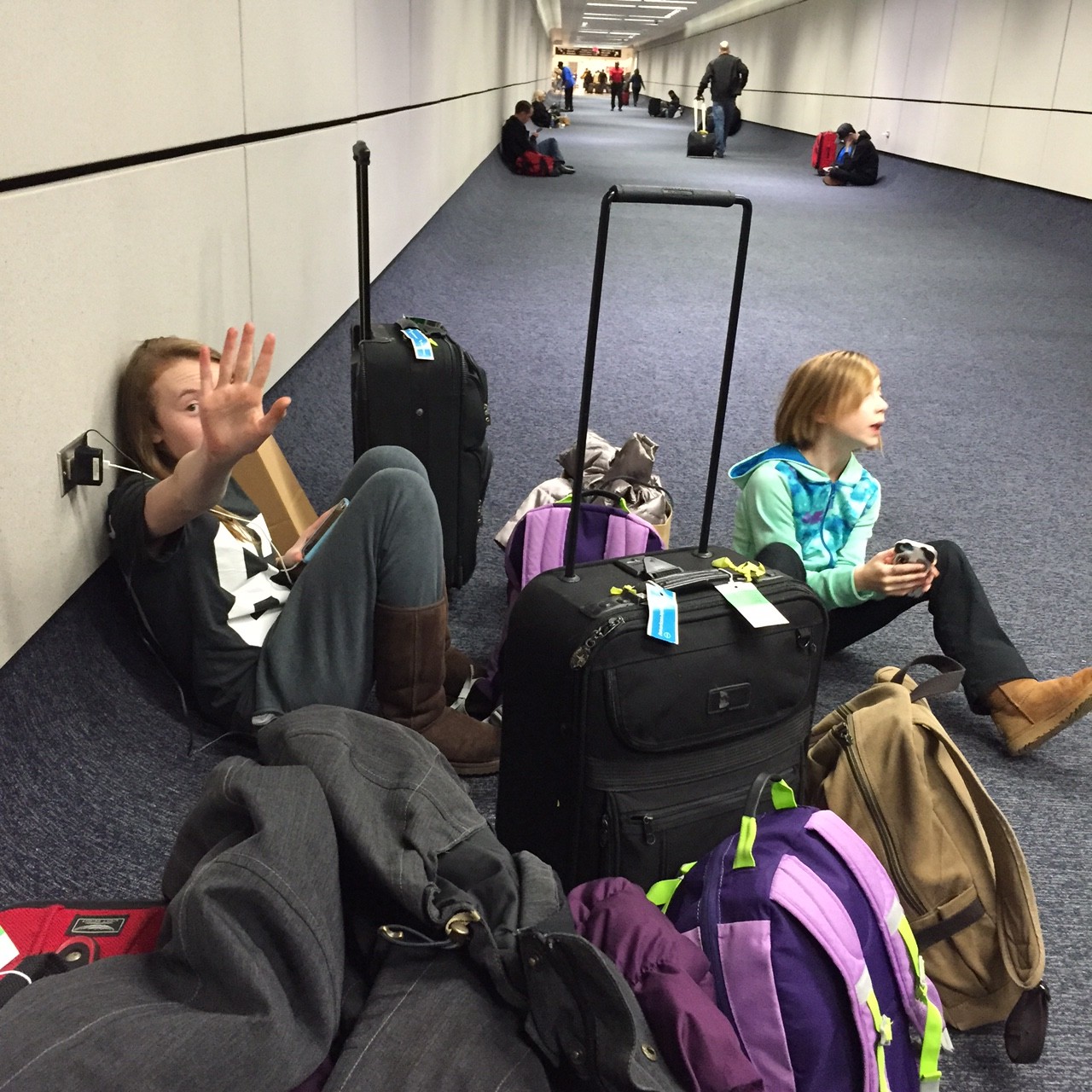 On the way to the gate we passed some massage chairs. I put in 2 dollars while my family went to check in. When they got back my wife got a call from the customer service reps booking colleauge. They had reserved us flights on another airline for the following day at 6 PM just in case our flight didn't work out, but felt confident we'd get out. She promised to track the flight and get back to us with updates. We felt taken care of and we went to eat dinner. We then headed back to the massage chairs and all got a massage and then went to the gate. We got a text that our plane was now delayed by 5 minutes less. The agent called to let us know in case we hadn't gotten that alert. We went to the gate around the time we were supposed to board and I checked in with the agent to find out where we stood. Our flight had been delayed because they didn't have an assistant pilot or flight attendants. However, she assured me that the attendants had arrived and were preparing the plane. The pilot was supposed to be there momentarily.
As you can probably guess, 15 minutes later they cancelled the flight "due to weather". While I understand that there were weather issues the day before at this airport and in Chicago, the idea that the plane was cancelled due to weather was a real stretch. The problem had a lot more to do with the airlines inability to arrange staff than it did with weather. We were at a United hub. This was a planning problem not a staffing problem. In fact the pilot was there. However, due to timing regulations he was told that he couldn't fly the plane to Raleigh because he wouldn't be able to fly it back. Despite the notices that we had been given that the flight was cancelled, the gate agent promised us that the pilot was trying to get it back on. After another 15 minutes we were told it was cancelled for sure. People literally ran from the gate to get in the re-booking line. I knew that we had the other flight lined up and had no hope that anything else would work out because we'd already been told that the next day was oversold on every flight.
As we looked for hotels we got a call from the booking person telling us to get a hotel and that the airline would pay for it. According to her it was a "weather issue" so they wouldn't give us a voucher at the airport, but she knew how badly things had gone for us so it had already been approved. She promised us that we would paid back. We were surrounded by pissed off people who had been booked on this flight after their previous ones had been cancelled. Things were a mess. The booking person told us that she had us on hold on a 6 pm flight on Delta the following day but that she'd still try to get something direct for us and would call us in the morning.
We went to the wrong door for the hotel shuttle and there was some frustration, some anxiety, and some crying. It was 11pm. We got to the hotel and bought some crappy 2 dollar candy bars for the kids and went to sleep. We got up pretty early and had breakfast in the hotel. Then I went to the gym and "hiked a canyon" on an exercise machine. At 10:30 we were still waiting to hear from the airline. Again, for the most part all of the people that we have dealt with have been as helpful as they can. There were a few that were rude or really messed us up (like the guy who didn't reserve us a seat on the next days flight), but in general
everyone seemed to want to help. Unfortunately, the people who don't actually deal with customers don't see fit to hire enough staff, or give them enough leeway to help. While weather had clearly created delays- terrible planning and execution has left thousands stranded with no help.
Finally, after I left 20 messages for the customer service person I tried calling the regular customer service number. I tried asking for an agent, but the line was so backed up it simply said call back later and hung up on us. We were getting increasingly nervous about getting out so I also checked on line. The only options it offered us were for the following day. I tried the customer service number again and got the same hang up. Finally we got a call from the booking person who told us that the Delta flight from another airport, Hobby, was the best she could do. A few minutes later she emailed us the ticket information. We tried to print out the boarding pass at the hotel but we had no luck.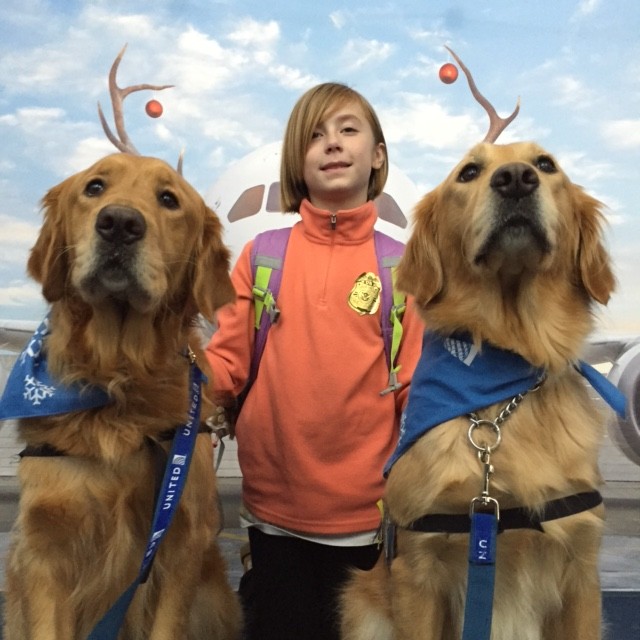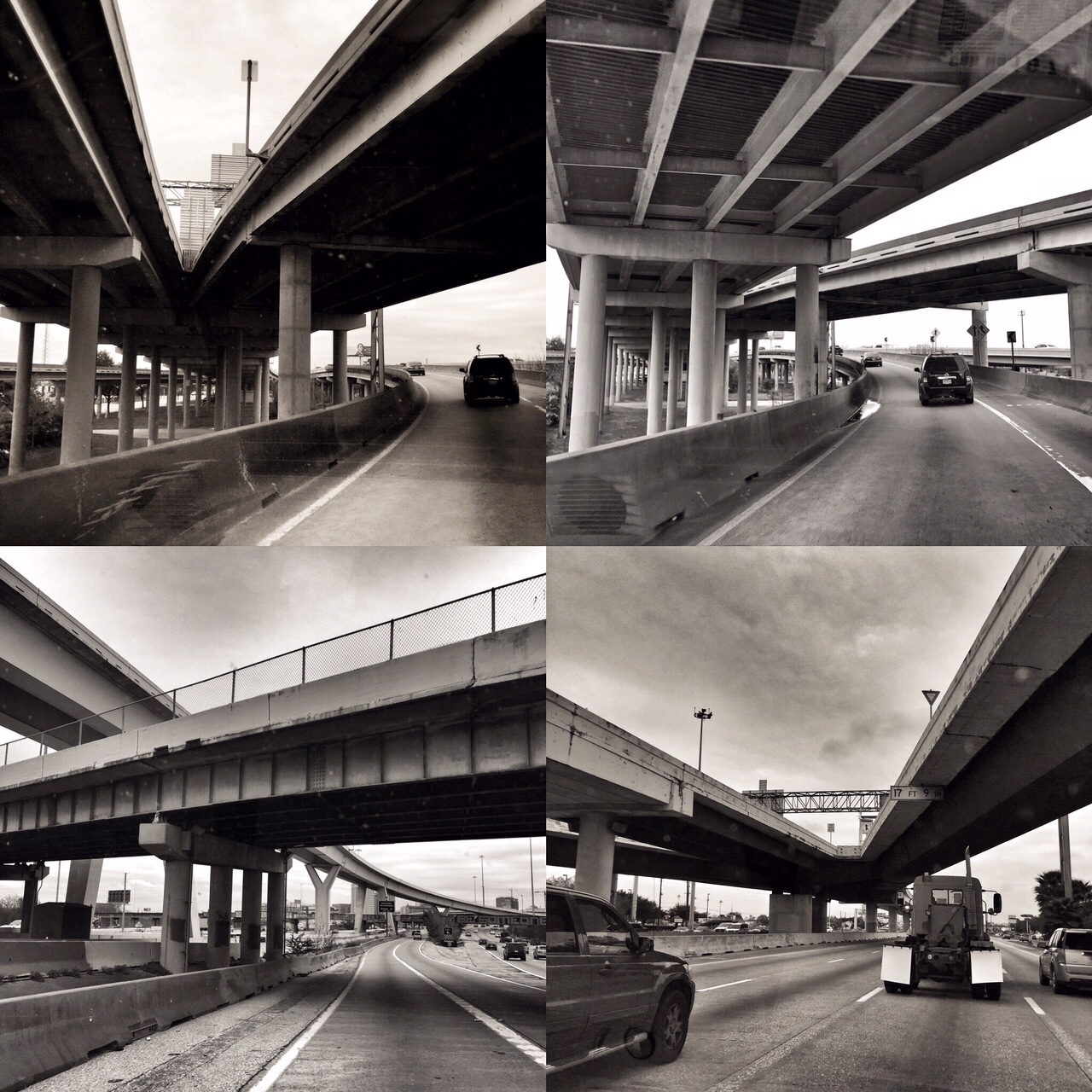 I unsuccessfully called the customer service person who had been helping us out about a dozen times because I didn't want to take a cab across Houston to the other airport without assurances that the ticket would work because we had had so many problems with the American ticket that they got us. Finally I reached her. She wasn't able to get us boarding passes but she did get us confirmation numbers. That felt better than nothing. It was scheduled to go to Atlanta at 6 but we headed to the airport in a cab and got there by 1:30 just to be safe. We weren't safe.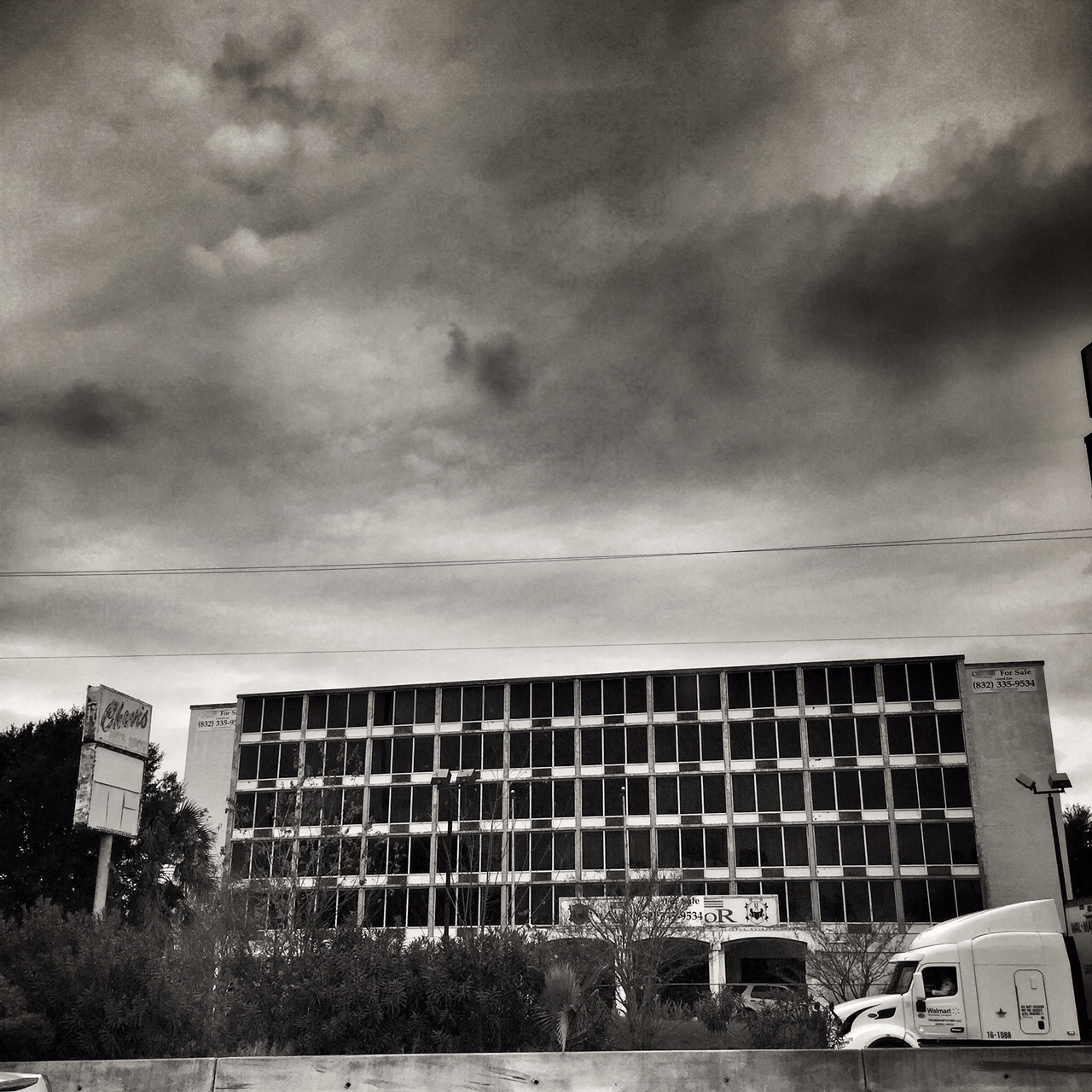 Delta had our reservation but couldn't print the tickets. I spent the next 4 hours trying to get United to help us figure it out. United has no presence at the other airport in Houston so it was all telephone calls. I was told by the Delta people that this had happened many times in the last few days but that it should be worked out. The supervisor got involved but the tickets kept printing out saying flight coupon required. The supervisor reluctantly talked to the United representative but we had no luck.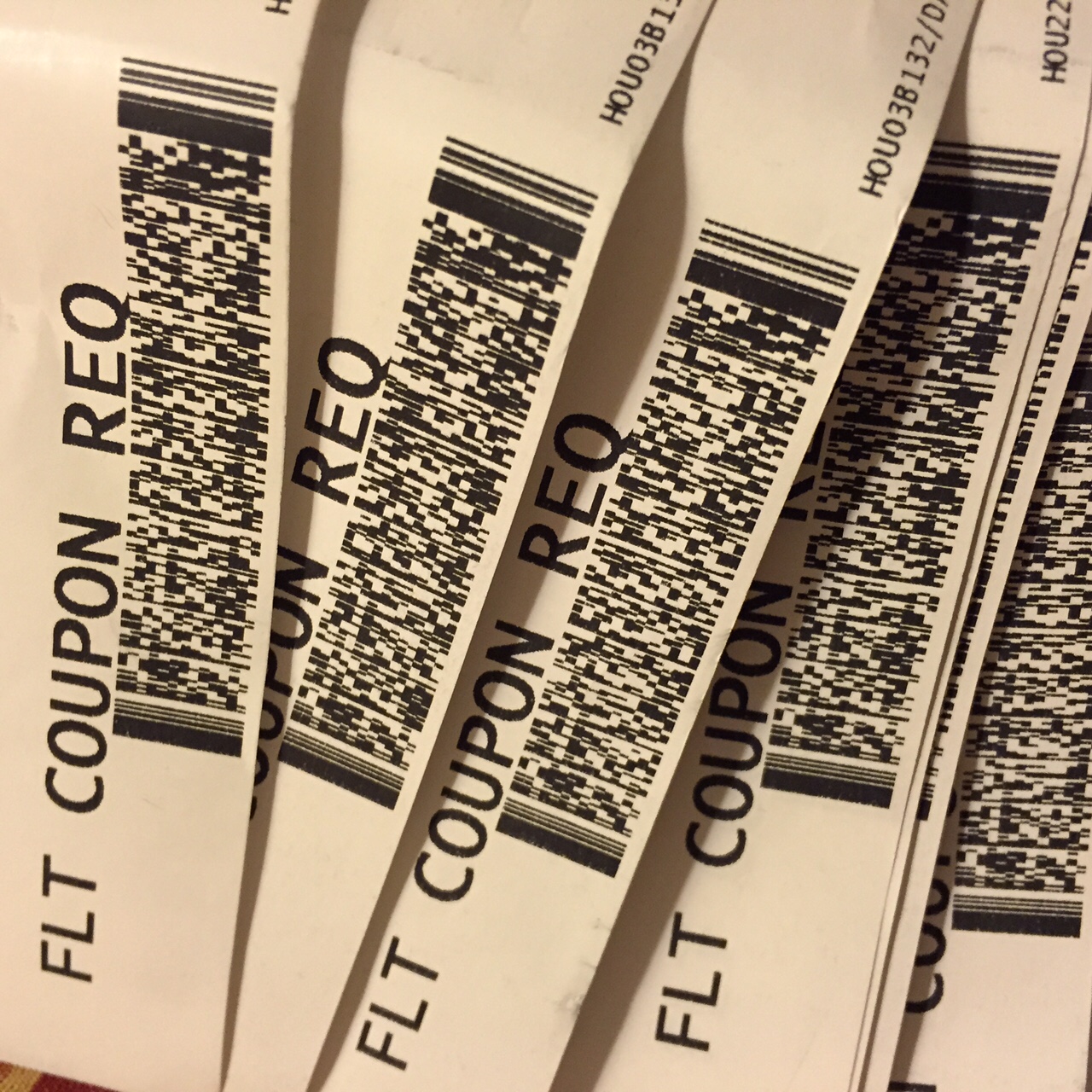 For the first two hours I was pretty calm. I trusted that we had a high level customer service person helping us out along with a senior booking person and we had the head of operations at this airport on Delta's end trying to get to the bottom of i. However after running to the ticket desk a dozen times after I had been told that it should be fixed I got increasingly stressed out and nervous. While the Delta rep tried to help he saw this as a United problem. Even though we had a Delta ticket at this point he did not think it was his issue to solve. With an hour left to go Delta said they could get us on the flight for $4,000. United even agreed to pay it, but told me that I had to put it on my credit card. I just couldn't do it. I had a hard time trusting anything United said anymore and everyone in my family was stressed to the max. The idea of getting to Atlanta and getting stuck was beyond my imagination. We'd been sitting in the booking area for 4 hours and we gave up. We were tired, stressed, and hungry. There was food in the booking area so all we'd had since 9am was potato chips.
We got back in a cab to George Bush airport to spend another night in a hotel. We were booked on a direct 7 am flight the following morning. If everything worked out we'd be getting home about 40 hours late. By the end of the trip we would have spent almost as much time traveling as we did in Santa Fe. While the people I dealt with in the last two days at United were really trying to help they completely failed us every single step of the way. When I talked to the booking person she said that it turns out it was a known technology issue- but that she didn't know about it. The Delta people at the booking desk were generally helpful but in the end no one could just deal with the situation and help us get on the plane. We're all just commodities to the people in power. We're numbers on a spread sheet and not humans with stressed out kids, and cats left alone. At this point its almost a joke.
We got to the hotel near the airport and once again ordered crappy Chinese food. We watched a Miyazaki movie that we got for Christmas and it was lights out at 10. We had to get up at 4:30 to make our flight.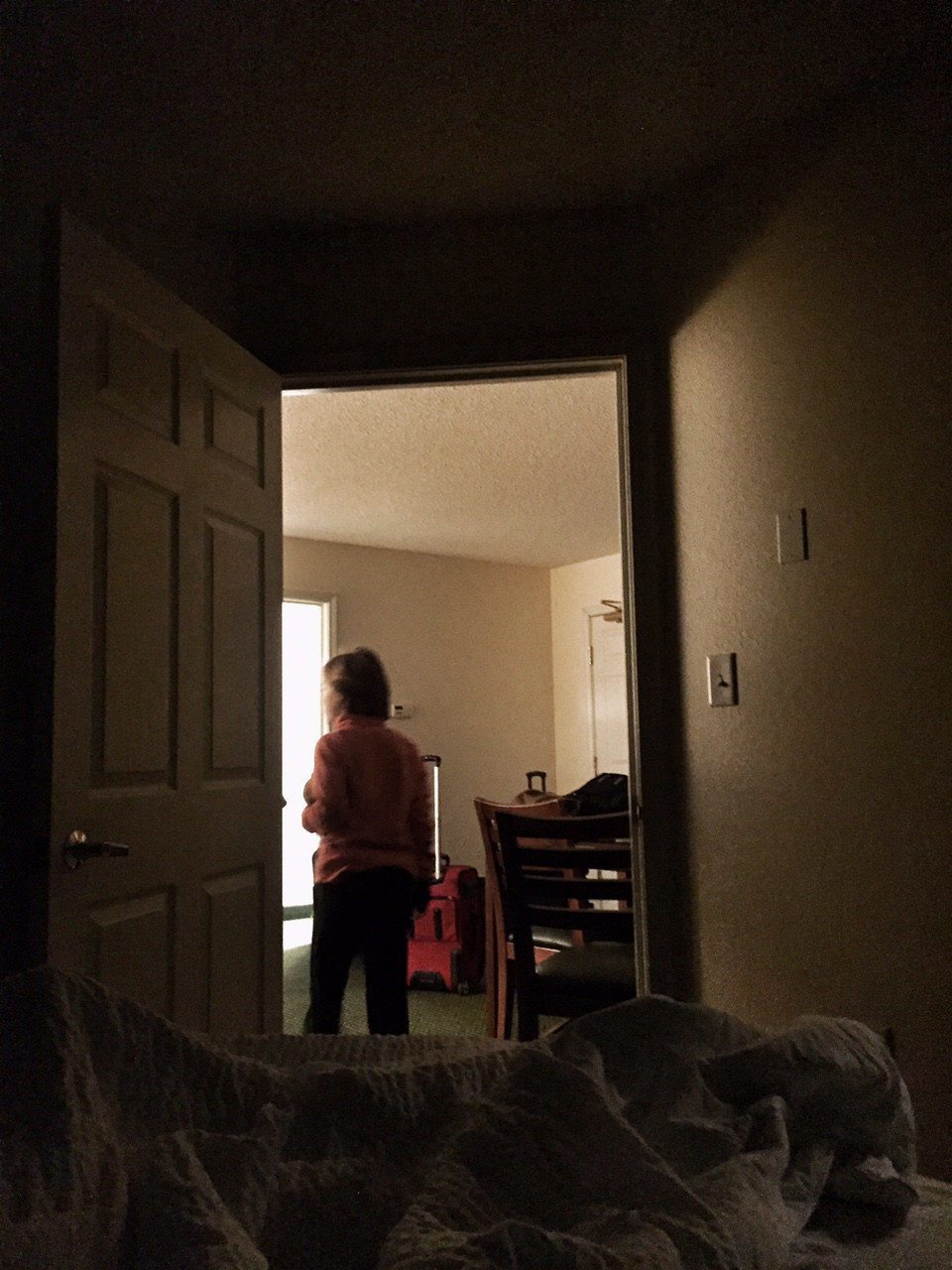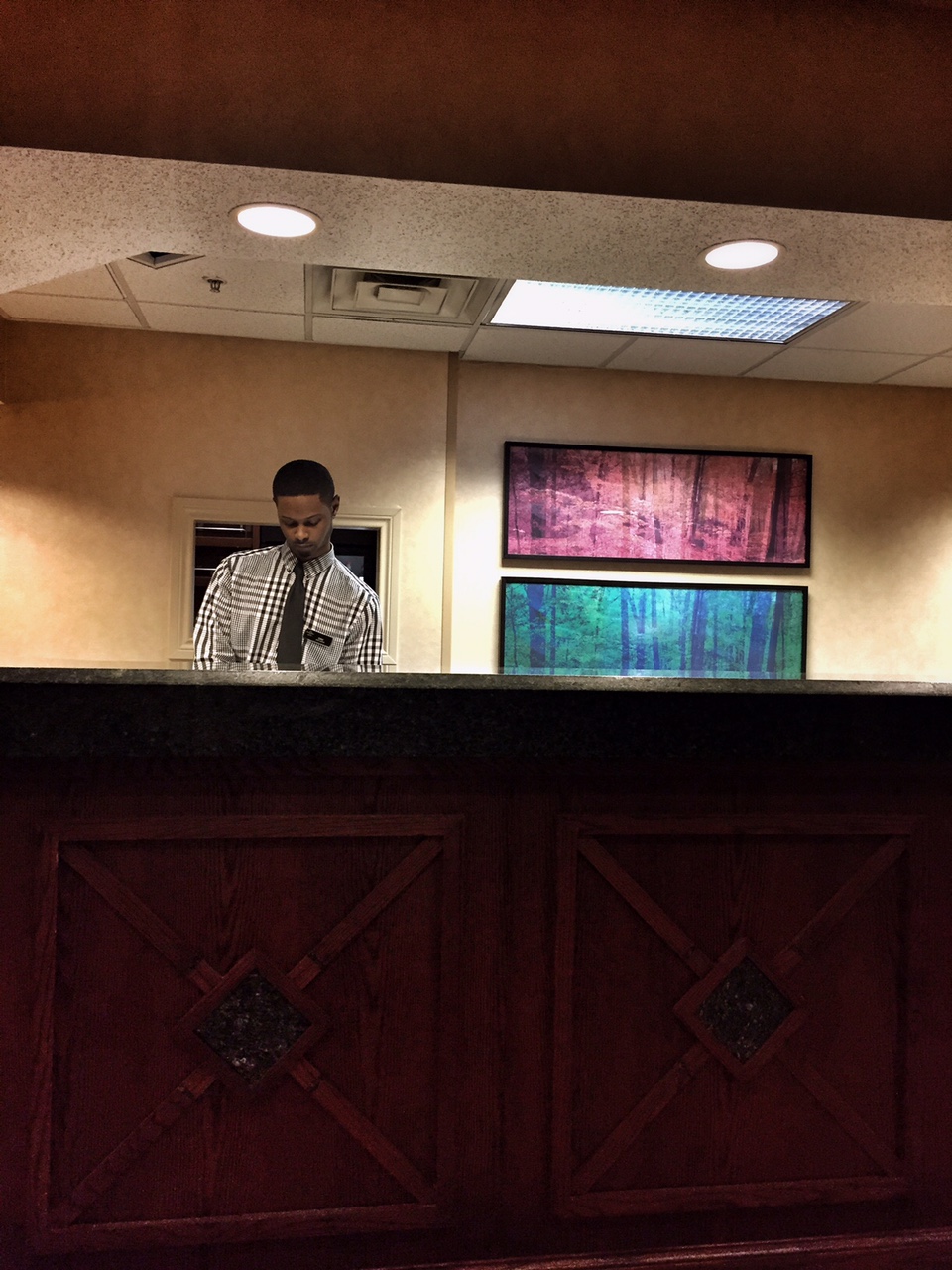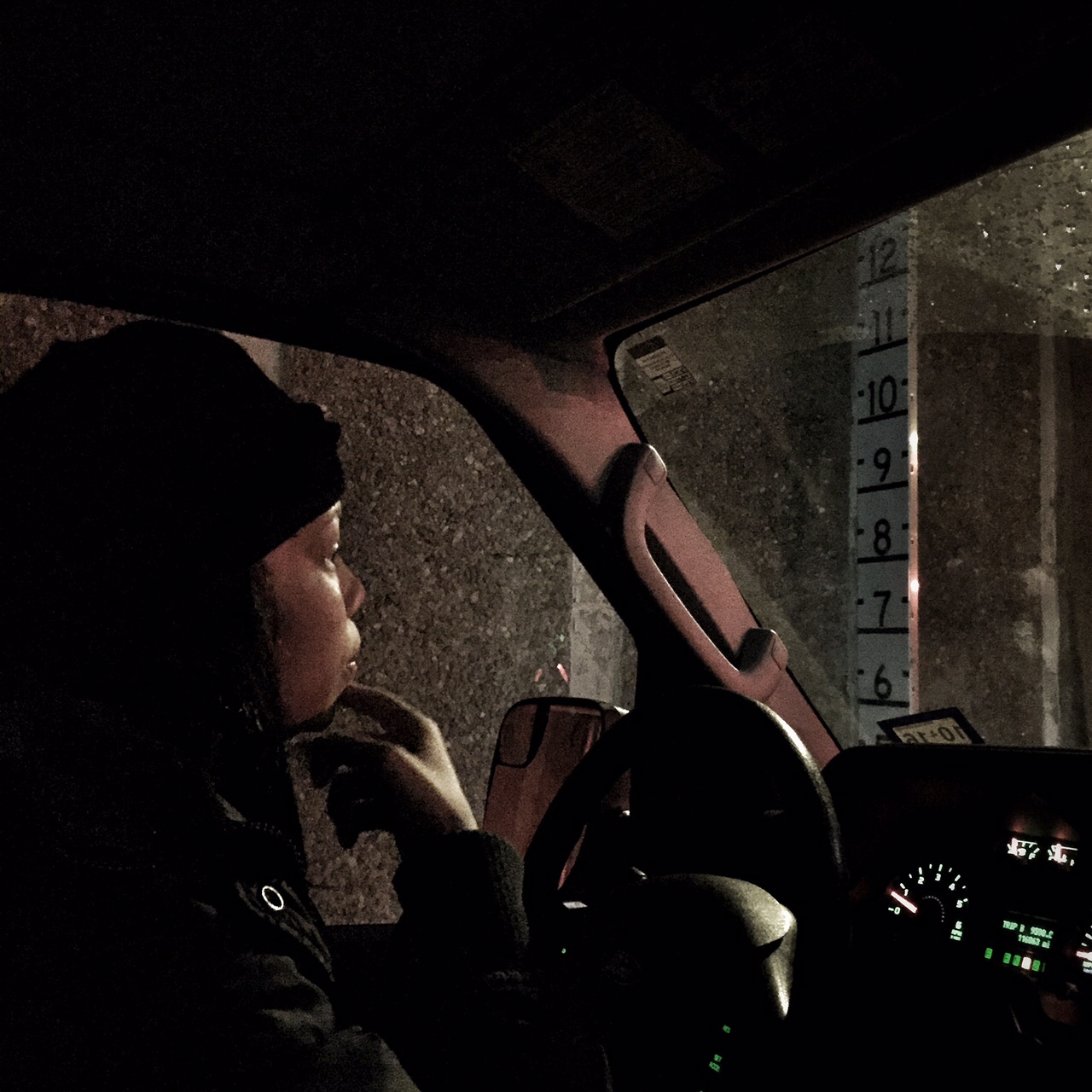 I stayed up a little bit late to finish writing about the day but finally fell asleep around 11 pm. I slept fitfully because I knew that we had to be up at 4:30 in order to get on a 5 AM shuttle to the airport. The world is surreal at 5 AM. The driver noticed me taking pictures and pointed out the flood marker on an underpass. It hit the 12 foot mark in July she told me.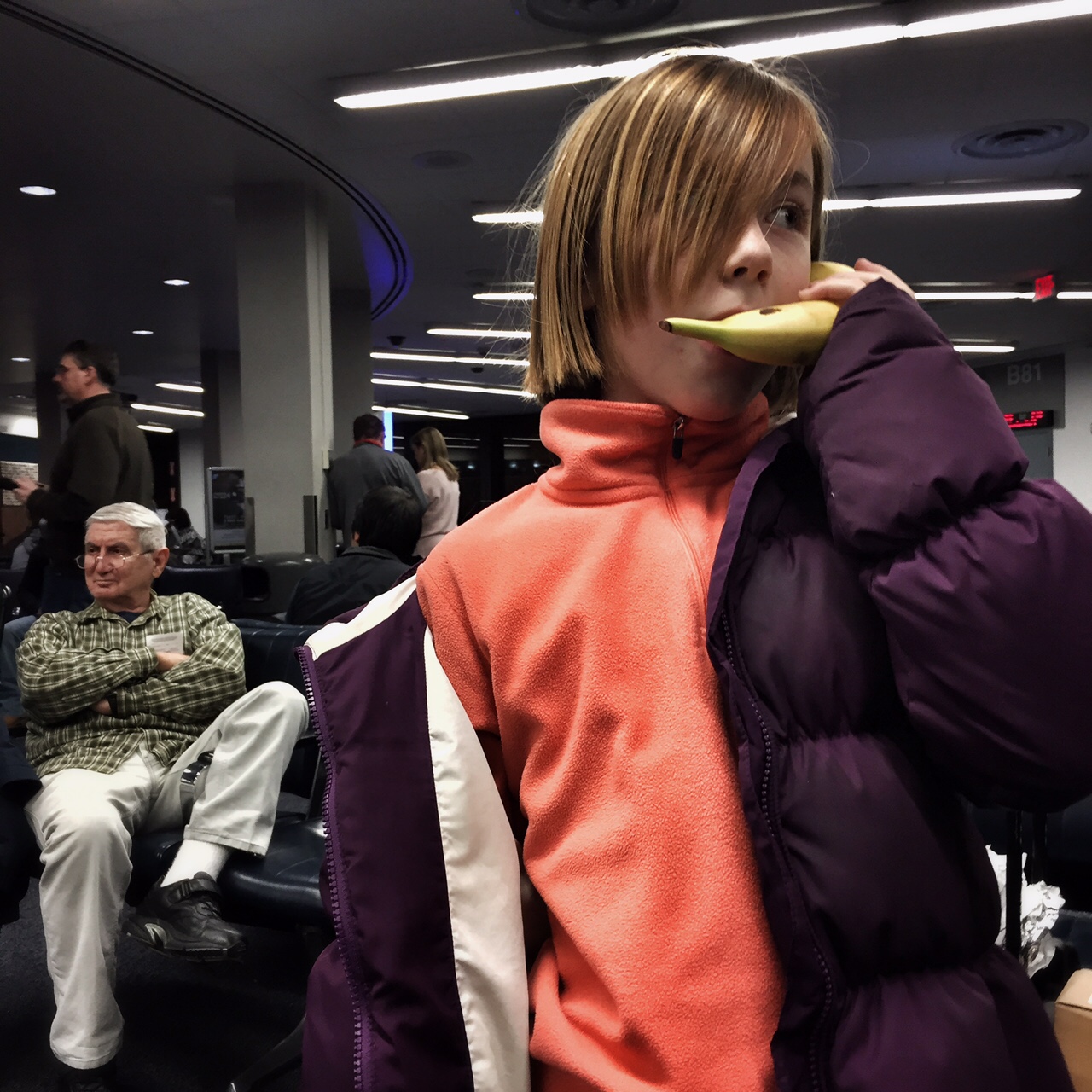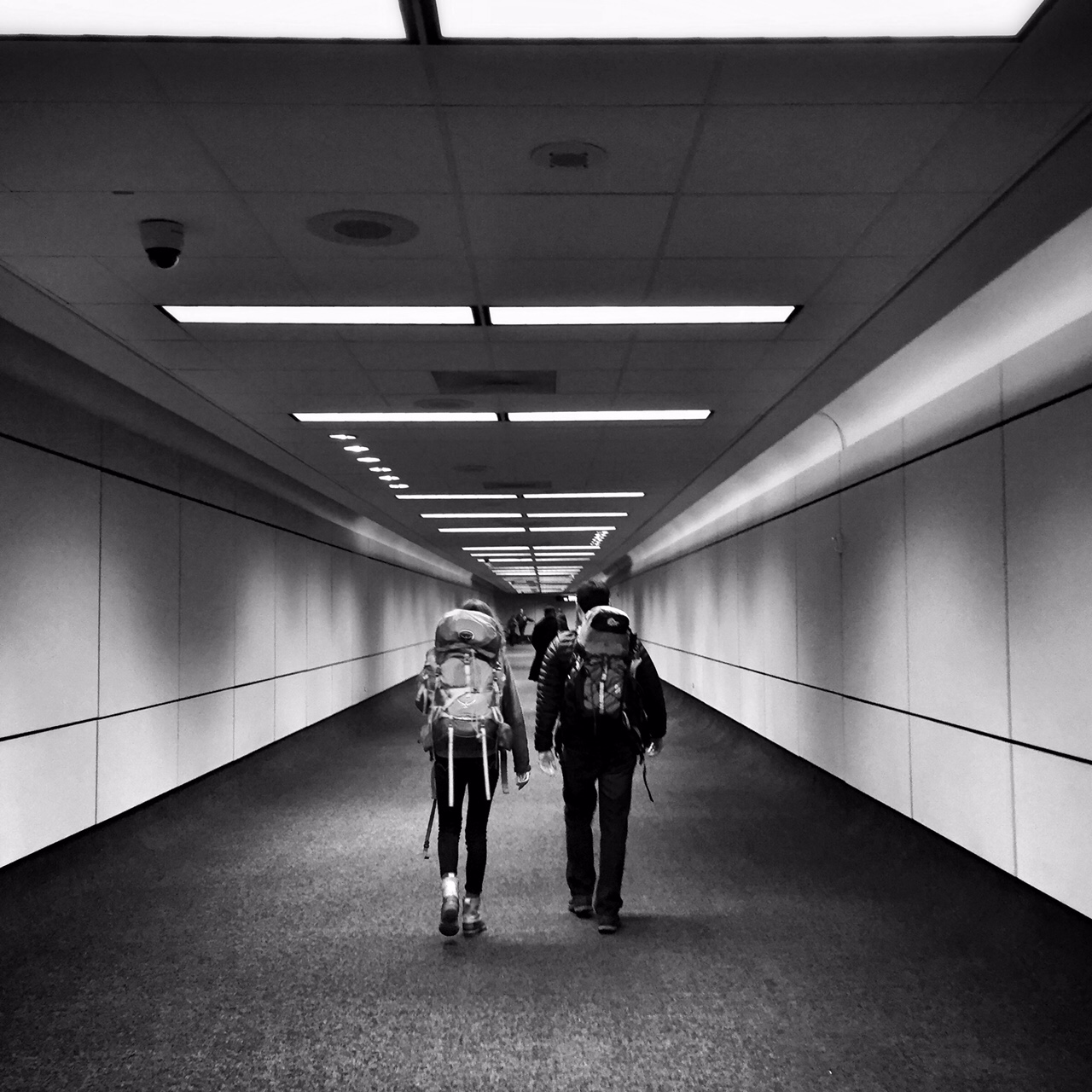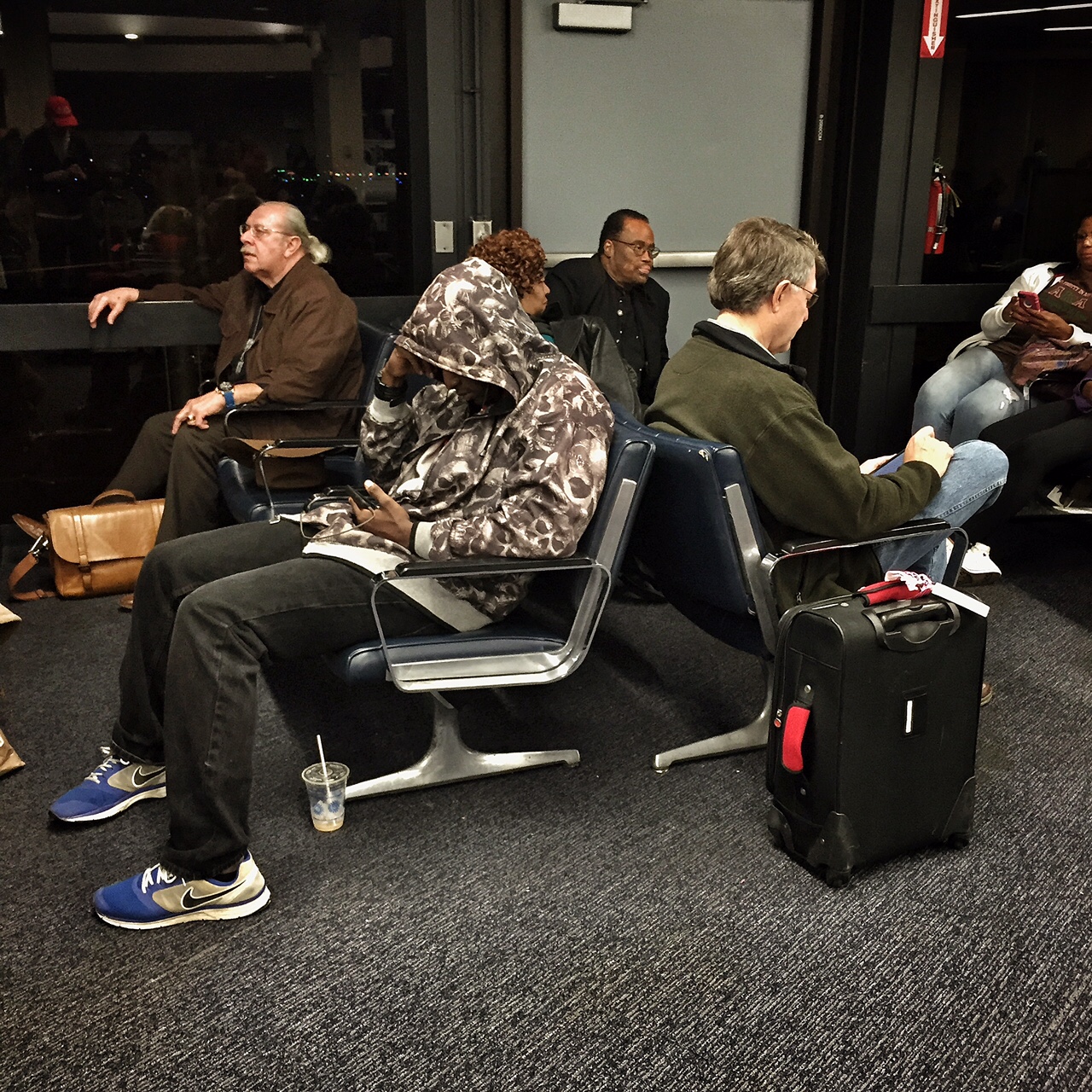 The airport was pretty empty that early in the morning. Our tickets printed out without any problem and there was almost no wait for security. Our kids were starting to fall apart emotionally so things were a little dicey. We got them some bagels and sat in the massage chairs for a bit because we were there an hour and a half early. I was in kind of a fog and fell asleep almost as soon as the plane was in the air.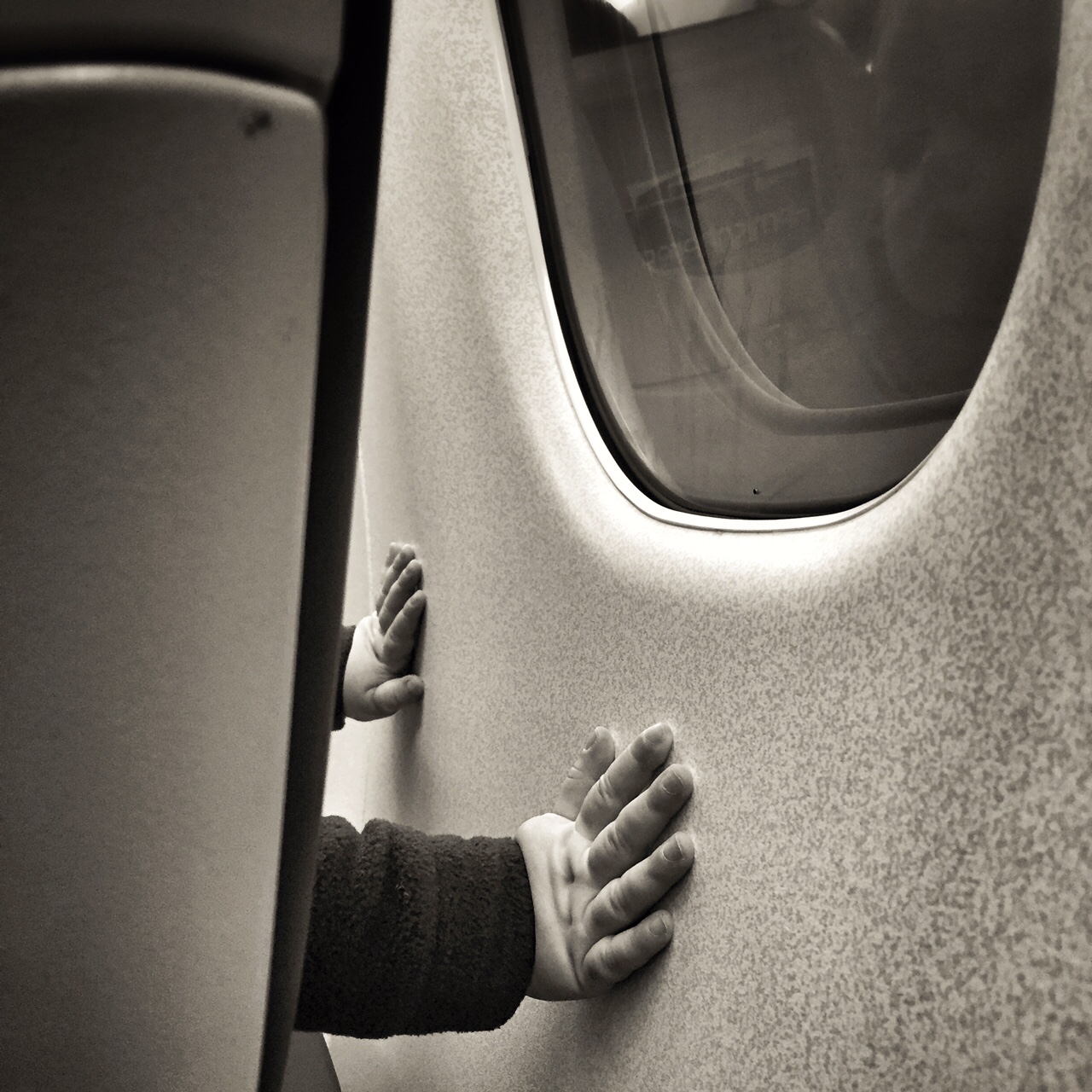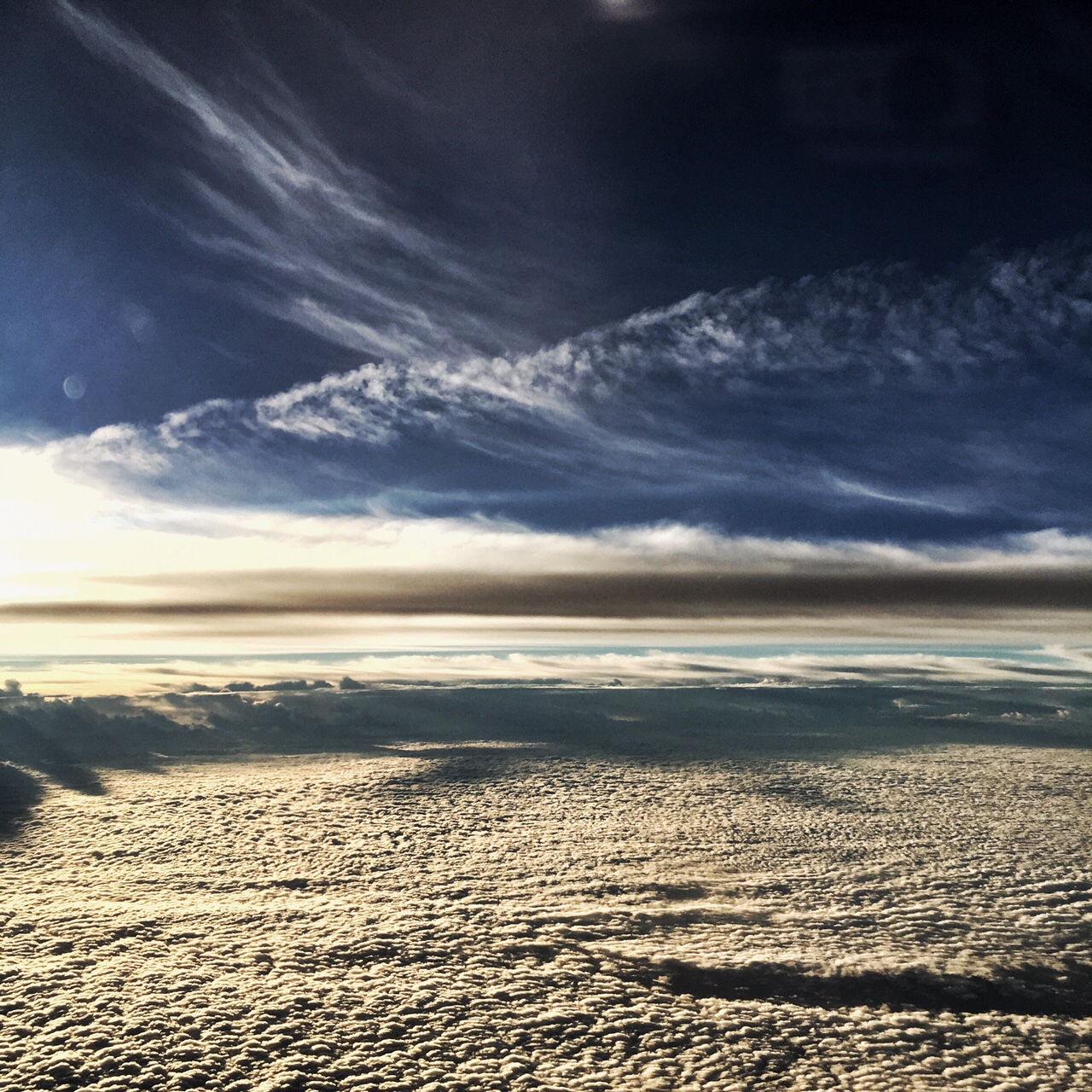 Since we hadn't even gate checked bags we got out of the airport pretty quickly. My daughter was tired and it was raining so my wife and younger daughter got on the shuttle to pick up the car while we waited with the bags. About 15 minutes later my wife called to let me know that she had forgotten the keys. There was some complaining but my daughter and I got on the next shuttle with the bags and made it to the parking lot.
It was pouring as we drove home and the creek behind our house was flooding. Our cats were happy to see us. I can't even imagine what a nightmare we might have faced if we didn't have direct access to more connected and established customer service people on the second leg of our journey. I understand that weather created real issues, and that many people were stranded for days due to these delays. However, all along the way I could see that decisions to protect the bottom line, rather than the travelers created a great deal of suffering. When the airline gives you a message that the call center is overwhelmed and that you should call back at some other time, there's a major problem. While I have had a good experience with Delta in the last year, I was left dumbfounded that they would leave us stranded in the way that they did. Allowing American and US Air to combine certainly isn't going to help matters. I have to fly, and as much as I want to avoid United, I think they owe our family of 4 at least 15k in vouchers for their incompetence and mistreatment so I'll probably be spending a lot of time on United in the future. I hope they get their act together. I was assured by everyone that the new CEO is going to take care of most of my complaints. We'll see about that I guess.